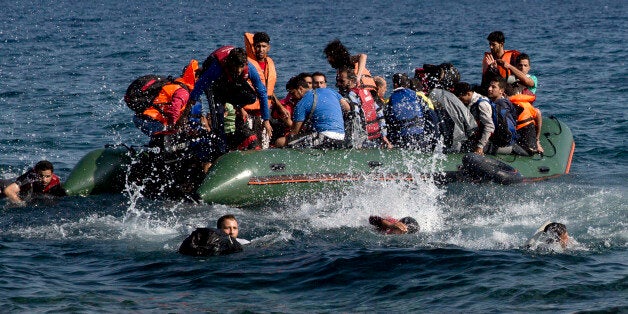 Armed vigilantes are disabling boats carrying desperate migrants across the sea towards Europe, it was revealed on Thursday.
A group of masked men are hampering the efforts of thousands trying to reach the continent by removing engines from vessels bound for Greece, towing boats back to Turkish waters and even puncturing inflatable rafts.
17-year-old Ali, an Afghan asylum seeker, told of the eight-hour voyage he endured with a group of men, women and children, when, after 30 minutes, a speedboat suddenly rammed their rubber dinghy.
Five men, dressed in black and their faces covered with balaclavas, approached the group carrying handguns.
"At first when they approached, we thought they had come to help us," the boy told international NGO Human Rights Watch.
"But by the way they acted, we realised they hadn't come to help."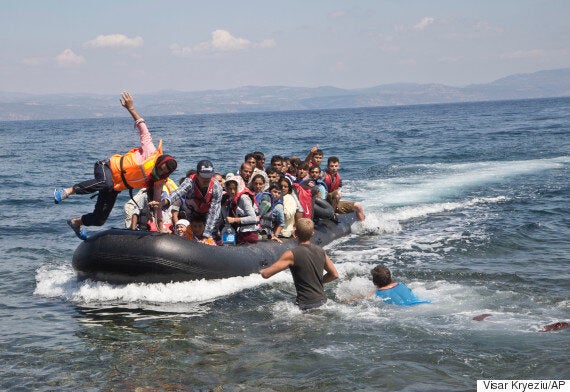 A vessel carrying migrants arrives in Lesbos, Greece
"They were so aggressive," Ali said. "They didn't come on board our boat, but they took our boat's engine and then sped away."
Another victim, a 38-year-old Afghan traveling on a separate trip, told of the moment similar figures boarded his boat and cut the fuel vessel's fuel line.
"About one hour and 15 minutes after we set off from Turkey, there was a boat that came that we believe it was Greek," he said.
"It was a grey plastic boat, a Zodiac, like a police boat and very fast.
"The men on board were all dressed in all-black military clothes and boots that had no insignia on them.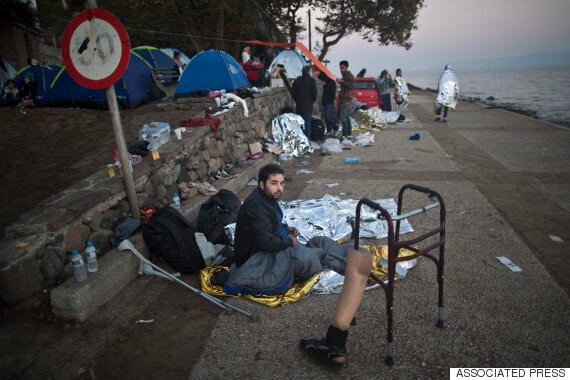 A Syrian migrant who lost one of his legs in a government bombing rests by the roadside in Greece
"We couldn't see their faces because they were all masked. They were armed with pistols and very aggressive and they came right up to our boat.
"They cut the fuel line going to the engine, and took the cables. They broke the engine, and they hit me with the motor cable.
"When they were finished, they set off for the coast of Greece.
"They attacked four boats, us and three other ones."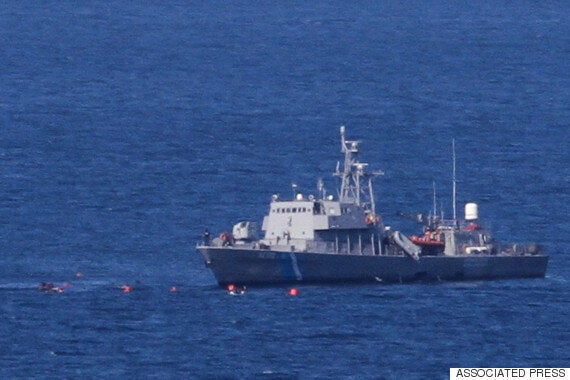 A coastguard ship circles migrants stranded in the sea
Victims in six cases targeted by the gang recounted similar experiences of having their engine or fuel stolen, and in two other instances holes being punctured in their light-weight vessel's hull.
Four times migrants and asylum seekers were witnessed being beaten or subjected to violence by the armed vigilantes, suspected to be posing as Greek law enforcement officers.
"Disabling boats in the Aegean makes an already dangerous journey even more likely to result in death," HRW's Eva Cossé lamented.
"Putting a stop to these dangerous incidents should be a priority for the Hellenic Coast Guard and other law enforcement bodies."
Popular in the Community