This is Kangaroo. It's only slightly bigger than your average computer mouse, and yet inside that tiny box is a Windows 10 PC that boasts 4K streaming and has a fingerprint sensor for added security.
In much the same way that Microsoft is hoping to turn laptops on their head with the Microsoft Surface Book, Kangaroo is looking to redefine what people imagine when they think 'desktop computer'.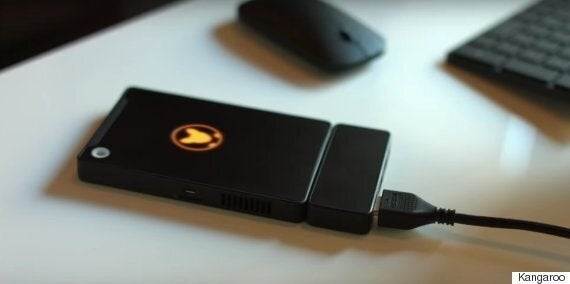 Capable of fitting in your pocket, Kangaroo isn't going to running Assassin's Creed: Syndicate any time soon, but what it can do is become a fully-portable computer that'll plug into pretty much any screen around you.
There's only two ports, one of the display and another for power. It'll connect to a mouse and keyboard using Bluetooth 4.0.
Internet is catered for by a powerful dual-band WiFi antenna while the Kangaroo's 32GB of storage should be more than enough for work files and images.
This then is designed to be the ultimate in powerful portability, letting you chuck your Kangaroo into a bag then plug it into the first screen you see around you.
A fingerprint sensor on the side provides an added level of security over most conventional laptops as well.
The best bit? It costs $99 in the US (£64 to you and us), which when you think about it, is kind of absurd.
There's no word on when the Kangaroo will be officially launching in the UK yet, but you can bet that if interest spikes it'll be over here in a flash.