A violent brawl between a group of two men and two women has been caught on camera, outside a branch of KFC in Croydon.
The shocking confrontation begins when one of the men appears to throw a punch at one of the women, huddling in the doorway of the chicken restaurant.
Two minutes of wrestling then commences, with both the men and women tackling each other to the floor.
The instigator of the conflict is not clear, although during the fight one of the youths appears to shout: "Are you dissing my mum?"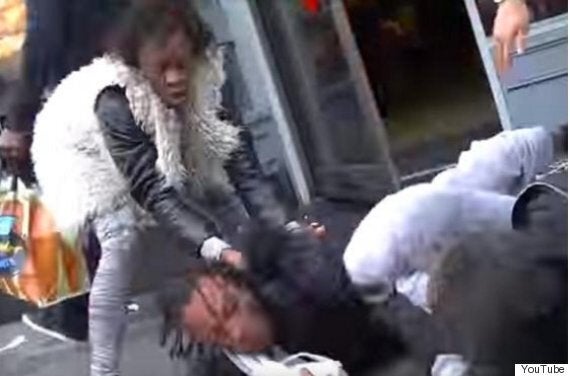 A fight has been caught on camera outside a Croydon branch of KFC
Passersby can be seen watching in awe, before some onlookers eventually attempt to intervene and diffuse the aggression.
Meanwhile, someone else can be heard walking past the scenes, commenting: "Just disgusting."
According to the YouTube video description, the fight took place at around 1pm on 24 October and witnesses are being urged to contact police.
The four youths were seen kicking and punching each other next to the entrance throughout what appears to be an afternoon, although a factual time-scale of the events isn't known.
Footage of the ugly scenes in Croydon, which was first uploaded to YouTube, has so far been viewed more than 26,000 times.
A spokesman for the Metropolitan Police has confirmed it is investigating the fight.
Popular in the Community