The horrors of Halloween came early for hardworking Londoners traveling on the Central Line on Wednesday.
The second-most frequent line on the London Underground ground to a halt in morning peak as heavy rain wreaked havoc with its signals.
The line normally runs around 34 trains per hour through central London but restrictions placed upon services meant this number was severely reduced.
Thousands were left waiting for those trains still running on the line as alternative routes also encountered problems. Delays were reported on Transport for London's website across the Circle, District and Hammersmith and City lines.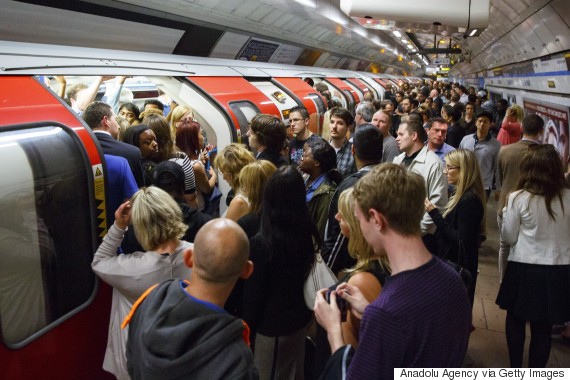 Scenes reminiscent of a recent tube strike greeted commuters on Wednesday
Heavy rain which fell overnight and through the morning is thought to have added to the problems, with commuters facing a soggy, snail's pace journey.
Londoners were understandably rather pissed off
The central line can (insert foul word here) off.

— Gavin (@gavinlomas) October 28, 2015
Central line, I absolutely hate you.

— Esen Tunç (@EsenTunc) October 28, 2015
It's taken me 45 minutes to get from Bond Street to St. Paul's. That is 4 stops. Let's comprehend the state of the Central Line right now.

— Sadiq Ali Jaffer (@SadiqAliJaffer) October 28, 2015
Got to the station to go to uni and had to turn back because of the central line cancellation. @TfL really get on my last nerve

— Yas ✪ (@yas_x) October 28, 2015
Ffs, central line delays😒

— harshik hirani (@harshikhirani) October 28, 2015
Scenes were almost biblical
@AndrewChalwell Accurate representation of people trying to get on the central line from Leytonstone: pic.twitter.com/tCXn7ZLKX6

— Alexander Morgan (@alexjaymorgan) October 28, 2015
Last central line train for 45 mins at Leytonstone is like this... #centralline pic.twitter.com/mCNGivJKJO

— Sam Smedley (@sam_smedley) October 28, 2015
Let's hope this central line train is a tardis pic.twitter.com/Ms0kj7V0HN

— Jacob Morris (@Jacob_Morris928) October 28, 2015
Central Line at Leytonstone - just don't bother pic.twitter.com/XMW2xUHhVe

— Paul (@paul_in_essex) October 28, 2015
TfL said: "We apologise for the disruption caused to our customers using the Central line this morning. The disruption was caused by a signal failure at Leyton at around 7:30am.
"Our engineers are working hard to resolve the problem as quickly as possible."
SEE ALSO: