Kids Company was given government money because its colourful founder lobbied David Cameron directly, an ex-minister has said, after it was revealed the charity repeatedly received cash despite concerns it was badly managed.
The charity, which looked after vulnerable young people and closed in August after its financial mismanagement caused a scandal, received at one point more in grants than any other charity from the Department for Education's (DfE) grant programmes. It received £42 million in government grants between 2000 and 2015.
A report by the National Audit Office (NAO), published on Thursday, revealed it was given government money six times, despite officials warning about its poor management each time.
Former Children's Minister Tim Loughton said a grant application in 2012 was given, despite his concerns, as the charity's colourful founder Camila Batmanghelidjh, wrote to the prime minister directly and the government feared bad publicity of not giving the money.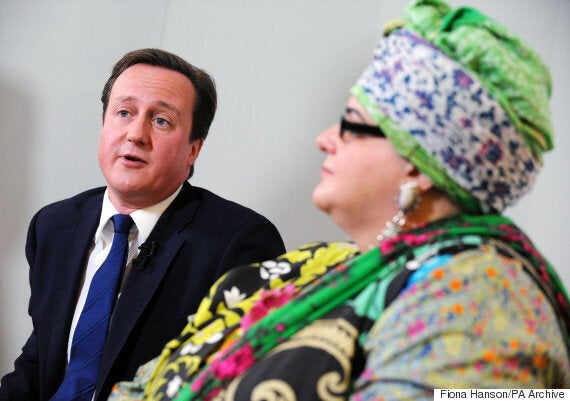 Camila Batmangeidjh wrote 'one of her Dear David letters' to No 10 when Kids Company needed money, Tim Loughton said
"We had this very sizeable emergency application for funding from Kids Company, warning that they will be going bust unless we came up with a very large quantity of money," he told The Today Programme.
"I was very sceptical at the time, and was very against giving them such a large amount of money.
"Basically, it went over our head at the Department for Education. As was the characteristic of [the charity's founder] Camila Batmanghelidjh she wrote the 'Dear David' letter and went straight to Number 10. There's always this sub-plot of there is going to be terrible publicity on this… it's not going to reflect well on the Government and all these kids."
In 2008, Kids Company received 20 percent of the available funding for the grant programme; the remainder was shared between 42 other charities. In 2011 Kids Company received more than twice the amount received by any other grant recipient.
Mr Loughton added he was "never shown the proof" of how effective the charity was claimed to be, adding: "You have to ask Number 10 as to why final approval went through, and it has been in the hands of the Cabinet Office after my time at the Department for Education.
"I think it's just unfortunate that the great work that Kids Company did was used to sort of mesmerise people in positions of power to pay up or else.
"Clearly a number of kids who were being helped by Kids Company was much lower than we were led to believe."
Kids Company has received at least £42 million in central government grants. At least seven government departments contributed to grants between 2000 and 2015.
The NAO report said it noticed a pattern in how Kids Company behaved when it asked for money.
"We observed a consistent pattern of behaviour each time Kids Company approached the end of a grant term," it says.
"We are not able to comment on causality, but in 2002, 2005, 2007, 2010, 2012 and 2014, Kids Company lobby the government for a new funding commitment.
"If officials resisted, the charity would write to ministers expressing fears of redundancies and the impact of service closures.
"Around the same time, Kids Company would express the same concerns in the media. Ministers ask officials to review options for funding Kids Company. Officials would award grants to Kids Company."
Kids Company asked the Home Office for £300,000 in emergency funding in 2002. Officials warned the charity had "a poor record of cost control and financial management" and the funding might set "a dangerous precedent".
The charity received the grant regardless. In 2003 it received an emergency £158,000 Home office grant, despite warnings it had not complied with the terms of the 2002 grant.
In 2008 and 2010, the DfE awarded it two separate grants of £12.7 million and £8 million, despite warnings that the amounts Kids Company asked for were "significantly higher" than similar organisations, that it appeared to be increasingly dependent on government funding and that its finances were still poorly managed.
In March and June of this year, the Cabinet Office gave grants of £4.3 million and £3 million, the latter over the objections of officials. It was given on the condition it was only spent on restructuring. The charity shut in August.
The NAO also found that Kids Company received 20% of the available funding for the DfE's grant programme in 2008, while, in 2011, it received more than twice the amount received by any other grant recipient.
The Public Accounts Committee is meeting on Monday to cross-examine Richard Heaton, the ex-permanent secretary of the Cabinet Office and Chris Wormald, the DfE permanent secretary.
Meg Hillier, committee chair, said: "It is unbelievable that over 13 years taxpayers' money has been given to Kids Company with little focus on what it was actually achieving for the children it was supporting.
"Government repeatedly raised concerns about Kids Company's finances but little action was taken. Despite this, government gave it further grants – funded by the taxpayer.
"Government departments have questions to answer about how they held the charity to account for spending taxpayers' hard earned money."
A Cabinet Office spokesman said: "Since 2002, successive governments have provided financial assistance to the charity to help it deliver services for vulnerable young people.
"The welfare of the young people has always and continues to be our top priority, and we will continue to work with local authorities, charities and youth clubs in Lambeth, Southwark, Camden and Bristol to support young people with the services they need."
Karl Wilding, Director of Public Policy at the National Council for Voluntary Organisations, said the report showed that Kids Company was "an anomaly among charities".
"The majority of charities are well-governed and take their sustainability seriously," he said.
"During a period when government grant funding to charities declined significantly, Kids Company received at least £42million from seven different departments.
"What's more, it did so without much apparent accountability for how that money was spent. Most charities with government contracts or grants have to put together detailed bids and account carefully for every penny they spend.
"Despite its significant income, Kids Company chose not to build up financial reserves in the way responsible charities do in order to see them through lean times."
Popular in the Community