Never one to be short of an opinion, Barbara Windsor has now left us in no doubt where she stands on Remembrance Day, telling anyone who doesn't wear a poppy to "sod off".
Speaking about the importance of supporting the Armed Forces, the former EastEnders actress and national treasure asked Sky News on Thursday: "What would we do without them looking after us?"
When asked what she would say to those who choose not to wear a poppy, the 78-year-old pursed her lips and muttered: "They can go and sod off for all I care."
Windsor's comments immediately sparked a Twitter furore, with users accusing the actress of McCarthyism, branding her a "gangster's moll" and remarking "the last cause I remember [her] getting so worked up about was getting Reggie Kray out of prison."
Windsor was friends with the infamous East End gangster twins and had supported the campaign for Reggie's release from prison over his deteriorating health. The campaign was a success and Reggie died in his sleep in the honeymoon suite at a hotel in Norwich in 2000.
Millions died for us to have the right not to wear the poppy. Gangster moll Barbara Windsor can take her McCarthyism to N Korea #LDNPoppyDay

— JeSuisFedUp (@JeSuisFedUp) October 29, 2015
The actress, who is backing the poppy campaign by the Royal British Legion, also appeared on Good Morning Britain.
She said: "My dad, god bless him, he was in the eighth Army when I was a little girl, when I was six, which is umpteen thousand frozen years ago, and he explained why he had to go into the Army, he had to fight these not very nice people, especially this one person, and not to think daddy didn't love me any more but he would be back.
"Fortunately my dad did come back and that is why, and it's always been part of my life and we must look after our forces, so anything I can do for them I will."
Events are taking place marking London Poppy Day today as members of the Armed Forces try to raise £1 million in just one day.
The poppy has become a symbol of remembrance of those who have given their lives fighting for their country. It was Canadian surgeon John McCrae's iconic poem, In Flanders Fields, which inspired the adoption of the poppy as such as symbol. The poem pays tribute to those who lost their lives on the battlefields of WW1.
The flower has sometimes been the flashpoint for controversy, with some pointing towards incidents involving members the British Armed Forces.
Twitter account Crimes Of Britain (@crimesofbrits) regularly tweets posts such as this:
Jeremy Corbyn this week bowed to convention to wear a red poppy in the Commons.
The Labour leader, who recently stepped down as chair of Stop The War, had in previous years worn a white poppy.
Channel 4 newsreader Jon Snow caused a stir in 2011 by refusing to wear a red poppy on TV.
He said: "I am begged to wear an Aids ribbon, a breast cancer ribbon, a Marie Curie flower ... You name it, from the Red Cross to the RNIB, they send me stuff to wear to raise awareness, and I don't. And in those terms, and those terms alone, I do not and will not wear a poppy. Additionally there is a rather unpleasant breed of poppy fascism out there - 'he damned well must wear a poppy!' Well I do, in my private life, but I am not going to wear it or any other symbol on air."
Last year the Poppy Appeal – the biggest cash collection in Europe –raised over £45 million for The Royal British Legion's ongoing support for those serving in the British Armed Forces, veterans and their families.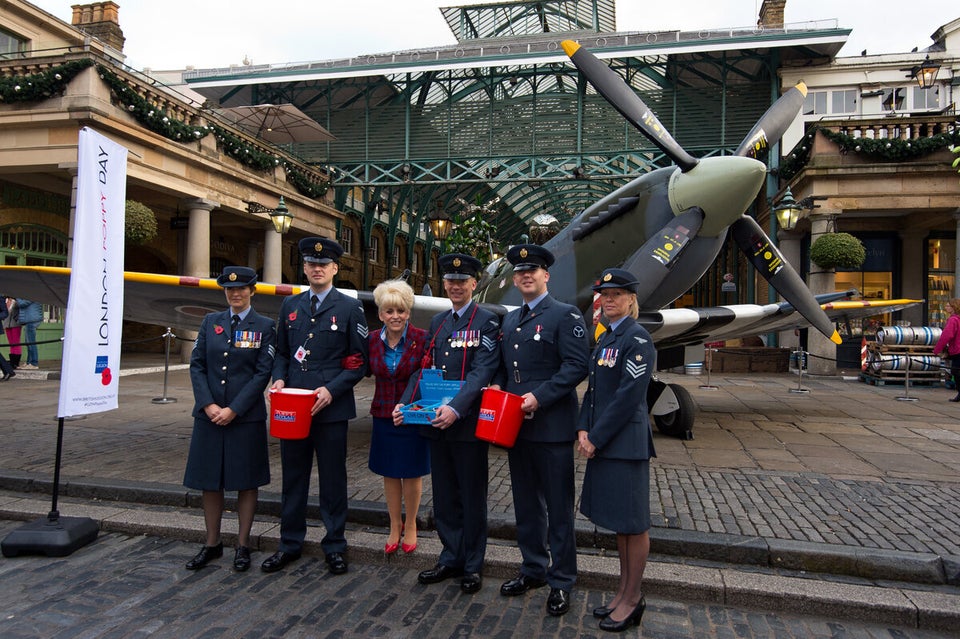 The Royal British Legion Launch London Poppy Day