George Osbome is facing a tax credits rebellion from his MPs in traditional Conservative heartlands, underlining the weight of opposition to the Chancellor's welfare crackdown.
Among the 18 MPs to vote against the Government - two acted as "tellers" - were politicians representing suburban and rural areas where the Conservatives dominate.
MPs from Devon, North Yorkshire and Hertfordshire, areas that tend to be a sea of blue on the electoral map, were among the rebels, telling the Commons how their constituents would be impacted.
Neil Parish, Conservative MP for Tiverton and Honiton in rural Devon, told The Huffington Post UK he wanted to send a "shot across the bows" of the Chancellor since one-in-five of his constituents would be affected.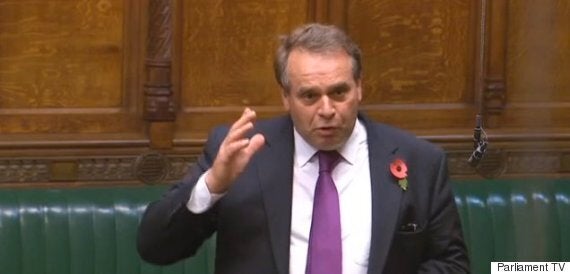 Neil Parish: "The shires hide a lot of lower-paid workers, working incredibly hard. It's fundamental they should have a fair living."
Ahead of the vote, Mr Parish, who also chairs the rural affairs select committee of MPs, told the Commons the Government had "lost its way" and risked driving people "back on benefits".
He told HuffPost UK while his constituency, a tourism hotspot, appeared "green and lovely" this masked a low-wage culture based around small businesses and farms that will struggle to implement the Chancellor's Living Wage for over-25s, a key boost to pay packets designed to offset the impact of tax credit cuts.
Mr Parish told HuffPost UK: "The shires hide a lot of lower-paid workers, working incredibly hard. It's fundamental they should have a fair living.
"There are 22% of my constituency on tax credits, and while we have low unemployment – around 1% - we have jobs that are generally low-paid.
"What we musn't do is hit those people by reducing their take home pay – losing a few hundred pounds makes a huge difference."
Mr Parish, who has seldom rebelled against the Government and has praised the Chancellor's wider economic plans, argues the cuts should be slowed to allow wages to increase.
TAX CREDITS: THE IMPACT

Tax credits are welfare payments to families raising children and working people on low incomes.

More than three million families will lose an average of £1,300 a year from April under the original plans.

The cuts will deliver £4.4bn of the Chancellor's planned welfare cuts by reducing the earnings level at which tax credits start to be withdrawn from £6,420 to £3,850.

The Government says eight out of 10 would be "better off" overall from a package which also includes increases in the minimum wage for over-25s, rises in the income tax threshold and extended free childcare.
Mr Parish, who was a farmer in Somerset before entering politics, has long championed the notion of "blue-collar Conservatism" where the party is on the side of workers and the self-employed, and fears the tax credits row risks undermining the message.
Mr Parish himself quit school at 16 to milk cows. He said: "I might look to some like a wealthy farmer. But I was mortgaged up to the hilt trying to bring up two children and my wife supply teaching, so I know what it's like for the cash machine to say: 'Not today'."
Related