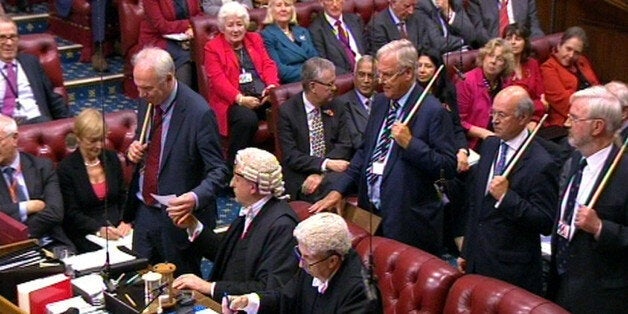 George Osborne was forced into a dramatic climbdown over his flagship welfare reforms on Monday after the government's cuts to tax credits were upended in the House of Lords. The double defeat in the Lords could trigger a constitutional crisis, with David Cameron reacting to defeat by promising retribution, including a "rapid review" to prevent peers blocking fiscal policy in the future.
After the defeat the chancellor said he would delay the policy until he comes up with a way of "compensating" workers affected by the cuts for at least three years. "I said I would listen to the concerns being raised and that is precisely what I will do," said Osborne. "We can achieve the same goal of reforming these tax credits, securing the money we need to ensure our economy is safe, and at the same time helping in the transition to these changes and I will set out how we achieve that at the Autumn Statement."
The vote represents the first time in 100 years that the House of Lords has voted down a financial bill already approved by the House of Commons. A Downing Street spokesman said on Monday: "The Prime Minister is determined we will address this constitutional issue. A convention exists and it has been broken. He has asked for a rapid review to see how it can be put back in place."
Earlier in the Lords, Labour peer Patricia Hollis' motion to have a three-year transition for low-paid workers won by 289 votes to 272. It followed another motion tabled by the cross-bench peer Molly Meacher to delay the cuts until ministers spelled out how they would help low-paid workers triumphing by 307 votes to 277. However, a fatal motion, tabled by the Liberal Democrat peer Zahida Manzoor, that would have killed the cuts outright, failed by 310 votes to 99.
Labour's John McDonnell said the government defeat should force Osborne to "think again." The shadow chancellor said Britons were "shocked" by the Chancellor's determination to institute the divisive welfare reforms, which would slash £4.4 billion from working tax credits and child tax credits, effecting some of Britain's poorest households.
Popular in the Community