Tesco has apologised after one of its Airdrie staff members 'blacked up' as the Big Momma character from the Martin Lawrence comedy.
The worker, who was said to be white, wore a blonde wig, a floral dress and a cardigan, and was reportedly allowed to serve customers while dressed up for Halloween.
But after a complaint store management sent her home to take off the black make-up, reports the Daily Record.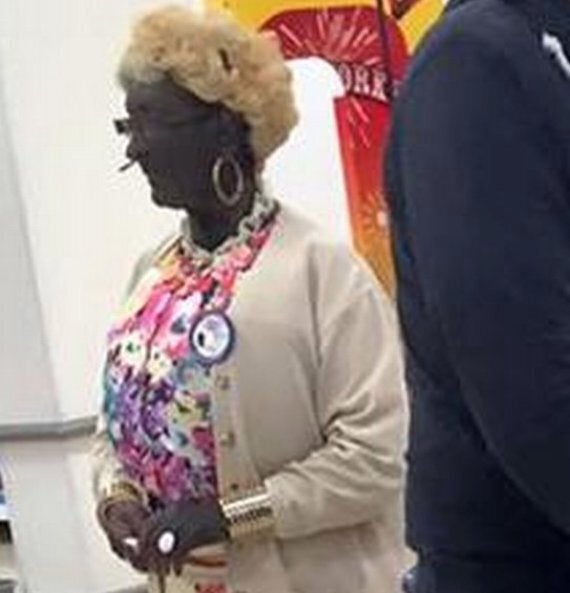 The Tesco worker dressed up as the Big Momma character from the Martin Lawrence film
Natalie Fitzpatrick, who is of Afro-Carribean descent, made the initial complaint to Tesco.
She wrote on Facebook: "Can you please explain to me what this staff member has come dressed as in the Airdrie superstore?
"I started out shocked, then a tad uncomfortable before feeling over-sensitive.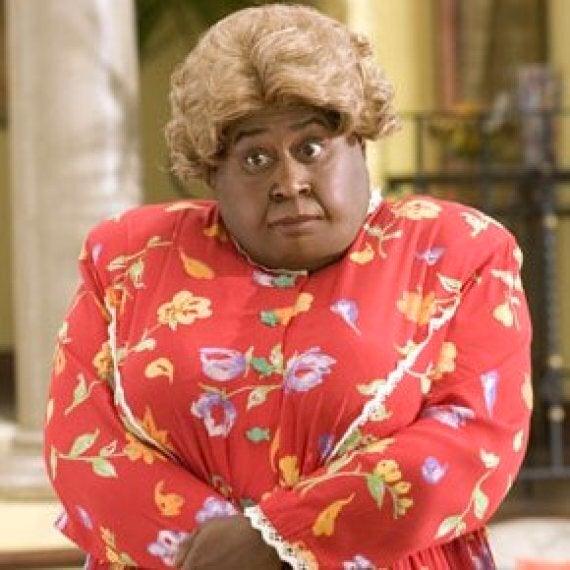 Martin Lawrence as Big Momma in the movie of the same name
"Now I'm furious and even more so because I questioned myself over the poor choices of your staff.
"Keen to understand what consideration went into it before management decided it was OK."
Tesco replied: "I'm deeply concerned to see this and completely appreciate how upsetting this must have been for you to see.
"I've just responded to your tweet, so will be back in touch as soon as possible."
Fitzpatrick told the Record that she had her six and eight-year-old grandchildren with her in the store and she "didn't know how I was going to explain it to them".
She told the newspaper that she wasn't suggesting the staff member involved was racist, but felt the outfit was "provocative and inflammatory".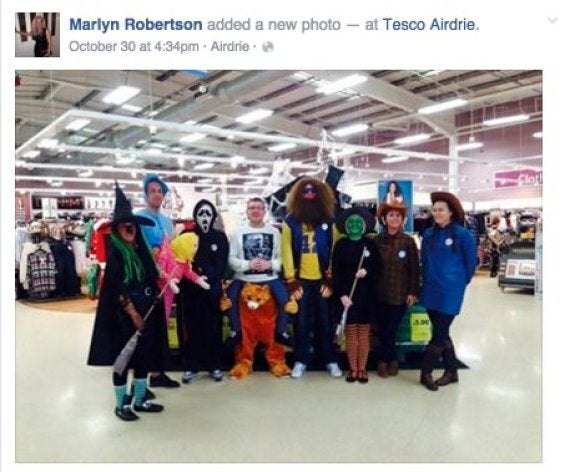 Staff members in the Tesco Airdrie store in Halloween costumes
Writing on Twitter Fitzpatrick said: "Really disappointed in Tesco, Airdrie. The fact I questioned if I was wrong to be offended has also angered me too she was also unimpressed with Tesco's response to her complaint."
The Record reported that a photo of the staff member was published on Tesco Airdrie store's Facebook page, but it has since been removed. Other staff members are pictured in Halloween costumes on their page.
Gemma Darroch was also said to have posted on Tesco's Facebook page: "Can't believe Tesco Airdrie let one of their staff walk in the door like this and then on to the shop floor."
Tesco has reportedly responded to the controversy saying: "As soon as our store manager was made aware, the colleague was asked to go home and change.
"We would like to apologise for any distress the outfit caused."
The incident follows a similar controversy last week when X Factor contestant Ryan Ruckledge posted a video on social media of himself in full black-face makeup, saying the words "Hello chicken nugget"