Students in Australia, were left a little stumped after a rather tricky maths question appeared on their further maths exam.
Teens who sat the Victorian Certificate of Education (VCE) test reportedly either overthought it, or couldn't handle the trigonometry question, which asked pupils to find out the angle between two 50 cent coins.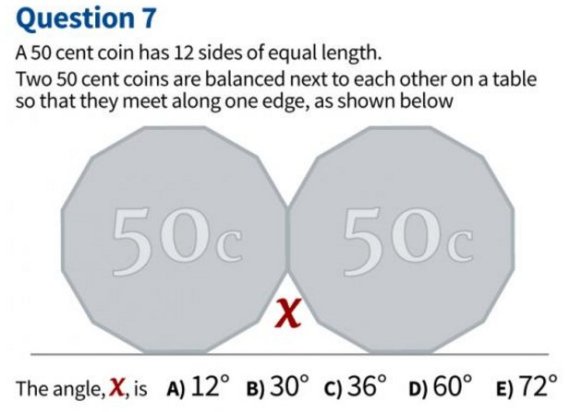 The fiendish question
Sunshine College teacher Graeme Newman told The Age question was challenging, but fair.
"Most exam questions try to give students a bit of a 'kick along' in terms of the way they set up the diagrams. They didn't do that in this question, they really needed to draw the triangles themselves and work it out from there."
Unsurprisingly, one or two didn't quite agree..
"F*** You 50 Cent. I never liked your music anyway." 😂😂😂 https://t.co/GUPEoMJmXC

— Lipid Snake (@jmcyap) November 3, 2015
Only a complete dumbass would not get the right answer | VCE student fury over easy Yr9 50c Maths question https://t.co/PD9K2WSAMu@theage

— Major Elvis Newton (@MjrElvisNewton) November 2, 2015
Reminds me of one of my Singapore PRIMARY SCHOOL grade 4 exam problems. What has VCE become? https://t.co/PonGUIjzW5

— Prasanna Sritharan (@psbiomech) November 2, 2015
Are kids really this stupid these days? https://t.co/Z1PNDkzqK5

— Ed Trinh (@ed_trinh) November 2, 2015
However others mocked the students for their lack of knowledge.
Luckily, some kind hearted soul has uploaded a video on YouTube teaching us all how it's done. Phew.