The fashion legend, who has previously driven to David Cameron's house in a tank in a similar protest, has written an essay against the proposed 87 percent reduction in government funding to Feed-in Tariff.
Westwood took to environmental magazine Salt and lashed out at Osborne: "Dear George… We are trapped on Earth by our own lies. We have abused our world for so long that we take it for granted that there is no other way to behave," she began.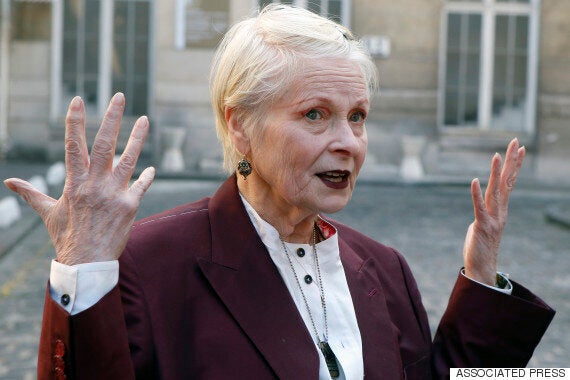 Vivienne Westwood has launched a campaign against George Osborne's planned cuts to Feed-in Tariff
The Dame continued to rail against the cuts, writing: "Osborne has launched an ideological war on the green energy industry – the way forward for cheaper, cleaner and more equitable energy.
"He's proposed an 87 percent reduction in government support to the Feed in Tariff (FiT), while maintaining subsidies to fossil fuels – which cuts out crowd investors and community projects. Investor confidence is low and prospects for future renewable energy projects are very uncertain.
"These cuts are too deep and too quick for any but the biggest sites and biggest investors in renewables to survive. So we're fighting the government on this."
The proposed cut-backs will affect the main financial incentive to encourage the uptake of renewable electricity-generating technologies and many fear that solar panel industries will suffer.
The reduced subsidies are due to take place from January 2016 and will mean homeowners will face increased costs to place solar panels on their roofs. It's estimated that hundreds of contracts have been cancelled and thousands of jobs have already been lost.
Westwood wrote the piece in support of Salt magazine's #KeepItClean campaign - which is protesting against the proposals.
"The current proposals, which have been consulted on, with little or no prior warning, to come into force in the new year have created great uncertainty in the solar PV industry, potentially putting at threat thousands of jobs across the UK," a spokesperson for Johnson said.