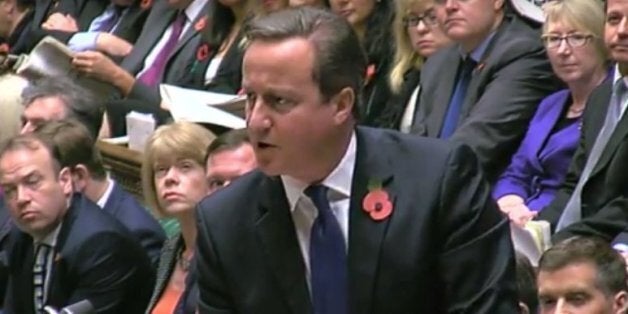 David Cameron has refused to rule out privatising Channel 4, despite culture secretary John Wittingdale previously having said there were no plans to do so.
Speaking during prime minister's questions on Wednesday, Cameron said private investment in the channel could help "safeguard" it.
In early September, Wittingdale told MPs "there are no plans to sell Channel 4". The same month a photographer also appeared to catch someone walking into Downing Street clutching documents detailing discussions about the station's sell-off.
The prime minister said today: "I want to make sure Channel 4 has a strong and secure future and I think it's right to look at all of the options including to see whether private investment into Channel 4 can help safeguard it for the future."
Cameron told MPs he was a "huge fan" of the channel which he claimed as a "great Conservative innovation".
And he hit out at Labour's position. "Let's not close our minds like some on the Opposition front bench who think private is bad and public is good."
The prime minister had been responding to a question from SNP culture spokesman John Nicolson. He had urged Cameron to clarify that "no discussions" were underway to privaitise and "thus imperil this must loved and important public institution".
Channel 4 is wholly owned by the government, and mainly funded through advertising. It launched in 1982 and has a public service remit to show programmes which demonstrate "innovation, experiment and creativity" and "appeal to the tastes and interests of a culturally diverse society".
Plans to sell the station were drawn up under the coalition government but blocked by Lib Dem business secretary Vince Cable.
Channel 4 News presenter Krishnan Guru-Murthy tweeted after PMQs of the station: "Financially it is in pretty rude health from advertising".