A 22-year-old woman has been stoned to death by a group of men identified as Taliban insurgents, after she was accused of adultery.
Afghan official Abdul Hai Khateby, spokesman for the governor of central Ghor province, said the woman, identified only as Rokhshana, was thrown into a hole in the ground and stoned to death.
Khateby said Rokhshana had been accused of running away from home and committing adultery.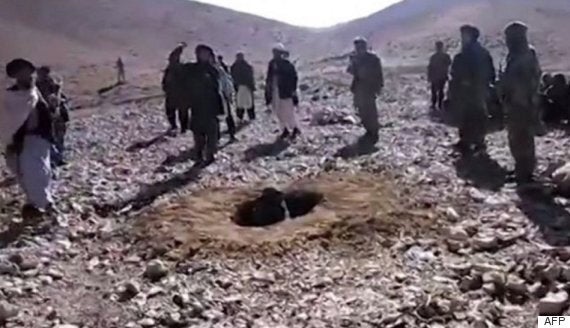 Footage, believed to have been filmed on a mobile phone, shows Rokhshana being pelted with stones
A 30-second video appearing to show the punishment has been published online, showing a woman believed to be Rokhshana in a hole in the ground surrounded by turbaned men hurling stones at her.
She can be heard uttering phrases relating to the Muslim faith as the stones strike her.
The 23-year-old man Rokhshana was eloping with was let off with only a lashing, Provincial Governor Seema Joyenda told Radio Free Europe.
She added Rokhshana had been married off by her family against her will.
"This is the first incident in the area [this year] but it will not be the last," she said.
Rokhshana was killed on 24 October in a village about 45 kilometers (28 miles) north of Firozkoh, capital of Ghor.
The area is controlled by Taliban insurgents "who implement their own barbaric laws," Khateby told the Associated Press.
Stoning is illegal under the Afghan constitution, though incidents are unusual but not unheard of in Afghanistan, where women are the main victims.
The AFP writes Rokhshana was stoned by a group of "Taliban, local religious leaders and armed warlords."