A high-profile corporate lawyer branded Liverpool supporters "Scouse scum" and tweeted "crawl back to your horrible Merseyside home" after his Chelsea team lost to the side 3-1.
Clive O'Connell, a partner at international law firm Goldberg Segalla, was filmed after Liverpool's win at Stanford Bridge on Saturday.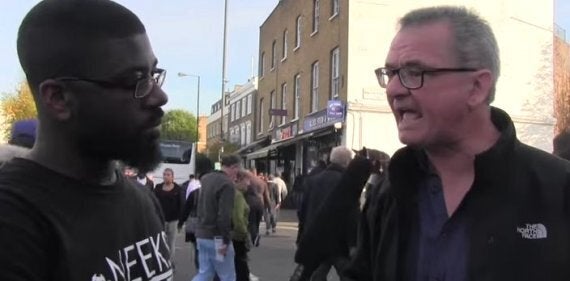 Clive O'Connell caught on film calling Liverpool supporters "Scouse scum"
He asked his interviewer outside the ground: "Why do you think it is the Scouse scum were singing 'you're getting sacked in the morning', not what we sang to [Rafael] Benitez 'we want you to stay' when Benitez was managing Liverpool?
"Because they know, even those scum, Scouse idiots, those nasty horrible people, know that Mourinho is the best manager in the world."
After the game O'Connell continued to abuse Liverpool fans on Twitter, according to the Evening Standard.
The newspaper said the lawyer had replied to an account which campaigns for Mourinho to be sacked, writing: "Crawl back to your horrible Merseyside home". The tweet has since been deleted and O'Connell's tweets are now protected.
The partner is described on his City firm's website as "one of the world's leading insurance and reinsurance professionals". He qualified as a solicitor in 1982.
Mr O'Connell is said to have since apologised for his comments, telling the Standard he had supported Chelsea since he was a child in the 1960s and feels "passionately about the team".
He told the newspaper: "I was very disappointed in the aftermath of Saturday's game.
"I let my emotions get the better of me. I clearly regret this and any offence that I may have caused by my hot headed and regrettable reaction, which was inappropriate whether or not caught on camera."
Daniel W. Gerber, chair of Goldberg Segalla's Global Insurance Services Group told the Standard the firm was "surprised" by O'Connell's remarks, but recognised the "passion that football supporters have for their respective clubs".
Gerber went on to tell the newspaper that O'Connell was known to be a "caring colleague and consummate gentleman".
He said: "Our firm's culture is one of inclusion and mutual respect. Our firm has employees who support many clubs, including several who support Liverpool. Clive recognises that his passion got the best of him and he is deeply remorseful for any offense and distraction his comments caused."