An artist's depiction of mental illnesses as monsters is being turned into tangible objects - and we want to buy the lot.
Earlier this year, artist Toby Allen released a series of illustrations showing what mental health conditions such as depression, anxiety and borderline personality disorder would look like as monsters.
Now, a librarian and sewing extraordinaire from London has transformed Allen's mental illness monsters into collectible soft toys.
Emily Monaghan has launched a kickstarter to raise money to create the mental illness plushies, and so far she's managed to raise over £19,000 - despite her goal being just £1,300.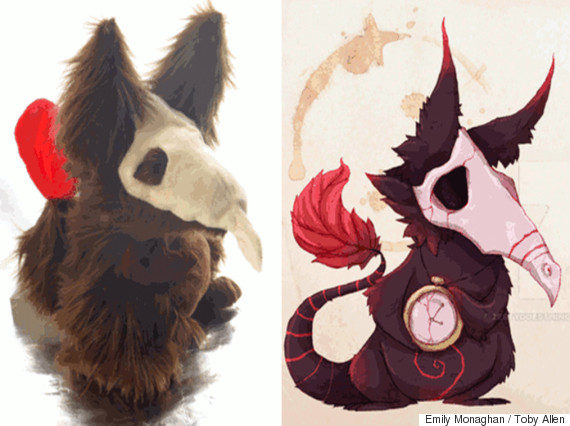 Anxiety monster
Toby Allen, who came up with the original designs, previously told HuffPost UK Lifestyle that he hoped his monsters would "raise awareness for lesser known illnesses and reduce the stigma surrounding more well known ones".
He also wanted people to see these conditions in a "different and less obscure way".
Monaghan was so taken with Allen's drawings that she got in touch with him last October to see if they could collaborate on a more tangible version - and, hey presto, the mental illness plushies were born.
SEE ALSO:

If Mental Illnesses Were Monsters, Here's What They'd Look Like

Calming Animations Could Help Anxiety Sufferers To Just Breathe

'Mental Illness Doesn't Make You Any Less Human': Sufferers Explain What Dignity Means To Them
"Each Monster is a limited-edition, hand-crafted collectable plushie, made from luxury faux-fur and minky," writes Monaghan on the Kickstarter campaign.
"The bulk of the Monster is machine-sewn for strength at my London studio, with details added by hand-sewn embroidery and airbrushing.
"Some Monsters also use poly-pellets and galvanised wire to fully capture the personality of the original design."
A lot of thought has gone into the collection, which will be available as either sewing patterns (so you can create your own) or tangible plushies.
Prices range from £5 - £100.
[H/T Metro]