Jeremy Corbyn laid a wreath at the Cenotaph during the Remembrance Sunday service and instantly drew criticism for not bowing.
That lefty Corbyn was the only one not to bow his head when he put down the wreath on the cenotaph, really is a disgrace to the lab party.

— William (@walsallcharlie) November 8, 2015
Oh come on, Mr Corbyn, surely a bow was in order when laying your wreath #RemembranceSunday

— Lisa Settle (@LisaMsettle) November 8, 2015
Corbyn is too proud to bow to our dead. What a bloody embarrassment to Labour and all those watching..!!

— Nicola Heron (@heron_nicola) November 8, 2015
Only he did...
It may have been a small head bow but it was definitely there.
No respect for war dead from morons upset Corbyn's Cenotaph bow was't low enough to satiate their political prejudice. Pure poison

— Kevin Maguire (@Kevin_Maguire) November 8, 2015
SEE ALSO: WW2 Veteran Explains How The 'Politicised' Red Poppy Is Used To 'Sell' The War On Terror
Those saying Corbyn didn't bow properly at the Cenotaph: a deeper bow will be photoshopped on later.

— David Schneider (@davidschneider) November 8, 2015
For the next #RemberanceSunday the Labour Party should use a protractor to make sure #Corbyn's bow is respectful enough for journalists.

— Lord Nigel Farage (@FarageNigel) November 8, 2015
Corbyn bashing takes on a new low with *did* he bow at the #Cenotaph. Of course he did. And, in any case...

D'OH!

— Michael Vine (@mpvine) November 8, 2015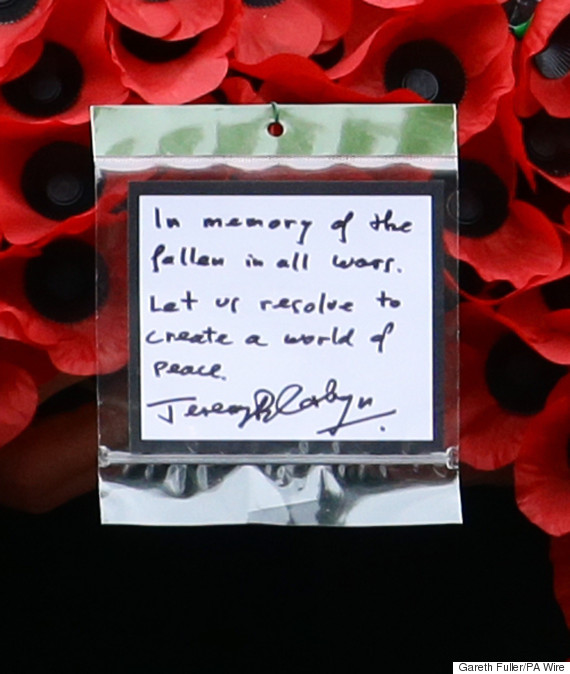 The wreath Corbyn laid
According to The Telegraph, Sir Gerald Howarth, a former Conservative defence minister, said Corbyn was an "embarrassment" and that remembering Britain's war dead "requires complete commitment".
At the other end of the scale, David Cameron's bow was so low it caught the cameraman unprepared.
But Corbyn's woes didn't stop there. After joining in with 'God Save The queen' he instantly face fresh criticism for being "forced" into it.
Corbyn does the smart career politician move and lays a wreath and sings God Save the Queen. Nobody's buying it though.

— RJ (@Sidewinderrrr) November 8, 2015
BREAKING: Horror at Corbyn not singing the National Anthem eclipsed by horror at Corbyn singing the National Anthem.

God Save The Queen

— J-P. Janson De Couët (@ostercywriter) November 8, 2015
I'm pretty sure that despite Jeremy Corbyn wearing a poppy, singing God Save the Queen certain parts of the media will twist this on Monday.

— A. (@OnlyOnge) November 8, 2015
Corbyn has made no attempt to hide his socialist and republican credentials much to the chagrin of the right and Sunday's events were always going to be watched closely.
In September he was forced to defend his decision not to sing the national anthem during the Battle of Britain memorial service.
It was moving meeting veterans and others at the Remembrance Sunday service this morning #RemembranceSunday pic.twitter.com/GvDlYQ3NRk

— Jeremy Corbyn MP (@jeremycorbyn) November 8, 2015
Last month he was blasted by The Telegraph after he failed to attend his first meeting of the Privy Council despite a number Tory MPs doing exactly the same thing over the years.
Last week the right-wing press launched a scathing attack on Corbyn claiming a video from 2013 shows him calling WWI commemorations "pointless".
Only it didn't.
The papers - the Daily Mail, Daily Express and The Telegraph - concentrate on one line from the speech in which the Labour Leader says: "I'm not sure what there is to commemorate about the First World War."
They then go on to claim Corbyn "denounced" the money that was to be spent on - amongst other things - the huge display of ceramic poppies that filled the moat around the Tower of London last year.
The full text of the video however, paints a more nuanced picture.
Corbyn says: "[Scottish socialist and first Labour MP] Keir Hardie was a great opponent of the First World War and apparently next year the government is proposing to spend shedloads of money commemorating the First World War. I'm not sure what there is to commemorate about the First World War other than the mass slaughter of millions of young men and women, mainly men, on the Western Front and all the other places.
"And it was a war of the declining empires and anyone who's read or even dipped into Hobsbawm's great work of the early part of the 20th century, written post World War, presaged the whole First World War as a war between monopolies fighting between [inaudible] markets.
"The reason I say this is next year the government are planning this celebration and I think that's an opportunity for us. It's an opportunity to discuss war and discuss peace and to put up an alternative point of view."