It may have been a small head bow but it was definitely there.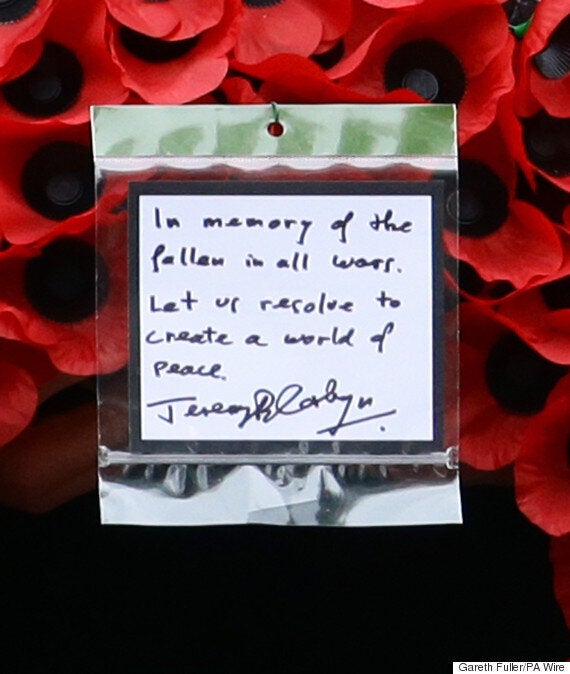 According to The Telegraph, Sir Gerald Howarth, a former Conservative defence minister, said Corbyn was an "embarrassment" and that remembering Britain's war dead "requires complete commitment".
At the other end of the scale, David Cameron's bow was so low it caught the cameraman unprepared.
But Corbyn's woes didn't stop there. After joining in with 'God Save The queen' he instantly face fresh criticism for being "forced" into it.
Corbyn has made no attempt to hide his socialist and republican credentials much to the chagrin of the right and Sunday's events were always going to be watched closely.
Last month he was blasted by The Telegraph after he failed to attend his first meeting of the Privy Council despite a number Tory MPs doing exactly the same thing over the years.
Last week the right-wing press launched a scathing attack on Corbyn claiming a video from 2013 shows him calling WWI commemorations "pointless".
The papers - the Daily Mail, Daily Express and The Telegraph - concentrate on one line from the speech in which the Labour Leader says: "I'm not sure what there is to commemorate about the First World War."
They then go on to claim Corbyn "denounced" the money that was to be spent on - amongst other things - the huge display of ceramic poppies that filled the moat around the Tower of London last year.
The full text of the video however, paints a more nuanced picture.
Corbyn says: "[Scottish socialist and first Labour MP] Keir Hardie was a great opponent of the First World War and apparently next year the government is proposing to spend shedloads of money commemorating the First World War. I'm not sure what there is to commemorate about the First World War other than the mass slaughter of millions of young men and women, mainly men, on the Western Front and all the other places.
"And it was a war of the declining empires and anyone who's read or even dipped into Hobsbawm's great work of the early part of the 20th century, written post World War, presaged the whole First World War as a war between monopolies fighting between [inaudible] markets.
"The reason I say this is next year the government are planning this celebration and I think that's an opportunity for us. It's an opportunity to discuss war and discuss peace and to put up an alternative point of view."
Related