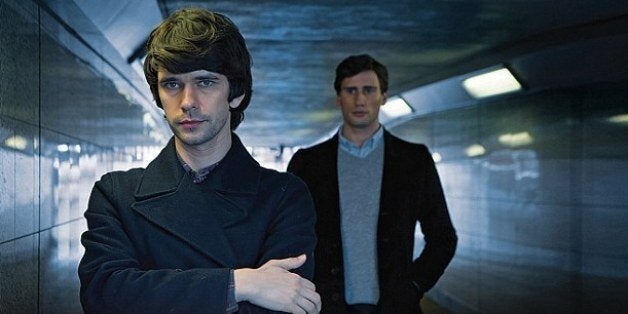 A Daily Mail column lamenting the number of "gay dramas" on television has failed to win over the paper's own readers, with hundreds piling in to rebuke editors for the stinging piece.
Christopher Stevens, who writes TV reviews for the Mail, came under fire on Tuesday for obsessing over the sexuality of two main characters from new BBC show 'London Spy'.
Actors Ben Whishaw and Edward Holcroft, who play young men Danny and Alex, are pictured in the first of a five-part instalment aired last night engaging in several romantic acts - but the outlandish display managed to prompt a torrent of anger from Mail columnist Stevens.
"Believe it or not, BBC execs reckon there is not enough gay drama on the Beeb," he bemoaned in his episode review.
"You might think that it's become impossible to switch the telly on without seeing two men locked in a naked clinch, or in drag, or snogging."
Stevens went on to complain that half-way through the programme Whishaw and Holcroft "got down to being gay", which he described as having "involved smouldering in profile, lying around with their shirts off in sepia light, having baths and mumbling a lot".
In disdain he added: "The story wasn't merely gay: it was as exclusively all-male as an old-fashioned gentlemen's club."
But readers of the column piled in to rebuke Stevens for his comments, telling him to "grow up" and informing the TV critic that "it's not a gay spy drama, it's a spy drama and some of the characters happen to be gay".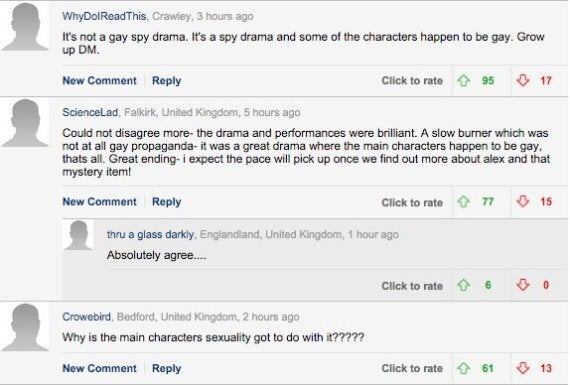 And the criticism really didn't relent.
One commenter mused that the column was "probably the worst critique of a TV programme that I have ever read".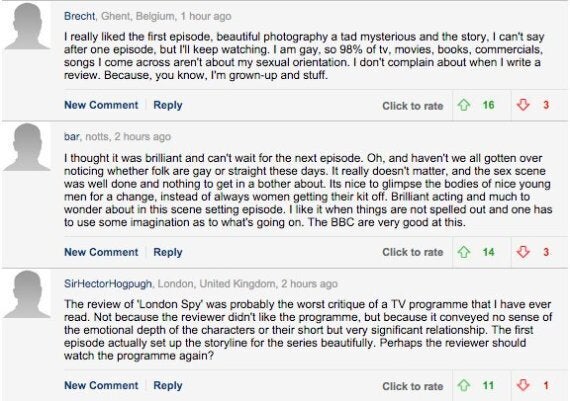 The Daily Mail was contacted for an opportunity to respond but did not reply at the time this story went live.