Victoria's Secret: men love it and women - well, they aren't quite sure how they feel about it.
Some of us love the body confidence the models exude, but on the other hand it doesn't exactly make us feel great about ourselves when we try on the underwear and don't exactly see Alessandra Ambrosio reflected in the mirror.
Lingerie retailer JD Williams - who ran an Over 50 Shades Of Grey campaign to champion older women and made 62-year-old supermodel Marie Helvin the face of their brand - have created a campaign in response to Victoria's Secret.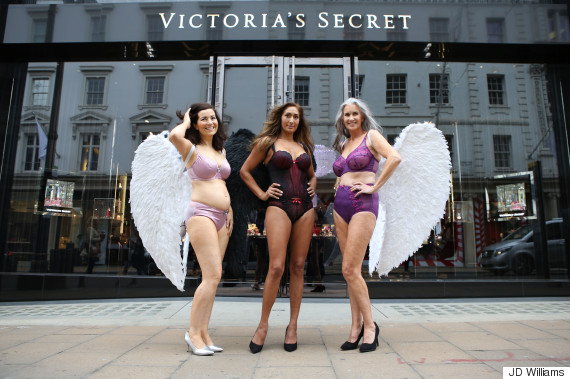 The retailer has created #WereAllAngels and took a picture of their three curvy 40-plus models outside a Victoria's Secret shop to counteract what they said is a beauty standard based on "young size zero models with long legs and thin waists."
Called 'Aliza's Angels' after Aliza Reger - daughter of famous lingerie designer Janet - who designs for JD Williams, the campaign is meant to highlight body diversity.
In an email to HuffPost UK Style, Reger said: ""I designed my collection for JD Williams with real women in mind and I'm so proud to be part of a campaign that champions such women.
"The images projected of so many models are vastly unattainable and it's important that we celebrate beauty in all forms! I hope my lingerie helps women to feel confident, sexy and comfortable in their own skin."
SEE ALSO:

Bella Hadid Stars In Topshop's Christmas Campaign

Clip-On Man Buns Allow You To Reach Peak Hipster In An Instant
The brand conducted the UK's first 50 Plus Female Fashion report with YouGov in 2014 which revealed three in five British women aged 50+ do not feel well represented in TV (57%) or magazines (58%) - and 76% feel they are not well represented in advertising.
HuffPost UK Style contacted Victoria's Secret for comment and have yet to hear back.