Jeremy Corbyn is set to inflame opinions yet again after commemorating Armistice Day with a group of school children in Crawley, Sussex.
Jeremy Corbyn observed the 2 mins silence with a classroom full of 4 year olds in a Crawley pre-school pic.twitter.com/oLrRnhB1BI

— Phil Hornby (@philhornbyitv) November 11, 2015
Observing 2min silence w/ parents in Crawley. We'll remember all those who have died in all wars & resolve to work for peace #RemembranceDay

— Jeremy Corbyn MP (@jeremycorbyn) November 11, 2015
He even had the audacity to entertain some children before the ceremony.
Jeremy Corbyn proving he knows the words and actions to Twinkle Twinkle Little Star pic.twitter.com/1X4drKiE1K

— Louise Stewart (@BBCLouise) November 11, 2015
As it wasn't on live TV, many people mocked the press's coverage of Remembrance Sunday by simply speculating as to what disrespectful misdemeanours the Labour leader may committed during the two-minute silence.
Headline tomorrow:

CORBYN TOO SILENT

Simon Danczuk claims Corbyn's sinister silence spoke volumes of the contempt he has for war dead...

— The Sun Apologies (@SunApology) November 11, 2015
I am DISGUSTED at what I imagine Jeremy Corbyn is doing during this 2 mins silence.

— Rich Thorne (@RichT83) November 11, 2015
Good to see a sure-footed performance from Corbyn this time. pic.twitter.com/mVcs147o4F

— HaveIGotNewsForYou (@haveigotnews) November 11, 2015
Jeremy Corbyn tweeted at 11am! GASP! Proof if needed that he wants to harpoon our veterans through the face.

— Helly (@IAmHellsBells) November 11, 2015
Breaking: @TheSun sources can reveal disrespectful communist Jeremy Corbyn was heard "breathing loudly" during the #ArmisticeDay silence

— StoatsJackson © (@StoatsJackson) November 11, 2015
Apparently Jeremy Corbyn coughed during that...so...tells you all you need to know, yeah?

— Rob Davies (@ByRobDavies) November 11, 2015
SEE ALSO: Forget Corbyn, Owen Jones Says THIS Is The Bow We Should Be Offended By
It comes after Corbynlaid a wreath at the Cenotaph during the Remembrance Sunday service and instantly drew criticism for not bowing.
That lefty Corbyn was the only one not to bow his head when he put down the wreath on the cenotaph, really is a disgrace to the lab party.

— William (@walsallcharlie) November 8, 2015
Only he did...
It may have been a small head bow but it was definitely there.
No respect for war dead from morons upset Corbyn's Cenotaph bow was't low enough to satiate their political prejudice. Pure poison

— Kevin Maguire (@Kevin_Maguire) November 8, 2015
SEE ALSO: WW2 Veteran Explains How The 'Politicised' Red Poppy Is Used To 'Sell' The War On Terror
Those saying Corbyn didn't bow properly at the Cenotaph: a deeper bow will be photoshopped on later.

— David Schneider (@davidschneider) November 8, 2015
For the next #RemberanceSunday the Labour Party should use a protractor to make sure #Corbyn's bow is respectful enough for journalists.

— Lord Nigel Farage (@FarageNigel) November 8, 2015
Corbyn bashing takes on a new low with *did* he bow at the #Cenotaph. Of course he did. And, in any case...

D'OH!

— Michael Vine (@mpvine) November 8, 2015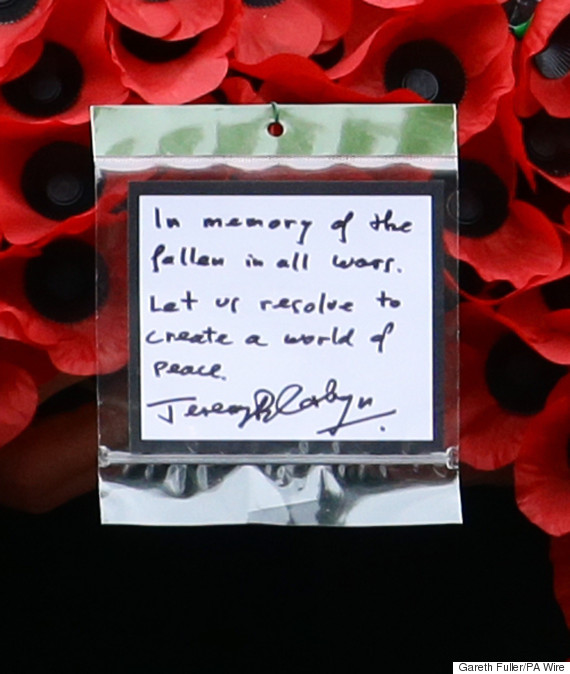 The wreath Corbyn laid
According to The Telegraph, Sir Gerald Howarth, a former Conservative defence minister, said Corbyn was an "embarrassment" and that remembering Britain's war dead "requires complete commitment".
At the other end of the scale, David Cameron's bow was so low it caught the cameraman unprepared.
Corbyn then stayed behind at the Cenotaph on Sunday long after the television cameras had gone to mingle with veterans.
The Labour leader applauded a march-past and even played the role of photographer.
It was moving meeting veterans and others at the Remembrance Sunday service this morning #RemembranceSundaypic.twitter.com/GvDlYQ3NRk

— Jeremy Corbyn MP (@jeremycorbyn) November 8, 2015
Some claimed he had skipped a VIP lunch to be there although this turned out to be a simple reception rather than a formal sit-down affair.
Jeremy Corbyn went up to Horseguards to meet/talk with WW2 veterans while the other politicians went for VIP lunch pic.twitter.com/c8Pa8yKTzD

— LabourTim (@LabourTim) November 8, 2015
I'm no fan of Corbyn, but I was at HG 2day, and when no other Politician was seen, he quietly watched ALL return! pic.twitter.com/VMUCV8nzlm

— John James (@_johnjames) November 8, 2015
READ MORE: Spurs Fan Drops Age-Old Rivalry To Say This To Jeremy Corbyn