Four men have been arrested in Britain as part of an international investigation into an alleged Islamist terror network.
The suspects were detained by officers from the North East and West Midlands counter terrorism units on Thursday morning in an operation led by Italian authorities.
The men were arrested on European Arrest Warrants and are now set to face extradition proceedings.
A total of 13 people were arrested in Italy, Norway and the UK by investigators probing a group called Rawti Shax, which is described as a "terrorist organisation of Kurdish-Sunni origin".
Eurojust, the EU agency which co-ordinated the raids, said suspected leaders and several members of the group were arrested during simultaneous activity in six countries.
It added: "The arrested persons are charged with international terrorism."
In addition to the arrests, authorities in Italy, Germany, Finland, Norway, Switzerland and the UK searched a total of 26 properties and seized several items including electronic devices and documents.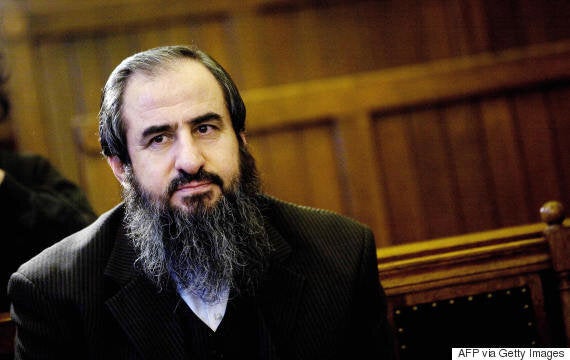 Najmuddin Faraj Ahmad, also known as Mollah Krekar, founder of the Iraqi Kurd Islamist group Ansar al-Islam, sits in Norway's Supreme court in Oslo, 09 October 2007
Some suspects could not be located as they are believed to have travelled to Syria and Iraq to join jihadist organisations such as Islamic State (IS) - also known as Isis - and al-Nusra.
Rawti Shax or Didi Nwe - meaning the "new course" or "towards the mountain" - is said to represent an "evolution" of Ansar Al Islam, which is listed by the UN as a terrorist organisation affiliated with al Qaida.
Eurojust said: "Its primary objective is to violently overthrow the current Iraqi Kurdish government and replace it with a caliphate governed by Sharia law.
"According to the Italian investigation, unlike Ansar Al Islam, Rawti Shax arose and is rooted in Europe, with cells communicating and operating via the internet, with a structure active especially in Germany, Switzerland, the UK, Finland, Italy, Greece, Sweden, Norway, Iraq, Iran and Syria.
"As the group evolved, it became active in providing logistical and financial support to recruiting foreign terrorist fighters to be sent to Syria and Iraq, also with the intent of training them for the future conflict in Kurdistan."
Najmuddin Faraj Ahmad, known as Mullah Krekar, was said to be the group's ideological leader.
He was sentenced to 18 months in Norway last month for praising the killing of cartoonists at the French satirical newspaper Charlie Hebdo in January.
His lawyer told reporters in Norway that suspicions against him "have largely been based on false accusations".
Ansar Al Islam has been listed as a proscribed terrorist organisation in the UK since October 2005.
The operation, which follows several years of work by investigators, was launched under the direction of the Public Prosecution Office in Rome.
The four men arrested in the UK, who are not believed to be British nationals, are aged 38, 32, 33 and 52, from Hull, Derby, Birmingham and Sheffield respectively.
A spokeswoman for the North East CTU said: "The arrests have taken place this morning in connection with this operation under European Arrest Warrants.
"We understand that people may be concerned following today's arrests; however, we would like to reassure communities that today's activity is as a result of an ongoing investigation which is intelligence-led.
"There is no evidence to suggest that communities are at risk."
The suspects arrested in the UK are set to appear at Westminster Magistrates' Court in London on Friday.