Alan Henning's daughter found out about his murder after seeing photos on Instagram, she has revealed.
The 18-year-old had hoped that the terror group would release her father, a taxi driver from Salford, who had gone to Syria to help deliver aid.
Speaking on The Jeremy Kyle Show, in an episode titled 'My dad was executed by Isis', the teenager said: "I remember thinking we have had a few days, no news, it's looking good. We thought they might actually let him go.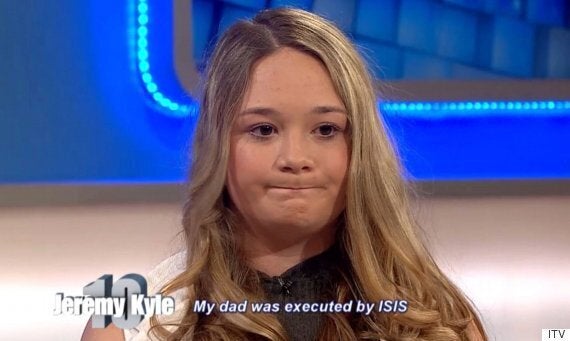 Lucy Henning revealed that she discovered her father's murder on Instagram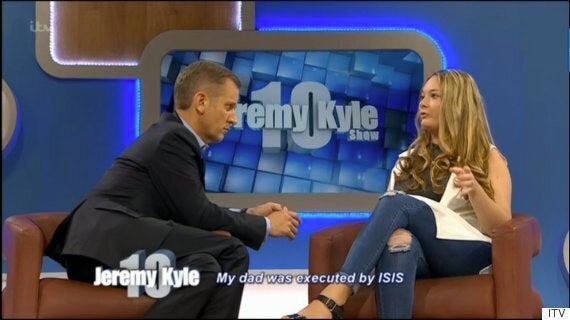 The teenager told Jeremy Kyle about her experience
"Then I remember I was just laying in bed on Instagram and er, I just saw the final picture. It was the final picture, after the execution.
"You just kind of go through in your head, like whenever I used to get upset about it, I used to torture myself thinking, 'You don't know what he's going through,' so how can you sit there crying.
"So I used to just shout at myself, you can't cry, you can't be upset, think about what he's going through, think about what everybody else is going through."
Henning said that she did her best not to think about the terrorists who murdered her father.
She said: I try not to think about them. I think I'm still numb. I just try and get everyone to remember like, the kids that are still there, when people say, 'Oh you've lost your dad,' Yeah I know but there's kids there that's lost, lose all their family in one day and they are stuck there on their own."
She added that she is herself looking to do voluntary work in Africa and hopes to make a visit in memory of her father to the region.