129 dead, French prosecutor says, with 352 injured, 99 critically
Restaurants, football stadium, rock concert attacked in night of horror
One attacker named as 29-year-old Omar Ismail Mostefai, a Frenchman who was flagged for Islamic radicalism links
French border controls increased, state of emergency declared
Seven extremists in three teams carried out attacks, all wearing identical suicide belts, all killed

Dramatic video has emerged showing the terrifying shoot-out between French police and machine gun carrying terrorists outside Paris' Bataclan theatre where 89 people were killed.

The footage, taken by photographer Patrick Zachmann, shows armed officers engaging in a gunfight with terrorists, who are thought to include French citizen Ismael Omar Mostefai.

Zachmann, who narrates the footage which shows bullets ricocheting off parked cars and civilians being ushered to safety, said at one point he heard a woman lying on the ground calling out.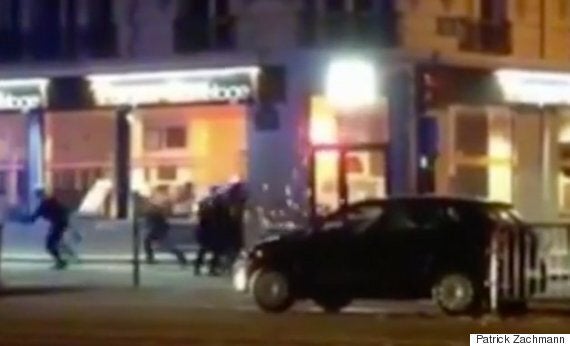 Video has captured French police engaging in a fire fight with terrorists outside Paris' Bataclan theatre
He said: "She was asking for help, she was saying "aidez-moi, aidez-moi", so help me, help me.'"
Zachmann said the police officers involved "seemed to be really nervous, even scared".
He added: "It was like panic. You felt it was not under their control."
Briton Nick Alexander was at the Eagles of Death Metal concert and on Sunday was remembered as "a hero".
According to reports the gunmen spoke perfect French and two of them were seen arriving in a black BMW.
Ludovic Mentahov, 20, told MailOnline: "I was walking along the street when I saw a German car pull up ahead, black, a BMW, I think.
"Two guys got out. They were dressed head to foot in black.Their faces weren't covered, I could see they were young. They were each carrying a Kalashnikov. I was scared. I just ran."
At first the terrorists are said to have shot people standing by the bar, before spraying the crowd with bullets.
The website also quoted Pierre Janaszak, a radio presenter who attended the concert. He said: "They didn't stop firing. There was blood everywhere, corpses everywhere. Everyone was trying to flee,' said Pierre Janaszak, a radio presenter who was at the concert.
"I clearly heard them say 'It's the fault of Hollande, it's the fault of your president, he should not have intervened in Syria'."