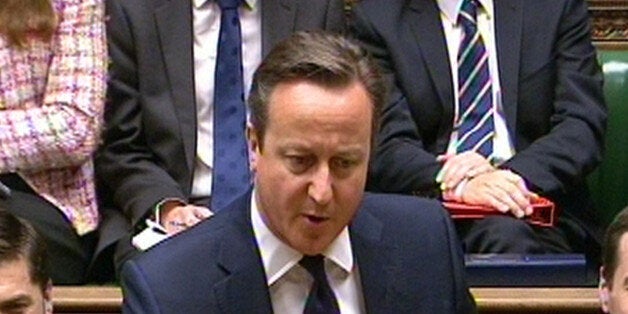 David Cameron today backed military action against Isis in Syria without a UN resolution, as he claimed he would not "outsource" Britain's defences to Russia.
Speaking during a sombre Prime Minister's Questions, Mr Cameron said he would not allow Russia's power to veto UN-led action in Syria prevent the UK from taking part in military action in the country.
The Prime Minister said it would be "preferable" if any action against the terrorist group was approved by the UN, but he had to take the decisions to "keep our country safe."
He said: "Of course, it is always preferable in these circumstances to have the full backing of the United Nations Security Council, but what matters most of all is that any action we would take would both be legal and help protect our country and our people right here.
"You cannot as I said yesterday outsource to a Russian veto the decisions we need to keep our country safe.
SNP's Westminster leader Angus Robertson pressed Mr Cameron on action against Isis without UN-backing.
He cited a Survation poll which claims 52 per cent of the public would only support military action in Syria through a UN-led operation.
Mr Cameron replied: "It's always preferable to have a UN Security Council resolution but if they are vetoed or threatened with a veto over and over again, my job frankly as Prime Minister is not to read a Survation opinion poll it's to do the right thing to keep our country safe."
To cheers from Tory MPs, Mr Cameron said: "Hasn't it come to something when the Leader of Her Majesty's Opposition thinks that the police, when confronted by a Kalashnikov-waving terrorist, isn't sure what the reaction should be."
"It [ISIL] could only be defeated by the international community as a whole. If possible through an UN sponsored process, but if not that then the nations coming together," Lord Falconer had said.
But sources close to the leader said the Labour peer had merely "floated" the idea, which was not party policy.
"He floated that point, he didn't state it as a categorical point. The agreed position of the Labour front bench and the Labour party agreed at its conference this autumn is that there should be no support for military action in Syria except with the support of the United Nations Security Council resolution.
"That was also agreed between Shadow Cabinet members this weekend. It is the common position of the Labour leadership. Obviously the question is then raised of what happens if no such resolution is obtainable. And then obviously we would consider the situation in that light."
The source close to Mr Corbyn added: "Jeremy's view is…that these interventions in the Middle East and the wider Muslim world have fuelled, not contained, nor defeated terrorism.
"Terrorism has spread throughout the region and far beyond in the aftermath of these interventions and wars. He agrees with Barack Obama about that.
"It's nothing to do with saying that that excuses or in any way justifies these attacks, of course they are totally unjustified, including the Paris attack. But it's facing reality that you cannot end this cycle of violence by continuing it and continuing to escalate it."