The five things you need to know on Wednesday November 18, 2015…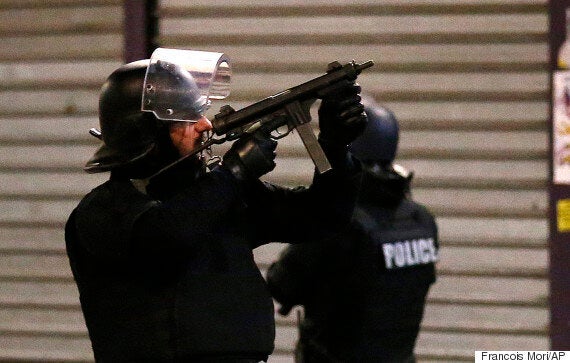 It's a fast moving situation in Saint Denis, Paris, as at least two ISIL fugitives are reported to be dead – one a woman wearing an explosive vest - after a pre-dawn police raid. The fact that there was gunfire on both sides underlines once more that the real 'shoot to kill' policy actually belongs to ISIL; and that security forces and politicians have little option but to combat the threat with lethal force to protect the public. As David Cameron pointed out yesterday, this new breed of terrorism doesn't take hostages or create sieges, it simply wants to kill as many as possible as quickly as possible.
Jeremy Corbyn was at last night's England-France match, as well as the PM, Boris and other leading politicians. The fans' show of solidarity was impressive and I was lucky enough to be there myself for that very moving rendition of La Marseillaise. But the very visible armed security around the ground was another reminder of the responsibilities all Prime Ministers face.
Corbyn's clarification of his stance on 'shoot to kill', revealed by HuffPost yesterday, was an attempt to show that he takes seriously both a PM's duty to keep the public safe, as well as the importance of upholding the law. Corbyn tweeted that he was taken out of context after his line on the BBC that he was 'not happy' with a blanket 'shoot to kill' concept. Yet shadow ministers believe it was further proof that their leader is still grappling with how to give media interviews, where he tends to 'think aloud', rather than deliver a line worked out beforehand that is in tune with current policy.
Some MPs believe Corbyn was distracted by the Jean Charles de Menezes and Northern Ireland backdrop to the phrase 'shoot to kill', rather than thinking through that some lethal police measures are already legally justified. And it didn't go unnoticed the way Andy Burnham and Chris Bryant nodded their heads firmly in the Commons yesterday, as Cameron rammed home the need for security forces to operate 'shoot to kill'in certain emergency circumstances.
The Telegraph is quoting Government sources as saying that David Cameron is looking at holding a fresh Syria vote 'before Christmas'. No.10 sources tell me this morning that this is 'speculation' and "we've been very clear we are not setting out a timetable for a vote, or pencilling in any dates" (sounds just like the EU referendum -see below). But the PM will publish a "comprehensive strategy" for Syria in his response to the Foreign Affairs Committee and that is expected to be ready in the next week or two. That's when the real pressure will start as Labour MPs – and Tories – are asked to make their minds up on extending UK military action from Iraq over the border. As one No.10 insider puts it: "The worst outcome is for the UK's standing in the world would be to have a vote and lose."
Getting that coherent strategy won't be easy, not least as Cameron himself pointed out at the G20 that it's not just a matter of dropping more bombs. Yet the diplomatic breakthrough may be on its way, not least as the Russians confirmed explosives on their downed airliner and Moscow talks of a joint response with the French to ISIL.
Jeremy Corbyn has several problems here. First, he made clear in the Commons yesterday that he would only back action that had the support of the UN and 'international community'. These are not always the same thing and there's a tension between the Abbott view that only UN-authorised action should go ahead, and Charlie Falconer's line on Marr that if UN agreement was absent 'nations can come together'.
The Government reckons it can squeeze its Tory rebellion (which won't be anything like the 30 in 2013) and call on the 30 Labour hawks to back it. There could be many more if Hilary Benn were to signal he was happy with any 'coherent' plan. Pat McFadden (part of the Benn team) gave a warm welcome to the PM's statement yesterday, a significant addition to interventions from Ian Austin, Mike Gapes, David Hanson. I'm told there wasn't a coordinated 'Labour hawk' response yesterday, it just grew naturally. Debbie Abrahams, a Burnham supporter, praised Cameron too. HuffPost has been told that if Benn were to quit over a three-line whip, an 'exodus' would follow.
Note too the DUP in this arithmetic. Normally on board for strong security responses, their support was probably guaranteed after the little-reported breakthrough at Stormont yesterday.
Team Corbyn are not giving up, though the issue of a three line whip is now fraught. Ken Livingstone tweeted yesterday that "If pro-war MPs want to support a war they should accept that there is a whip and decide whether to break it." Strong stuff and Ken's role is even more important after it emerged he will co-chair the defence review. On his appointment, Wes Streeting tweeted the Westminster Hour line from Ken (which got buried by the Paris news), when he claimed "the endless interventions [of the West in the Middle East].. has come back to haunt us".
PMQs could well be dominated by Paris, and Syria, today. If things get rough, expect Michael Fallon's letter to Corbyn on armed forces being loyal to the Queen as well as the Government, and his offer of a Privy Council briefing, to feature. But Cameron will have more than enough ammo simply by citing this week's PLP.
3) SMELLS LIKE TEEN SPIRIT (AGAIN)
There's more than a little irony in the fact that it is the very politicians that Jeremy Corbyn has long wanted to abolish – unelected peers – who are his most effective troops in Parliament. Their tax credits ambush of George Osborne proved in spades the procedural nous, cross-party tactics and determination of Labour peers. And today the Lords again gears up for another Government defeat, this time to give 16 and 17-year-olds the vote in the EU referendum.
Shadow FCO minister Eluned Morgan has posted a Facebook message on today's vote. The thing to watch closely will be the scale of the defeat. If it's under 30, the PM will probably opt for for ping-pong (though he still has to then deal with Tory backbenchers who may not want to overturn it). If it gets over 40, then there is some serious thinking for No.10 about a possible u-turn. Labour peers are being told that the Electoral Commission 'warning' of delaying the bill by a year to register teenage voters is untrue and it could take between six and nine months: which would still fit with the September 2016 poll date that many ministers expect.
As for the wider issue of the EU, the FT has gone big on Treasury plans to do its own assessment of the impact of Brexit. And just as the SNP accused Osborne of trying to skew the #indyref, Eurosceps are warning this would be seen as rigging the #EUref. Philip Hammond cheered up the 'In' camp yesterday with his warning that there would be 'some very negative impact' of Brexit in the short term.
BECAUSE YOU'VE READ THIS FAR…
Amber Rudd is seen by some as the Treasury's own minister in DECC, an Osborne 'plant', more blue than green. Today, years after the 'dash for gas' of previous Governments, she will use a Big Speech to vow to drive up the number of gas-fired power stations over the next decade as she announces the end of coal-powered plants.
She was on the Today programme saying 'coal will no longer crowd out gas and coal has a clear fixed end date'. UCL reckons Rudd could go for 25 gas stations, a figure she didn't exactly deny. Rudd said 'gas is the bridge to a low-carbon future'. That may sound like a ThickOfIt style soundbite, but even some in Labour used to agree that gas is needed pending a big switch to renewables. Watch for how hardline Labour is in response.
Friends of the Earth's Simon Bullock has a pithy line: "Phasing out coal – if that's what's being suggested – is essential for the climate. But switching from coal to gas is like an alcoholic switching from two bottles of whisky a day to two bottles of port." Meanwhile, I wonder how the DfT is coping with her dig last week that it was kinda to blame for not hitting the renewables target.
With No.10 and the Department of Health wary of another NHS winter crisis, the Treasury is facing real pressure ahead of the spending review. And several stories today add to Simon Stevens' plea for not just more cash but key protections.
A survey of hospital finance directors found that 100% of them expected to end the year with a deficit and more than 80% warned they need more money. How long before Shadow Health Secretary Heidi Alexander, who increasingly impresses her colleagues, tries out the line that it's Osborne who's 'the real deficit denier'…?
The Health Foundation and IPPR also point to a funding gap of £2bn by 2020 even after the extra cash doled out by the Government. A penny on income tax is one solution being proposed – I wonder if Labour will look at that as an option, not least given Corbyn's free-thinking approach to policy.
If you're reading this on the web, sign-up HERE to get the WaughZone delivered to your inbox.
Got something you want to share? Please send any stories/tips/quotes/pix/plugs/gossip to Paul Waugh (paul.waugh@huffingtonpost.com), Ned Simons (ned.simons@huffingtonpost.com), Graeme Demianyk (graeme.demianyk@huffingtonpost.com) and Owen Bennett (owen.bennett@huffingtonpost.com)