A mum-of-two comfort ate her way to 20 stone because she was so scared of developing cancer – an illness which has claimed the lives of many family members.
Dotti D'Arcy, 36, turned to greasy fry-ups and Chinese takeaways after losing her brother, sister, grandmother and grandfather to the disease.
Another sister had a double mastectomy after finding lumps in her breasts but thankfully survived.
Realising she couldn't continue with her unhealthy eating habits, D'Arcy - who developed diabetes as a result of her poor eating – now weighs 15 stone after opting for a healthier lifestyle.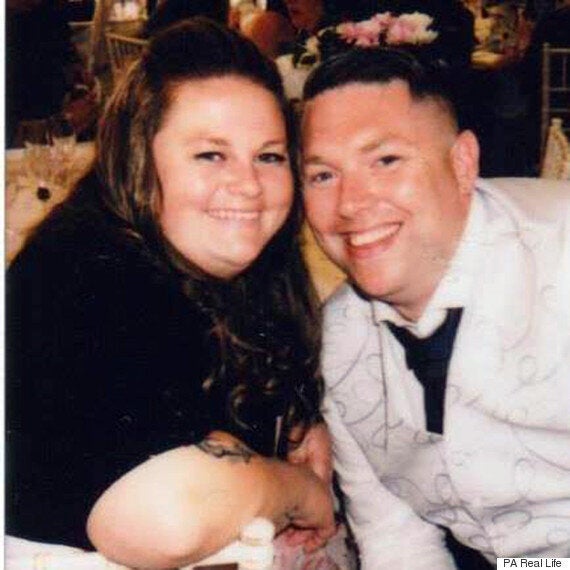 Dotti D'Arcy and her husband Russ prior to their weight loss
The train worker proudly told of how she swapped KFC for Nando's and had never been happier, after realising comfort eating was the root of her problems.
"If I was happy I ate and if I was sad I ate," said Mrs D'Arcy from Shrewsbury, Shropshire.
"I had to have food, it was the only thing I looked forward to. Everything revolved around food.
"If I was sad or feeling miserable I'd go out for a takeaway. If I was happy I'd eat a bag of crisps, toast or a chocolate bar."
She told of how her fear of developing cancer led to her scoffing sweet treats.
"So many members of my family have died of cancer," she said.
"My brother Desmond died of throat cancer aged eight months, my sister Lucy died seven years ago of breast cancer aged 27, my sister Sue-Ellen, 30, had a double mastectomy this year after she found lumps in her breasts, my granddad Desmond died aged 78 having suffered cancer three times and my gran Dorothy died age 38 in 1977 of ovarian cancer.
"It was devastating. It was a constant worry about who was going to be next. It's something that's been in the background for the whole of my life.
"I wasn't always an eater but when Lucy was diagnosed, we moved in to look after her. I started comfort eating and never got out of the habit."
She continued: "We knew Lucy was dying because her breast cancer was diagnosed at such a late stage there was nothing they could do for her. So we wanted to make her last months as happy as we could. Part of that was going out for meals.
"We went to local pubs and restaurants eating fish and chips, fry-ups and steaks and the weight just piled on. Lucy died after three weeks and I put on five-stone in the next two years."
D'Arcy said she tried everything she could think of to lose weight including Slimming World, Weight Watchers and Slimfast.
In June this year, she recruited GP Dr Rangan Chatterjee, who's behind a new BBC1 series looking at unhealthy families, to help her.
He gave her and her family a 13-week health MOT and she discovered her problem was emotional eating caused by a fear of cancer.
At the time, D'Arcy weighed 19st 10lbs and was diagnosed with Type 2 diabetes.
Her husband Russ, 33, weighed 21st 7lbs, and had become so overweight he couldn't continue his job as a fireman. Instead, he was assigned a desk job.
Daughter Deni, 17 and son Brandon, 19, who both worked in McDonalds, were suffering too. Denny was diagnosed with a metabolic age of 32, while Brandon's metabolic age was 24.
"I felt in a big hole and I didn't know what to do," said D'Arcy. "It used to cause ructions between me and Russ because he didn't want to eat unhealthily, but it was like an addiction. I couldn't stop.
"I felt like rubbish, I had no energy and was depressed and miserable.
"When I found out about the kids metabolic ages I cried and cried. I knew that my problem had affected them and I was devastated."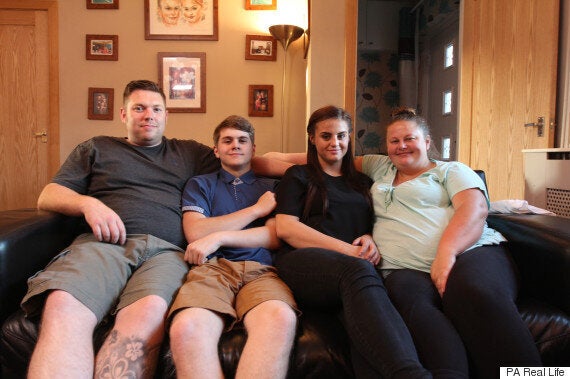 The D'Arcy family prior to their health kick
D'Arcy told how Dr Chatterjee spent 13 days with the family and immediately spotted his patient's anxiety about her family's cancer legacy.
She was recommended the BRCA1 and BRCA2 genetic test, which pinpoints your chances of developing breast or ovarian cancer.
The BRCA 1 and 2 results showed that she had a low risk of developing breast or ovarian cancer, but another gene indicated she could be at risk of other cancers.
"It's something I have to live with but I want to give me and my family the best chance at a healthy life," she said. "Something has clicked in my brain and now I'm focused on preparing healthy meals.
"Instead of McDonalds and KFC I'll have Nando's chicken or healthy chicken kebabs. I don't want to give up everything in life."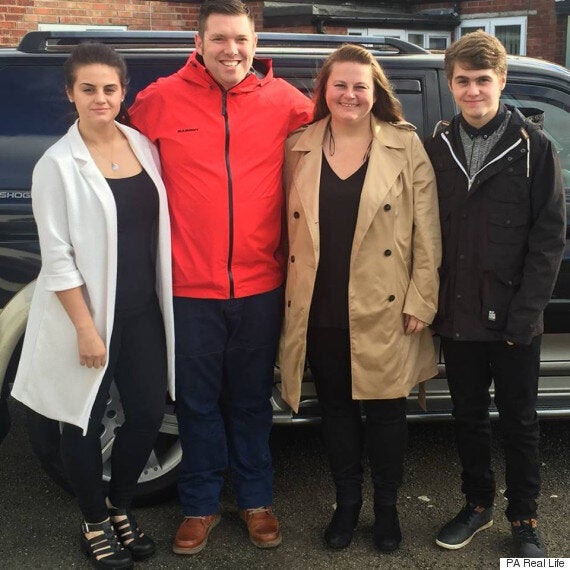 The D'Arcy family after their health kick
Since she changed her and her family's diet she's lost 4st 7lbs and now weighs 15st. Her husband has lost also 4st 7lbs and now weighs 17st 7lbs.
She has also come to terms with the cancer risk.
"Fear is always going to be in the back of my mind but I can rationalise it," she said.
"If it happens it happens and I'll deal with it, but it's not worth making the family unhealthy. I want them to live a long and healthy life."
Doctor in the House will start on BBC1 on Thursday at 9pm.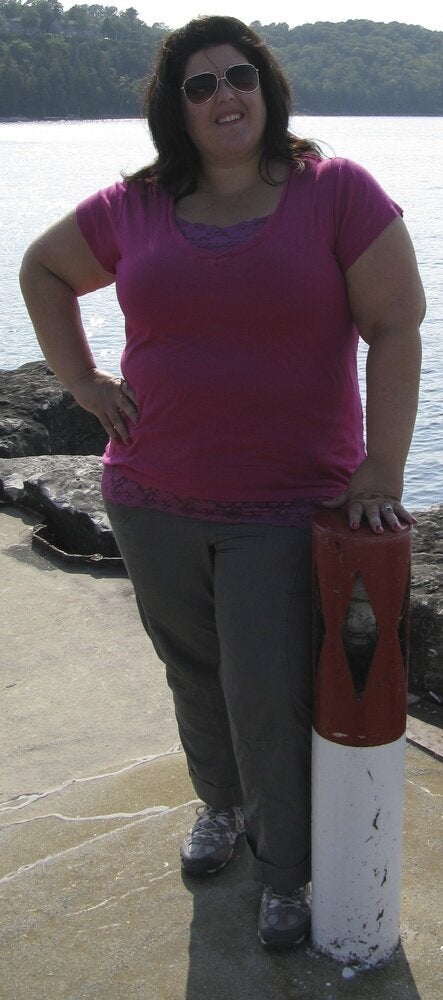 Weight Loss Success Stories