Every week, a group of men gather in a one-story building in the east of Wakefield, West Yorkshire, to talk about abusing their families.
Their stories vary: some have attacked their partners or children, others are controlling, and most struggle to manage their temper.
Some are classed as "high-risk" and their children have been placed under child protection so they don't see them any more. Others have been told that if they don't change their behaviour, they can't go home to their families.
"Unfortunately, because people don't realise there's support out there until it comes to a certain point, a lot of them have had to leave, or their partners have left them," says Ann Ramsden, the founder of The Rosalie Ryrie Foundation, the domestic abuse charity which runs the group.
For two hours a week, Ramsden works with the men to address aggressive and conforming behaviour. Social services are involved in many, though not all, of the cases.
Some, like Dave*, who is 37 and has been going to the group for 18 months, are not physically violent – they just want to stop shouting at their children.
At the start, Dave thought the group wasn't for him.
"It seemed a lot of other people had a lot bigger issues than I had," he says. "Some people had been in and out of prison, some are on drugs, some people have come off drugs, and some people are there because they've been violent to their partners.
"But if you keep going to the meetings, you find out that things affect people differently and people get put away because they reacted wrongly to something. I could have been in the same boat as what they are."
Dave has had a volatile relationship with his partner in the past: "Just the general sort of shouting, and pushing now and again," he explains. "Not violent as such in terms of punching each other or slapping or anything like that. Name calling, I've done that in the past."
Looking back, he'd also describe the way he used to treat his six-year-old son as abusive. "Looking at the bigger picture, I'd say yeah. I think both me and my partner slapped him a little bit, not hard, just sort of when he was being wrong – but I'm dead against that."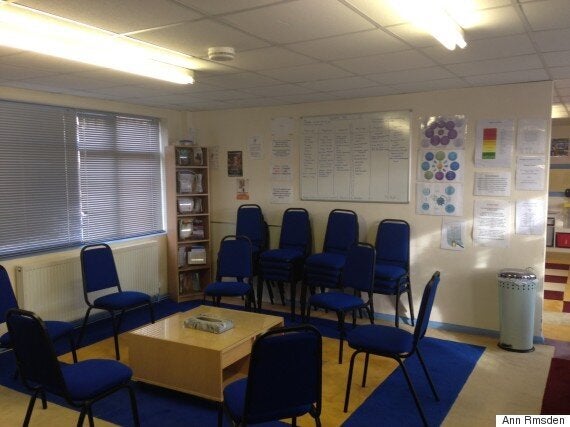 The room where the group meets
His relationships with his family have changed since going to Rosalie Ryrie, but he is still concerned about "shouting and raising my voice" to his son.
His problems started after he had a child. "For the first couple of years, everything seemed to be ok and then me and my partner were falling out because we were arguing. There had been a couple of issues that I'd got: it's a bit tricky to explain."
Dave was abused by a female relative for several years, starting when he was around 10 years old.
"I remember her sort of messing with me down below. At the time I remember knowing it was wrong but I wasn't sure what it really was, but when I spoke to people later on they are now saying that was abuse, and it shouldn't have happened."
"I didn't forget about it, it's always been there," he says, "but it was just sort of left and forgot about."
After his son's birth, and hearing that a friend had gone through the same experience, Dave found himself breaking down and telling family members about the abuse. "Before I told them they said 'Whatever it is, don't worry about it, it's not your fault,' but when it came out that it involved family member, suddenly their reaction just sort of changed and it has literally been forgot about. It's never been mentioned again."
In her daily work with Rosalie Ryrie, Ramsden is aware of the complex reality of domestic abuse. Whole families participate in it, and almost every abuse perpetrator she has worked with – men, women and children – has also been a victim.
"A lot have gone through domestic abuse themselves as children; physical abuse, sexual abuse, anything that can impact on a child. Most of the perpetrators have got really low self-esteem," she says.
"They've could have been bullied at school. Some taking on victim behaviors, but others become aggressive."
So it isn't as simple as treating an abuser as the bad guy, she explains: "You know when you hear the victim say 'But he can be lovely' or 'she can be lovely'? And they are. Generally these are really protective, caring people, but they do it wrong."
But she makes it clear that she doesn't feel sorry for them: "We don't go, 'Aw, bless'. We get to a point so we can understand why that person may behave that way, but we don't excuse any form of aggressive, violent or controlling behaviour."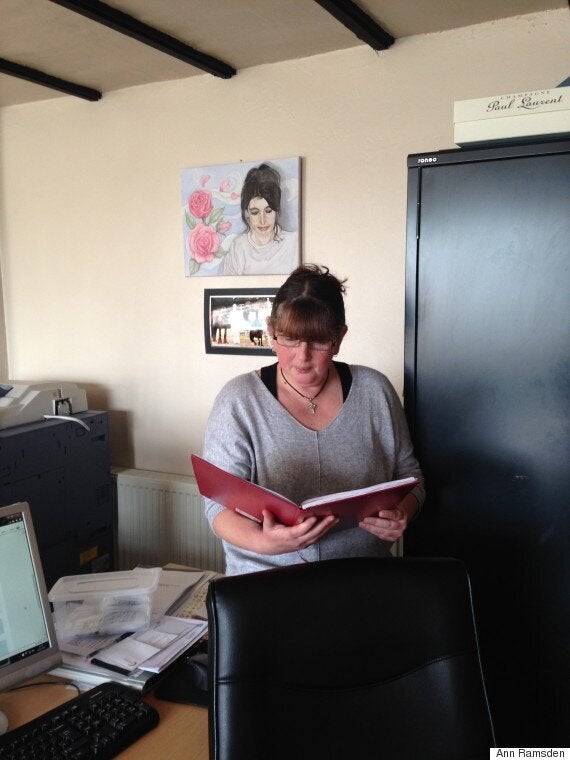 Ann Ramsden, with a picture of her mother Rosalie Ryrie behind her
Men who are classed as a danger to their families pose no threat to the weekly group, she says. "A lot of people believe that. They say 'oh god, you work with perpetrators.' But they don't kick off. It's only within the home. They don't come in here angry.
"I'm not here to judge them as a person, you know? And I think they realise that – I'm not here to say you shouldn't be with your children, what I'm saying is your behavior is impacting on your family, it's dangerous."
Ramsden runs other groups alongside the men's session, and says the perpetrators she sees are about 50/50 male and female. "Female aggressors find it more funny if they are aggressive to men. Men seem to be more ashamed of what they've done." Some of the men are abused by their partners or even children, and Rosalie Ryrie also holds a group called High Heels for the growing problem of teenage girls being aggressive towards their family.
Understanding abuse through a child's eyes is key to Ramsden's approach. Men in the group are familiar with 'Charlie' - a tool she developed that uses a gender-neutral drawing of a child, to record all the abuse a child might see, overhear or experience in their life.
The group draw a 'Charlie' and note down events that might make him or her feel sad inside the drawing's body.
"We get them to say things and put them in," says Ramsden. "What does Charlie see? What does Charlie hear? Swearing? So they'll come out with each individual swear word."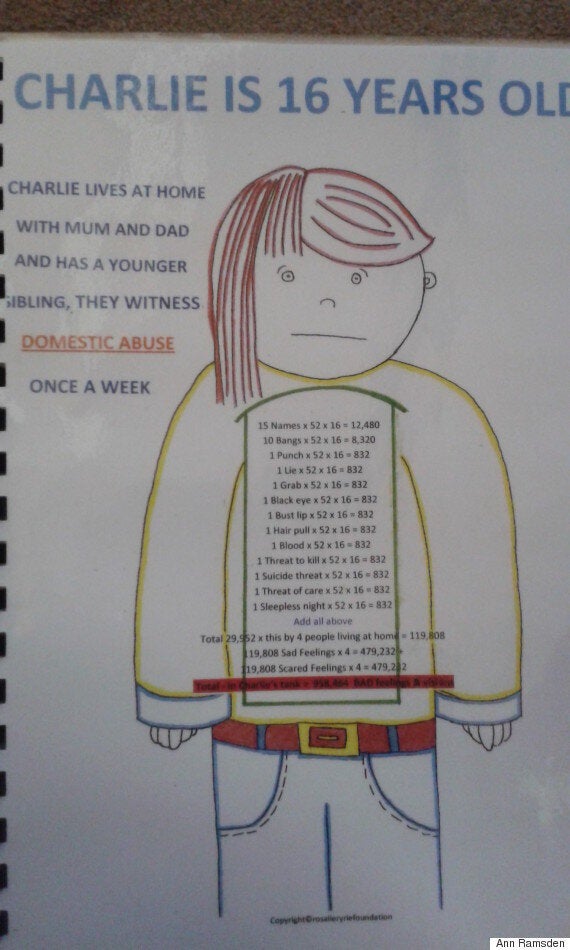 "It could be just 'my dad got cross'," she says, looking at a Charlie as she speaks to me. "We separate everything – we've got a domestic abuse incident, people who drink, people who use drugs, physical abuse, sexual abuse, divorce, separation, a new partner. We write each incident on – 15 names called, one kick, one punch…
"Then we add everything up. So if this Charlie is 16 years old, and he witnesses domestic abuse once a week, we times that by 52 weeks for 16 years to get a result. This Charlie that I've got in front of me has got 958,464 sad feelings."
"It's everything sort of inside that's building up," says Dave, "silly little things or big things that just keep building up and up and up, and if you don't deal with them then it explodes."
As well as thinking about how abuse affects their children, the drawing can also help them address the issues so many have from their own youth.
"People don't understand themselves," says Ramsden. "It's like when people go through a death, they think 'Yeah but he died 20 years ago' but it still doesn't mean they felt at that time. Most of the emotions we are carrying are from childhood. It's not about an excuse, it's that once we can understand this then we can work on it."
The effects of Charlie on the group can be powerful. "Generally they break down. We get people crying in the room. Or go silent. Not a lot of people intend [to affect their kids when they fight with partners]. They think they weren't there, or they were in a different room, then actually they can hear it - if you can hear neighbours, you can hear upstairs."
Rosalie Ryrie is a tiny charity with only four members of staff, but helps nearly 200 people a year and is shortlisted for the Centre for Justice Awards due to be held in late November.
Ramsden named the charity after her mother, and founded it because of her own violent childhood. From aged 14 she abused her own father, verbally and physically, after her parents split up, "Then my mum's new partner abused her, and my mum would bring me to come and attack him."
Rosalie Ryrie's centre in Wakefield
Ramsden sought help, but was frequently told someone would have to be arrested first before they could access any service, so she developed her own.
After a "volatile" relationship with a partner when she was younger, she now has a happy marriage and "did a lot of changing of my behaviour," she explains. "That's why I do what I do."
In fact, she feels that her experience is an asset in dealing with the people who visit her groups: "They can't manipulate a manipulator. Most of our workers have been through that so [the group members] can't play games with us."
Aside from Charlie, much of what the group does is simply talking about their feelings and how their week has been. "Some people can't learn if you do it on a board, like a class class," Ramsden notes.
She feels this relaxed, open approach is key to her success. "The proof's in the behavior, because we've had feedback from other services. You can see a difference, not just in what they're saying, it's about feeling. Through observation of a person you can see if they are more relaxed. They might have been het up and frowning all the time, so you can visually see the changes."
Dave also feels his behaviour has changed, though he still has more to do. "At the minute I would say it's about 60/40," he says. A few years ago, he would have told his son to hit back if he was bullied or tackled in a football match. But now, his response is different: "I say to him, if that happens, don't kick out, just walk away."
This shift resonates with Ramsden's message that the whole family who need to be involved in combatting abuse. "Half of these guys we're working with now as adults were somebody's son who has gone some form of abuse," she says. "They're always somebody's son."
*Dave's name and some details of his story have been changed to protect his identity
The Rosalie Ryrie Foundation is shortlisted for the Centre for Social Justice Awards 2015, which recognise UK charities that display innovation and effectiveness in addressing the root causes of poverty, transforming lives and reversing social breakdown. The Huffington Post UK is the media partner for the awards