A University of Southampton student who craftily handwrote a Whatsapp message to ask a fellow student out on a date is responding to viral fame in the best way.
The as-yet-unamed illustrator approached Naomi Lucking as she sat at a table in the campus library earlier this week, awkwardly passing the ingenious note to her.
Yet despite the clearly impressive creativity, his approach was perhaps a little too forward to have the desired effect.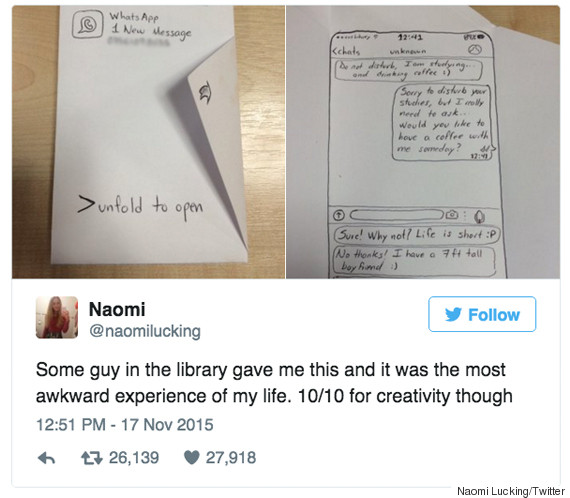 Click here to zoom on the full note as posted to Naomi's Twitter account (we've blurred the guy's number)
He wrote:
Sorry to disturb your studies but I really need to ask: would you like to have a coffee with me someday?

- Sure! Why not? Life is short :P

- No thanks! I have a 7ft tall boyfriend :)
Unfortunately for the guy, Naomi confirmed her rather cutting response after posting a picture of the note online.
@emilydissx I just laughed and said 'actually he's 6ft3', he looked so crushed 💔😂

— Naomi (@naomilucking) November 17, 2015
Reaction to the note has been huge with Naomi's post receiving over 25,000 shares so far.
@naomilucking @junayed_ I think that's really sweet!

— Lee Graham (@leepg) November 17, 2015
@naomilucking @imnotaIexia so cute

— diana m. (@marmoliana) November 19, 2015
@naomilucking @AVagabond_ That is fucking ace.

— Gemma Stephenson (@FrogBox82) November 17, 2015
@naomilucking aww this is cute!

— ☀️ (@Yup_its_laura) November 18, 2015
But it was nonetheless seen as being a rather awkward to ask someone on a date.
@naomilucking 'A' for effort. 'C' for creepy.

— Michael Denomy (@mdenomy) November 19, 2015
@naomilucking God that's weird.

— Dan Gilbert (@DGDanielGilbert) November 18, 2015
Some were upset his phone number had been tweeted out.
@naomilucking His Number....🙈, I would advise you to remove it...😂

— M.Star (@mazzystaar) November 17, 2015
Yet despite his new-found fame, the as-yet-unnamed illustrator is responding to supportive messages in the best way.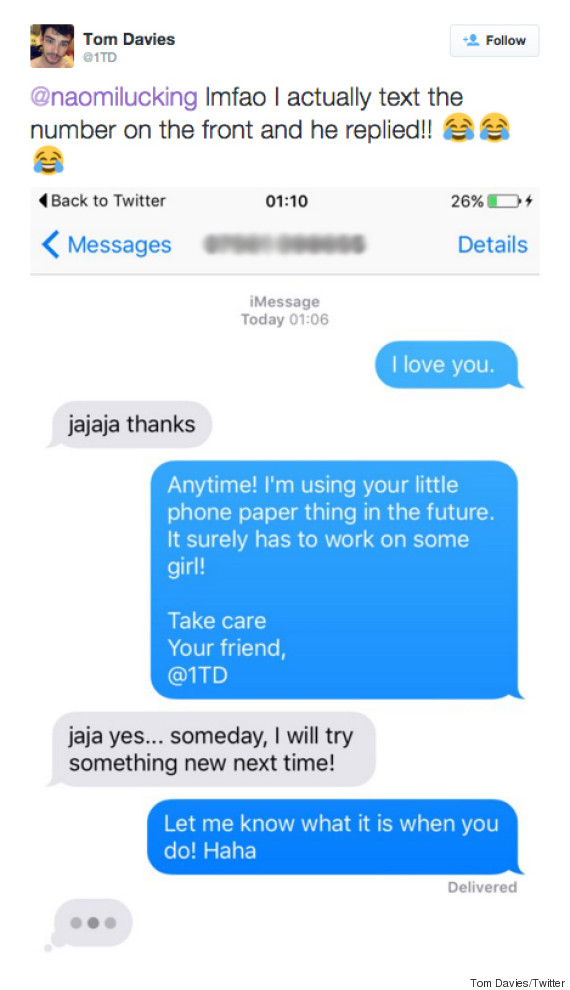 @94LIPSKIP @naomilucking 😂 pic.twitter.com/AcfmaLDZ56

— yasmine (@lYasminl) November 19, 2015
There's no word yet on whether his innovative approach to dating has ever been met with success...