The five things you need to know on Thursday November 19, 2015…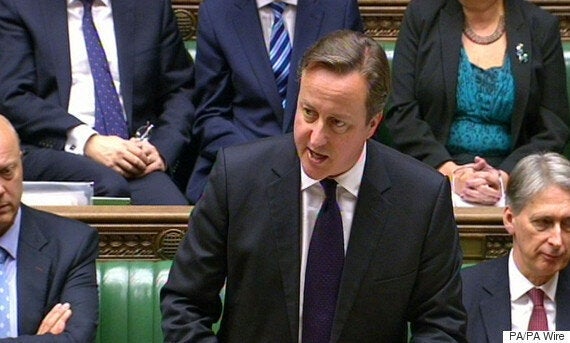 A Prime Minister more confident in his second term, faced with terrorist outrages and intel about the Islamist threat to the UK, pondering going to war in the Middle East. It's no wonder David Cameron is being compared to Tony Blair by some in Parliament.
Yesterday, Cameron signalled another Blairite move by saying he was prepared to take action in Syria even without a UN security council resolution. Meanwhile, his Foreign Secretary warned a Russian veto in New York would not be bar. Yes, it's Dave Ja Vu, all over again.
It will now come down to Parliamentary arithmetic. As I said yesterday, the whips think the number of Tory rebels is much lower than the 30 in 2013, possibly as low as 15. And 15 also happens to be the number of Labour hawks who are most keen on bombing. What could swing a further 30 or so more Labour MPs is the PM's response to the Foreign Affairs Committee due in the next fortnight. The Times reports that a five-point plan, including humanitarian relief and diplomatic routes, was presented to the all-party group on Syria on Tuesday. HuffPost reported at the weekend that Labour MPs are being invited to a briefing with Michael Fallon next month.
No.10 will be pleased that even the SNP is now at least considering the case for action. The party's conference voted unanimously against non-UN action, but Nicola Sturgeon has told the BBC it would be 'irresponsible not to listen' to the case for airstrikes and 'there are some tests to be passed' first. She said in another interview "I don't want to adopt a polarised position".
The SNP's favourite paper, The National, splashes 'Deja Vu', with a front page showing Blair in 2003 and Cameron in 2015. It says a Survation poll finds that only 15% of the UK public back Syrian air strikes without UN authority (52% supported a UN-backed action). The Mail meanwhile has a poll that 6/10 Brits back RAF airstrikes - but its question didn't include the UN/nonUN distinction. One minister asked an MoD colleague this week "when are we going to war then?" To which the reply was "you mean, 'when are we going to tell you we are at war?'" Those drumbeats are getting louder.
Even Ken Livingstone's admirers say that his temper and stubbornness are among his worst traits. His enemies think he's sly, vindictive and vengeful. Yesterday certainly didn't look pretty. In launching a verbal nuclear strike on Kevan Jones, saying he was "very depressed and disturbed" the former London mayor prompted an angry response even from his friend Jeremy Corbyn.
Ken felt he wasn't operating a 'first strike' policy and was only retaliating to Jones' attack on his own competence to co-convene Labour's defence review. But his 'he started it, mum' argument (see Channel 4 News) betrayed the fact that he'd gone way too far in using mental health as a weapon - even if he was unaware that Jones had suffered from depression. Ken's defence that his south London upbringing was to blame for his aggression was duly ridiculed online.
Two things fuelled Corbyn's swift response: his plea for a kinder politics and his lifelong backing for mental health provision. But just as with him standing by Andrew Fisher, you can bet that the leadership will defend Ken from any calls to axe him from the policy review.
And the fact is that in many ways the mental health row was a proxy war, and the bigger battle is over Labour's defence policy direction. The decision to create NEC 'co-convenor' posts to pair with shadow ministers proves that Corbyn not just controls the ruling body but that he wants to embed his huge mandate in the policy making process. Livingstone calling Maria Eagle 'mad' (Russia Today) and 'silly (Newsnight) points to the real frontline.
Ken's not the only ally of Corbyn who has a 'take no prisoners' approach to politics. The Sun has reports that John McDonnell signed a letter of demands from The Social Network (a leftwing group, not the Zuckerberg movie) in April calling to "disband MI5 and special police squads, and disarm the police". His name remained on the letter last night, despite those close to him denying he had ever seen it. Labour MP Gavin Shuker piled in: "To call for MI5 to be scrapped when we face this jihadi threat is beyond a joke. He is behaving like the enemy within."
On the Today prog, David Blunkett said the real issue was Corbyn's lack of 'statecraft' skills and the difference between Labour victory and 'permanent revolution'. The Labour peer added the leadership should give the party 'a free vote' on Syria. And on nuclear weapons he cited Gaitskell's 'fight and fight and fight again to save the party we love'. Crucially, Blunkett said leaders have 'a very short space of time' to prove themselves - and set the clock ticking, giving Corbyn '18 months' to sort things.
The Government suffered a thumping defeat in the House of Lords last night, with peers voting by a majority of 82 to give 16- and 17-year-olds the vote in the EU referendum. Labour thinks one of the factors that fuelled the big majority was the inept way the minister Lord Faulks (brother of novelist Sebastian) suggested that teenagers might be overwhelmed by the 'responsibility' of voting.
Constitutional affairs minister John Penrose stood firm however after the vote and No.10 sources say they're digging in for ping-pong between both Houses and expect peers to back down. The issue is just how protracted that ping-pong period will be. If the Lords drag things out, the bill could have to wait until June to get final approval. And with a statutory four month gap between the law passing and the referendum being held, that would shift the poll to October - boxing the PM in.
Eurosceptics are split on the teen vote issue. Some in Vote Leave back the idea, partly as they think teenagers are more open to Brexit, partly for the tactical advantage in going long in the referendum. But Lord Forsyth and Steve Baker think the idea is a mistake.
BECAUSE YOU'VE READ THIS FAR…
4) HEIR TO BLAIR FORCE ONE
Several papers pick up on David Cameron agreeing to a £10m personal jet for his foreign travel. The PM has asked the RAF to convert one of their A330 Voyager air-to-air refuelling planes so it can carry him plus 160 passengers. No10 insist it will eventually save the taxpayer £15m in charter costs by 2035.
For the older hands among us, it's all a reminder of that old Blair-Brown spat over PM jets. In 2006 Tony Blair tried to get not one but two dedicated planes, one for long-haul plane with 70 seats, and a 15-seat jet for shorter flights. A certain Chris Grayling, then shadow transport secretary, said at the time that it was the wrong moment to be splashing out taxpayers' money. That Blair Force One header was just too irresistible at the time. Gordon Brown axed Blair's move to order his own plane in 2008 when he took over as Premier.
The murky activities of Tory activist Mark Clarke finally caught up with him yesterday as the Tory party banned him for life. The move came not just after the allegations surrounding Rob Halfon, but ahead of a Newsnight special last night that accused Clarke of being linked to bullying and other claims.
Just as tricky for David Cameron were claims from a Conservative MP that the party "swept under the carpet" the wrongdoing in the Tory youth wing over fears it would jeopardise its election chances.
Ben Howlett, MP for Bath, spoke out to Newsnight amid a series of claims about the Tory high command failing to act on warnings about a party-backed campaign taking volunteers around the country on a bus during the election campaign.
If you're reading this on the web, sign-up HERE to get the WaughZone delivered to your inbox.
Got something you want to share? Please send any stories/tips/quotes/pix/plugs/gossip to Paul Waugh (paul.waugh@huffingtonpost.com), Ned Simons (ned.simons@huffingtonpost.com), Graeme Demianyk (graeme.demianyk@huffingtonpost.com) and Owen Bennett (owen.bennett@huffingtonpost.com)