A mischievous YouTuber has gone to extreme lengths to embarrass students in a quiet library after pranking them with a porn-laden laptop.
User 'JoshPalerLin' rigged his computer so he could control what was on the screen from a distance away. He then asked random people to look after it for him, while he hid and filmed the results.
Embarrassment swept across the faces of the victims as they discovered they couldn't turn the loud moans off.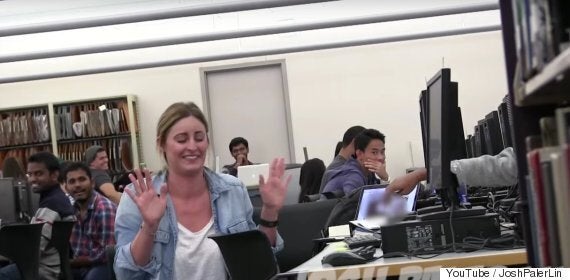 This girl thought the prank was just too much
The videos were so loud they echoed through the room for everyone to hear.
The YouTuber uploaded the footage for his 1.5million subscribers on the video channel, and named it 'Sex in the Library Prank'.
So far it's been watched almost 150,000 times.
The YouTuber spends his time performing pranks on people and his profile reads: "The craziest and most creative Asian prankster alive. Pranks & Social Experiment with either a laugh or strong message behind them.
"Do not take life too seriously. You will never get out of it alive."