Even if a military agreement is reached, the task of defeating a militant army in the midst of a civil war remains daunting. As such, more hawkish heads have surfaced in the US in recent months floating the notion of American troops returning to the Levant. In Britain too, David Cameron has talked about another vote in Parliament to allow RAF fighters currently flying over Iraq to join their US and French counterparts over Syria, though plans at the moment have been shelved.
Even if members of the Islamic state, also called Isis or Daesh, are razed from the region, long-term security in the form of a functioning civil society remains a distant, likely generational goal. Yet that heady task is being taken on by Britain, which is using its month-long presidency of the United Nations Security Council to highlight the tether between development and conflict prevention.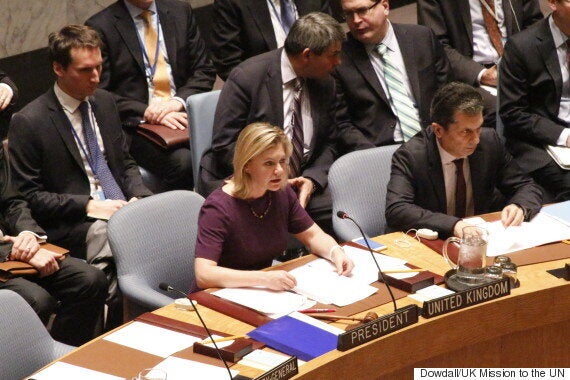 Greening was the first development minister to chair the UN Security Council on Tuesday, Nov. 17, 2015 at United Nations headquarters
On Monday and Tuesday last week, Britain's Justine Greening chaired two Security Council debates, one on Syria, one on the root causes of conflict. The sessions marked the first time a minister for development had led the UN's august 15-member body, usually the preserve of the Foreign Office or the ambassadorial class.
Greening's pitch was simple: "Investment in prosperity and stability overseas is critical if we don't want global problems to end up on our own doorsteps." In short, a lack of development provides fertile ground for extremism, terrorism, organised crime and war, as well as driving the increasingly international problem of migrants and refugees.
The Conservative Member of Parliament isn't alone in this thinking. UN Secretary General Ban Ki-Moon struck a similar tone this week, highlighting the connection between conflict prevention and development.
"Today's violent conflicts and violent extremism are often rooted in a mix of exclusion, inequality, mismanagement of natural resources, corruption, oppression, governance failures, and the frustration and alienation that accompany a lack of jobs and opportunities," said Ban.
That's not to say war only breaks out in poor countries. As Russia's ambassador to the UN Vitaly Churkin pointed out with some irony, many of the countries blighted by conflict in recent decades have not been the most impoverished.
Yet among the nations in session this week, there seemed little pushback on the premise that challenges to development fuels instability. Or as Eugene-Richard Gasana, Rwanda's minister of state, concluded: "If poverty is reduced, social inequalities are lowered, and there is an optimum allocation of scarce resources, it [would] certainly help to avoid many of the situations that exacerbate conflict."
The Security Council "has to deal with the world as it is," Greening told HuffPost shortly after the first debate. That's a world in which factions are ripping apart a once prosperous nation, sucking in international actors while dispelling more than 5 million civilians, innocents fleeing the maelstrom.
The need for a long term political solution to the crisis is echoed around the globe, but for Greening the ongoing failure to find a fix is exacerbating problems more associated with her remit, such a children not attending school and the burgeoning migrant crisis. Conflict is "literally development in reverse," she said, noting that the Syrian civil war has likely "put the clock back on that country at least thirty years."
Traditionally it has been notoriously difficult to get anything meaningful done through the United Nations, such are the competing interests of the member states. However, on Friday the Security Council unanimously passed a French-backed resolution calling on all nations to coordinate action against the Islamic State. It was rare moment of consensus for the international community, and could aid Hollande corral Washington and Moscow into collaborative military action during his forthcoming sojourn.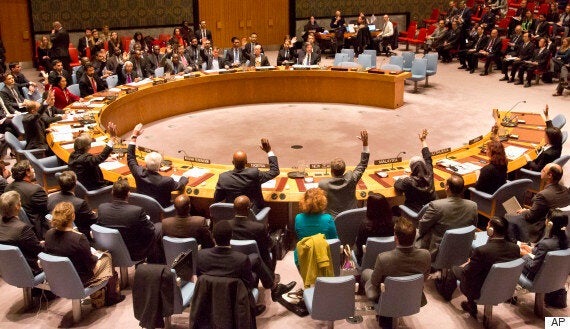 Security Council members vote on a counter terrorism resolution aimed at ISIS extremist, Friday, Nov. 20, 2015 at United Nations headquarters
Yet even before Friday's resolution, hope for consensus had been gathering around development. "Often the things we can agree on are the humanitarian pieces," she tells HuffPost. "That's where common ground can start first." An issue such as the impact on children is a place where "you can start to find some limited consensus, even in the most intractable crises."
"This is a man made disaster, and it's going to take people sitting around a table in the end that can find a solution to it," Greening adds. "In the meantime, the role of the humanitarian community… is to try and alleviate the suffering of people caught up whilst the political solution is being found. In the end, the common ground probably starts with an agreement on getting humanitarian support to people who need it and we can build from there."
Also with territory changing hands, UN agreements across conflict lines have to be constantly renegotiated. As such, there are "literally hundreds of thousands of people in Syria right now who we can't get to," Greening points out.
"When we don't tackle those root causes, the issue ends up on our doorsteps," she said. "What's the solution to those root causes? It's having countries that are developing, that are inherently stable, and that are providing opportunities for young people growing up so that they can be successful, be productive, and can have healthy economies. That's how you keep countries stable in the long term. These two things [conflict and instability] are inextricably linked."
As such, Greening is hopeful a future vote in the UK parliament will allow British forces to take action against the Islamic State in Syria. "These people are a threat to the British, just as they are a threat to the French," she said. "We have to deal with them. We're not going to be able to… find a peaceful solution to Syria whilst Isis controls huge swathes of that country."
Greening would not be drawn on whether the defeat of Isis was a suitable trade for leaving President Bashar al-Assad in power, though she did note that "even Russia" has started talking about a "transition to a future that doesn't have Assad heading it up."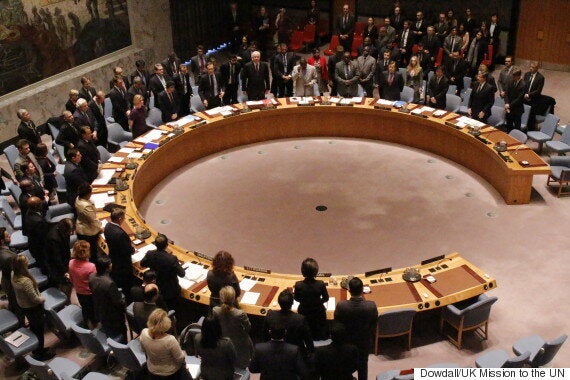 The Security Council stood in silence for the victims of the Paris massacre on Tuesday, Nov. 17, 2015 at United Nations headquarters
Yet for the minister the central message from the UN, as well as the recent talks in Vienna, is "the faster we can find a political solution, the better."
"Every single day that we delay finding a path forward to a more peaceful Syria is a day that the country is steadily being destroyed," she laments. "It makes getting development back on track harder as it [Syria] goes backward down a road to absolutely nowhere apart from human misery, hospitals bombed, schools bombed, and a country that will take potentially years if not decades to get back on its feet."
Greening warns, however, there will be no quick solution to a crisis already five-years deep. "I think we're probably talking decades," she said. "The job of physically rebuilding the infrastructure will take a long time alongside the job of rebuilding its economy, rebuilding its politics, as well as [reversing] the impact this has had on Syrians themselves."
"What we know is in the end Syria will need to move forward, and we will need to work with people in that country to try and get it back on track," the MP concludes. "It's a tragedy that after five years, it finds itself in the circumstances it does. There is a solution. It's whether there's the political will and leadership in place to unlock it."
Popular in the Community