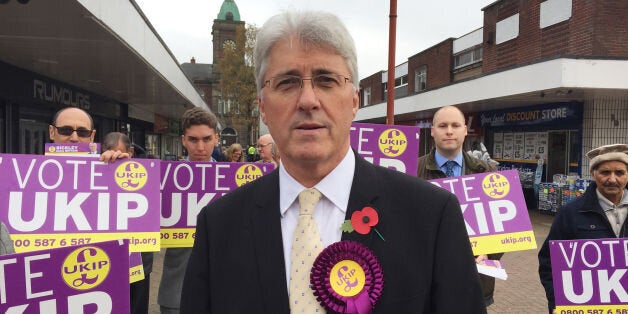 Jeremy Corbyn is a "clear and present danger" to the safety of the UK because of the "dangerous message" he is sending out to terrorists, according to Ukip's Oldham West and Royton by-election candidate.
Speaking to the Huffington Post UK from a café next to Ukip's campaign headquarters in Royton, Mr Bickley admitted it would be a struggle to overturn the 14,700 majority Labour secured in the seat in May's General Election.
However, he believes the "internal wars" going on within Labour may inspire voters to give the party "a good kicking".
After describing Mr Corbyn and his allies at the top of Labour as a "cabal of Marxists", Mr Bickley said: "You've got Corbyn and his acolytes coming out with stuff like we shouldn't have killed Osama Bin Laden, wasn't it a shame that Jihadi John was not caught, we don't like the army, we don't like the monarchy, shoot to kill - it's almost like you're watching a comedy on TV.
"The Labour Party are a clear and present danger to our country in context of security."
When asked if he thought he was overselling the accusations, Mr Bickley shook his head, and said: "You just have to listen to what they're saying."
He added: "The things he is saying, and what people around him are saying, are very, very dangerous because the message they are sending out to our potential enemies, here, wherever they are, is we're a bunch of idiots. We will just kowtow and give in the moment you threaten us."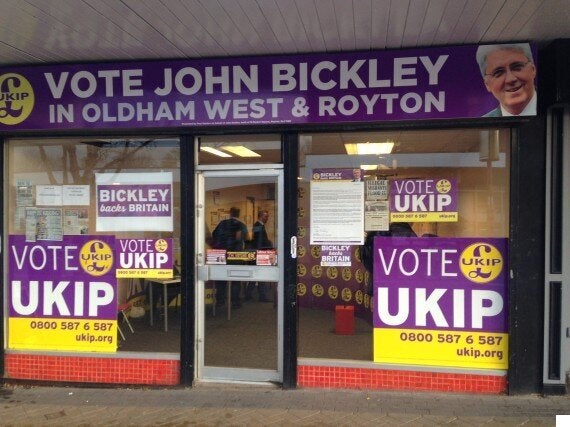 Ukip's HQ in Oldham West and Royton - a former fruit and veg shop
A sign proclaiming 'Bickley backs Britain' is on display in the campaign shop window, and in a letter going got to residents Ukip claim Mr Corbyn would rather "sympathise with the IRA than sing our national anthem."
Under the heading "Jeremy Corbyn's Labour Party", it lists "uncontrolled, mass immigration; axing our armed forces; abolishing the monarchy; handover the Falklands to Argentina".
Labour said the leaflet showed Ukip was trying to take Oldham back to the "days of division" – a reference to the 2001 race riots in the town.
Mr Bickley defended the leaflet, and said: "These people obviously didn't ever expect to be in the positions they're in in the Labour Party but this is what they think. Whatever gloss the Labour party are putting on it, and however they're spinning it, I'm sorry it's on the record.
He added: "It's very, very frightening. He clearly has no concept of what we have to do to make this country secure.
"Can you imagine Corbyn standing up today saying 'I've just decided we should scrap MI5 and we should take guns off the police'? I suspect he might be locked up."
At the age of 62, Mr Bickley is a late-comer to politics. He was raised in a Labour-voting household but switched allegiance to Ukip because of his opposition to the EU.
"I would suggest the Labour Party no longer represents the working class in the same way they represented my father and the people of his time," he said.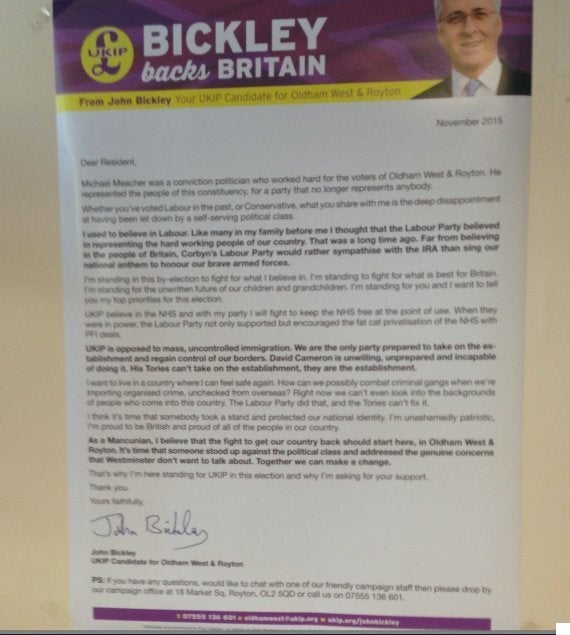 The letter from Ukip going out to residents
In the past two years he has fought by elections in fellow Greater Manchester constituencies Wythenshawe and Sale East, and Heywood and Middleton.
Mr Bickley finished second to Labour on both occasions, but in the latter he came within 617 votes of winning the seat in what would have been one of the most sensational by-election results in UK history.
Heywood and Middleton is adjacent to Oldham West and Royton, but the demographics of the seat are slightly different, with a larger Asian population in the current battleground.
Mr Bickley admits the reception to Ukip has been "mixed" in these areas, but believes it is difficult to know if these traditional Labour strongholds will turn on and back the party on December 3.
"No one knows what the Corbyn effect is, that's the bit that's impossible to gauge," he said.
The Tories came third in the seat in May, just 705 votes behind second-placed Ukip, but Mr Bickley believes the party are not "at the races" in this by-election.
He concedes his Labour rival Jim McMahon is "popular" but questions his vision for the area.
As leader of Oldham Council, Mr McMahon helped steer through converting the Old Town Hall into a cinema multiplex as part of a £37million redevelopment project.
However, more than £26million is coming from the council itself, which Mr Bickley believes is the wrong use of tapayers' money.
He said: "If Oldham needed a multiplex the cinema industry would have already decided to build a cinema there.
"They haven't bothered, all of the risk is being taken by the taxpayers of Oldham."
Popular in the Community