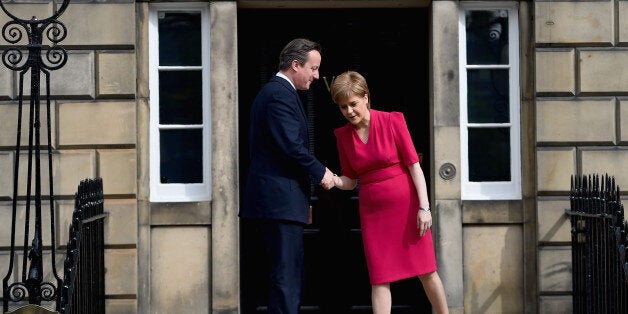 Legislation granting greater powers to Scotland should be delayed because promises made to avert independence were "hasty", an influential committee of peers has said.
A report by the House of Lords Constitution Committee criticises the Scotland Bill for creating "serious risks of future disputes and instability" ahead of it being scrutinised by the upper chamber.
The peers blame "The Vow", promises of devolution made by leaders of the three main Westminster parties in the closing days of the Scottish independence referendum, which the committee says was "inappropriate".
They argue the Bill creates a situation where Parliament's right to make law is undermined, creating tension between Westminster and Holyrood.
Another potential conflict it cites is over plans to lower the voting age in Scotland to 16 as it risks being incompatible with European Convention on Human Rights.
The committee suggests Scotland could only give 16 and 17 year olds the vote if some prisoners are also allowed to vote too. The UK currently has a blanket ban on prisoner votes.
The move to hand extensive tax and welfare powers to Holyrood has caused bitter rows between the SNP, which argues Scotland has been short-changed, and the Westminster government, which claims "The Vow" has been delivered.
Former Secretary of State for Scotland Lord Lang, who is the chairman of the committee, said peers should consider delaying the Bill until a new Memorandum of Understanding is published setting out how the UK and Scottish Governments will work together to resolve disputes.
He said: "We are concerned that the House is being asked to debate and scrutinise the Bill without the necessary information. The Bill creates serious risks of future disputes and instability.
"The Scotland Bill also states the permanence of the Scottish Parliament and Government in law for the first time, while setting in statute the Sewel Convention. These measures seem designed to limit Parliament's competence to legislate. The concept of parliamentary sovereignty is a fundamental principle of the United Kingdom's constitution. Seeking to limit future parliaments in this way undermines that principle.
"We also point out that at the root of many of the Committee's concerns about the Bill is the inappropriate and urgent process by which these significant constitutional proposals have come about. In particular, the hasty decision, taken in advance by the leaders of the three main political parties, to implement the recommendations of the Smith Commission appears to have pre-empted any possibility of meaningful discussion on the merits of the proposals contained in the Bill."