Ahmed Mohamed is demanding damages from the city of Irving school district after he was arrested for bringing a homemade clock to school.
Lawyers representing the US teenager are demanding $15 million (£10 million) from the Independent District, as well as an apology from the city.
They say his civil rights were violated and he and his family have suffered physical and mental anguish as a result of his arrest over a homemade clock, which teachers at MacArthur High School believed was an explosive device.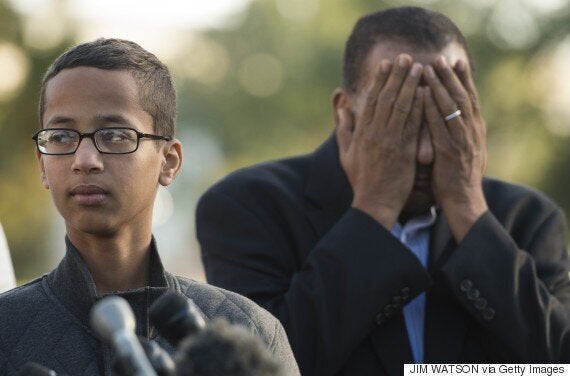 Ahmed Mohamed a high school student who was arrested after he brought a homemade clock to his Irving, Texas high school
Ahmed, a young engineer and fan of robotics, modified a pencil case to work as a clock and brought it to school in September, with the intention, he said, of impressing his teacher.
He was, however, later accused of trying "to make a bomb," pulled out of class, sent to the principal's office, threatened with expulsion and led out of the school in handcuffs.
In letters to the City of Irving and the Irving Independent School District, Ahmed's attorneys say the way the school and police officials treated him was motivated by "rancid, openly discriminatory intent." Ahmed was targeted "because of his race, national origin, and religion," the letters continue.
Ahmed's attorneys accuse the City of Irving of creating a plan to "trash Ahmed" and spin the story in the city's favor. One of these strategies included "[pushing] the false narrative that the school's hands were tied by Texas' 'zero tolerance' law on school discipline."
"Ahmed never threatened anyone, never caused harm to anyone, and never intended to," the letter to the city says. "The only one who was hurt that day was Ahmed, and the damages he suffered were not because of oversight or incompetence. The school and city officials involved knew what they needed to do to protect Ahmed's rights. They just decided not to do it."
In the aftermath of Ahmed's arrest the teen received widespread support. He met with notable tech and world leaders, including President Barack Obama after POTUS praised his scientific innovation on social media.
Ahmed moved with his family to Doha, Qatar, after the Qatar Foundation offered him a full scholarship. The attorney's letter says the family is there for "personal security reasons."
Read the attorney letter to the City of Irving in full:
Read the attorney letter to the Irving Independent School District in full: