Ahmed Mohamed will attend school in Qatar where he will be "accepted by that country", his father said.
The Texas teenager's family released a statement this week saying that Ahmed had accepted a scholarship to study at high school and then college in Doha.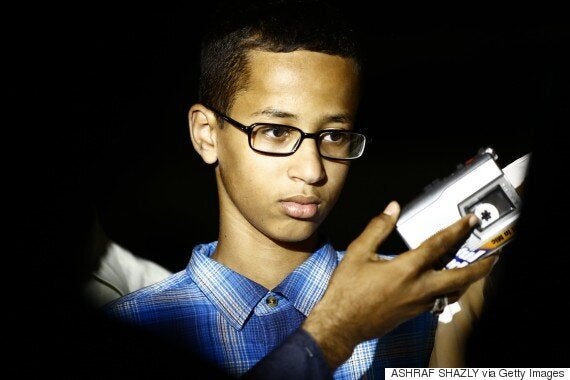 Ahmed Mohamed is moving to Qatar with his family
On Monday, Ahmed visited the White House and met President Barack Obama. The family announced they would be moving to Qatar as they boarded a flight from Washington on Tuesday.
"We are going to move to a place where my kids can study and learn, and all of them being accepted by that country," Ahmed's father, Mohamed Elhassan Mohamed, told The Dallas Morning News before boarding an airplane from Washington back home to Texas on Tuesday.
Ahmed visited Qatar a few weeks ago during his world tour.
The statement said the family had been "overwhelmed by the many offers of support" since Ahmed's arrest at his school in Irving, Dallas.
The family said it accepted an offer from the Qatar Foundation for Education, Science and Community Development to join its Young Innovators Program.
Ahmed will relocate to Qatar after receiving a full scholarship for his secondary and undergraduate education.
A statement from the Qatar Foundation said: "As an incubator of knowledge and talent, QF values its multiculturalism, diversity and non-discriminatory atmosphere, and is happy to welcome Ahmed to the Young Innovators Program.
"QF is glad to welcome the family to Doha and provide Ahmed with the opportunity to develop his skills and excel in future endeavors."
Ahmed was arrested and placed in handcuffs at his school in Dallas after a teacher believed he had a bomb. He was then taken to a detention centre and was suspended for three days.
Police chose not to charge Ahmed and his parents later withdrew him from the school.
Thousands rallied round the teenager as the #IStandWithAhmed campaign was created. Obama even invited Ahmed to the White House.
Ahmed posted a picture on Instagram of him meeting Obama on Monday, captioning it "so happy, I can't believe that I met with the #president of the #unitedstates!!!!"