Russian President Vladimir Putin has described Turkey's downing of a Russian jet on Syrian soil some four kilometers from the Turkish border as a "stab in the back by the accomplices of terrorists".
Putin also warned the downing of the aircraft would have "serious consequences" to Russian-Turkey relations. His comments can be read in full at the bottom of this story.
Turkish Prime Minister Ahmet Davutoglu has hit back over the incident, asserting he has the right to take "all kinds of measures" against border violations.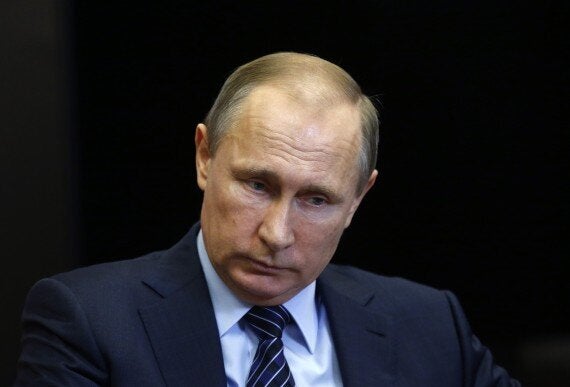 Vladimir Putin says the downing of a Russian warplane by Turkey amounted to a 'stab in the back'
Meanwhile, a Russian military helicopter sent to retrieve the pilots was said to have been struck with an anti-tank missile by Syrian rebels, forcing it to make an emergency landing, according to the Syrian Observatory for Human Rights.
The insurgent group is among the recipients of US Tow missiles, among other armaments, designed to bolster it against regime forces.
The Observatory told Reuters that the helicopter managed to make an emergency landing in a nearby government-held area.
Turkey earlier confirmed it had shot down the Russian Sukhoi Su-24 warplane with its F-16 fighter planes. It said the plane was near the Syrian border and had been warned "10 times in five minutes". Russian authorities believe their plane was shot down from the ground.
NATO is holding an holding an extraordinary meeting in Brussels at Turkey's request.
Speaking at a meeting with King of Jordan Abdullah II in Sochi, Putin said it appeared Turkey want NATO to serve the interests of the Islamic State.
Earlier a spokesperson for Putin said the downing of their aircraft was a "very serious incident", but added it was too early to draw conclusions, Reuters reported.
Dmitry Peskov said: "It is just impossible to say something without having full information."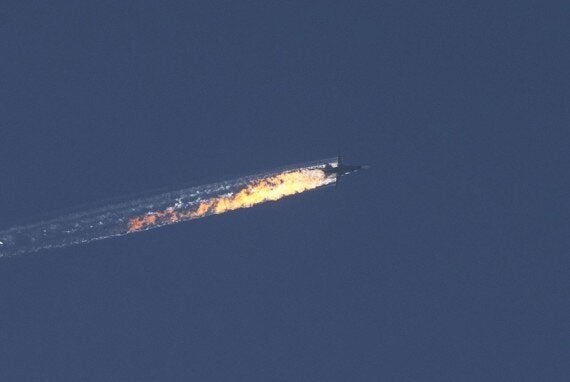 Turkey shot down a Russian fighter jet near the Syrian border on Tuesday
Foreign secretary Philip Hammond told MPs on Tuesday morning the downing of the Russian jet was "potentially a serious incident".
The British government was "urgently" seeking further details from Moscow and Ankara, he said.
Both pilots ejected themselves from the jet and could be seen parachuting down to the ground. Turkish media reports claim one is dead, and the other was captured by Syrian Turkmen rebels. Photos and videos have emerged showing one of the pilots in the aftermath of the crash. He was covered in bruises and burns and appeared dead.
A video, posted on Twitter by a man believed to be a Syrian-Turkmen rebel soldier, shows at least a dozen men surrounding the corpse of the pilot, dressed in Russian military fatigues, and some are heard shouting "Allahu Akbar" – "God is great'".
The rebels have claimed the pilot was dead when they found him.
Footage of the shooting shows the plane engulfed in flames as it comes crashing down in the Turkomen Mountains, an area which has been the cause of recent tensions between Turkey and Russia.
A Turkish military statement said the plane violated Turkish airspace in Hatay province and was warned "10 times in five minutes" before shooting it down in Syrian territory over the town of Yaylidag, which is said to be controlled by rebels.
"Our two F-16 planes on air patrol duty intervened in the plane in question on November 24, 2015, 9:24am, according to the rules of engagement," the statement said.
The warplane was a Russian-made SU-24, Turkish presidential sources said, adding it was downed in line with Turkey's rules of engagement after violating Ankara's airspace.
This is exactly the type of incident many feared would occur since Russia launched an air campaign against opponents of Syrian President Bashar al-Assad's government in late September.
Russia's defence ministry said the downed fighter jet was Russian and did not violate Turkish airspace, the RIA news agency reported.
— Conflict News (@Conflicts)
Both Russia and its ally, Syria's government, have carried out strikes in the area. A Syrian military source said the reported downing was being investigated.
Turkish F16s warned the jet over the airspace violations before shooting it down, the military official told Reuters.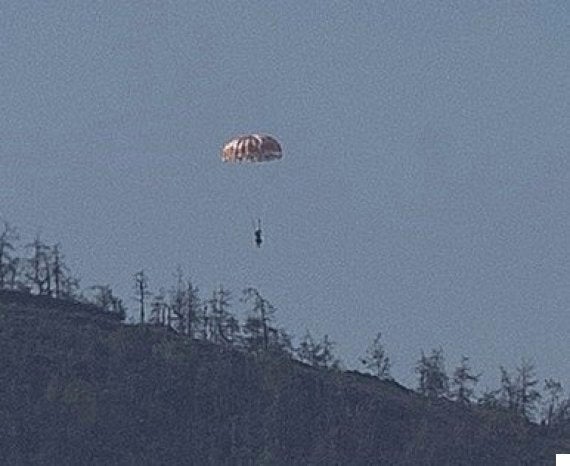 Reports have claimed that one of the Russian pilots has been captured
Footage from private broadcaster Haberturk TV showed a warplane going down in flames in a woodland area, a long plume of smoke trailing behind it. The plane went down in area known by Turks as "Turkmen Mountain" in northern Syria near the Turkish border, Haberturk said.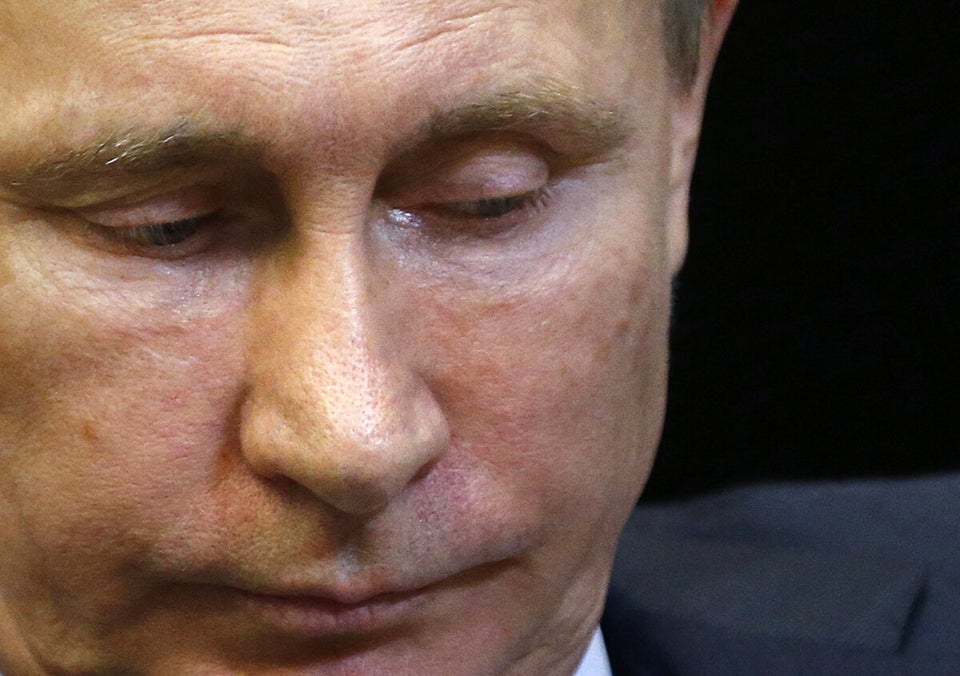 Vladimir Putin, right, meets with Jordanian King Abdullah
Separate footage from Turkey's Anadolu Agency showed two pilots parachuting out of the jet before it crashed.
The Syrian Observatory for Human Rights monitoring group said the warplane crashed in a mountainous area in the northern countryside of Latakia province and it was not immediately clear whether it was an aircraft from the Russian or Syrian air force.
In October CNN reported that tensions were rising fast between Turkey and Russia after Russian jets apparently violated Turkey's airspace twice.
Turkish President Recep Erdogan said he was losing his patience and invoked Article 5 of the NATO Treaty, saying that any "attack on Turkey means an attack on NATO."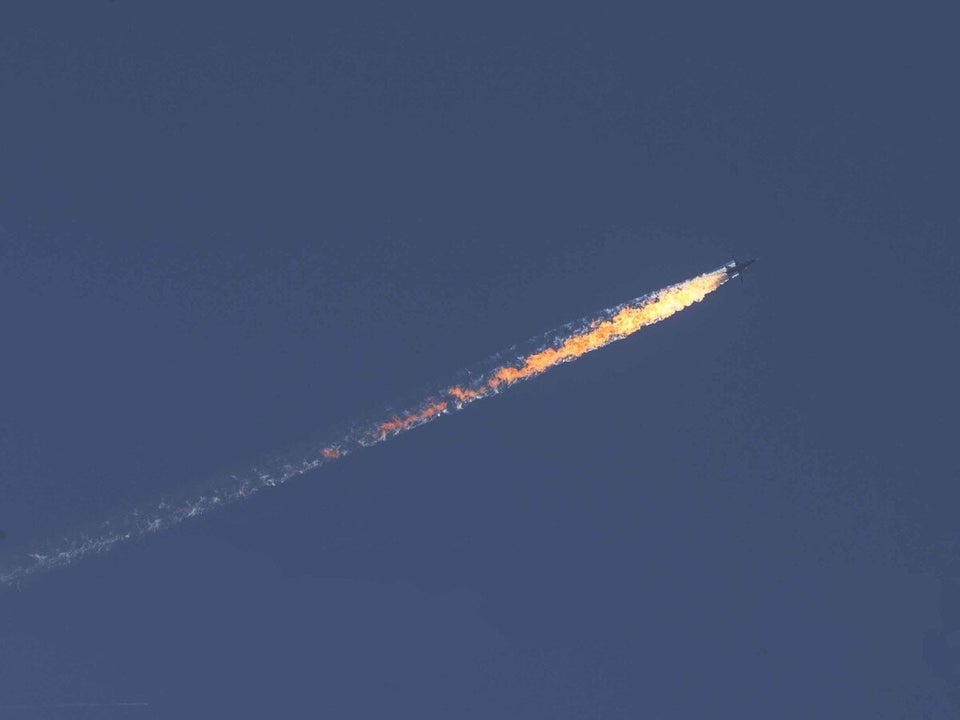 Warplane crashes in Syria near Turkeys border
PUTIN ON THE DOWNING OF RUSSIAN WARPLANE

Thank you for your condolences, including for the downing of our military plane. This event comes in the context of our fight against terrorism. Our military are fighting a heroic struggle against terrorism, without sparing themselves or and without regard for their own lives. But today's loss was a blow in the back by the accomplices of terrorists. I can't qualify this in any other way.

Our plane was downed over Syrian territory by an air-to-air missile from a Turkish F16. It crashed four kilometre from the Turkish border. At the time it was attacked, it was at an altitude of 6000m and one kilometre from the border with Turkey. In any case our pilots and our aircraft never threatened the territory of Turkey. That much is obvious.

The pilots were part of an operation against Isil in the mountainous areas of north Latakia, where there is a concentration of militants largely from the Russian Federation. That is, they were fulfilling their direct duty of preventing attacks by terrorists who might at any moment return to Russia. And these are people who can only be qualified as international terrorists.

We long ago established that large quantities of oil and oil products from [terrorist occupied] territory transit Turkey. Terror groups get a big financial boost from there. And now we're stabbed in the back, with strikes against our aircraft that are fighting terrorism. And that is after we have signed an agreement with our American partners to avoid clashes in the air, and Turkey was one of the countries that announced its participation in the US-led coalition against terrorism.

If Isil has such money, and we're talking about tens, hundreds of millions, possibly billions of dollars from oil revenues, plus protection from the armed forces of an entire country, then it is understandable why they are so audacious, so blatant, why they murder people in the most horrendous ways, whey they carry out terrorist attacks across the world including in the heart of Europe.

We will of course carefully analyse everything that happened. Today's tragic event will have serious consequences including for Russia's relationship with Turkey. We have always treated Turkey not just as a close neighbour but as a friendly state. I don't know who had an interest in what happened today. It certainly wasn't us. And instead of contacting us immediately, as far as we know the Turkish side first turned to their partners in Nato to discuss this incident. As if we had downed a Turkish plane [when it was] they who shot down one of ours.

What, do they want to put Nato at the service of Isil? I understand that every state has its own regional interests, and we will always treat them with respect. But we will never tolerate the perpetration crimes such as the one committed today. And of course, we hope that the international community will nonetheless find the strength to come together in the fight against this common evil.

In that connection, of course, we count on the active participation of all the countries in the region, and we are very grateful for your visit today, your Majesty. We continue to work with your secret service and military specialists, as with other countries in the region.