Thousands of people gathered in London on Saturday to protest against plans for Britain to join air strikes against the Islamic State group in Syria.
Parliament is expected to vote on the issue next week after Prime Minister David Cameron on Thursday urged action on Syria saying: "The threats to our interests and to our people are such that we cannot afford to stand aside and not to act."
The protest was organised by the Stop The War Coalition protest movement, which is also holding a string of other demonstrations around Britain.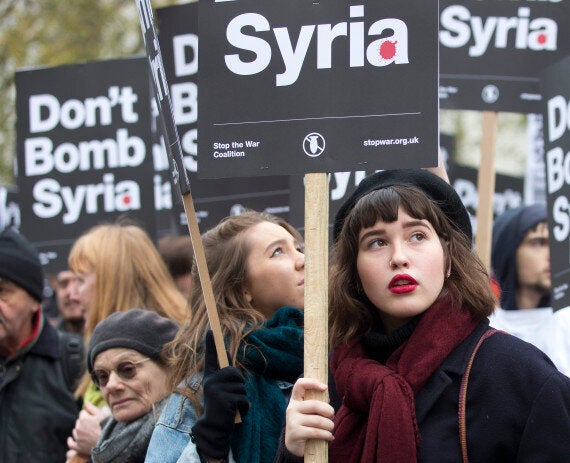 Thousands gathered in London to protest against plans for the UK to join air strikes against Islamic State in Syria
In a statement the group said: "The proposed vote in parliament on bombing Syria by British forces is likely to take place within the next week.
"Yet this bombing will not stop terror attacks."
In 2013, Stop the War campaigned against the UK's military intervention in Syira, which MPs subsequently voted against.
Britain is already involved in air strikes against the Islamic State in Iraq, but has so far not taken part in bombings of the group's positions in Syria.
Cameron's previous government suffered a humiliating defeat in 2013 over military action against the government forces of Syrian President Bashar al-Assad and did not push joining air strikes in Syria to a vote last year, amid resistance from Labour.
The protest comes as Downing Street officials were this weekend expected to phone Labour MPs urging them to back Cameron's plan to join the air strikes. The BBC reported that the foreign secretary, the defence secretary and the governments' national security adviser will make the calls.
Labour leader Jeremy Corbyn is opposed to air strikes in Syria against Islamic State (IS) militants. He revealed his continued opposition to his party in a letter on Thursday, which triggered suggestions there would be a power struggle at the top of the party and even resignations. Since then he has again written to his MPs asking for their views on bombing Syria.
Popular in the Community