David Cameron is acting like Adolf Hitler asking his generals to "rescue him from his bunker" over the Isis threat, according to a veteran Labour MP.
Paul Flynn, who has been MP for Newport West since 1987, made the comparison this afternoon during a meeting of the Public Administration and Constitutional Affairs Committee.
Attacking Mr Cameron's claim that there are 70,000 moderate rebels in Syria, Mr Flynn said the Prime Minister was as "deluded" as Hitler.
Tory Minister Matthew Hancock looked less than impressed with the comment, which came during an evidence session into the role of the Cabinet Office.
Addressing Mr Hancock, Mr Flynn said: "Adolf Hitler in his final days ordered his general, the 12th Army, to come in and rescue him from his bunker because the Red Army were approaching.
"It's been said that not since then has a European leader been so deluded about a phantom army as the Prime Minister was last week when he invented this army of 70,000.
"Now the people who told him that are part of your department, the intelligence and security people, the same people who discovered non-existent weapons of mass destruction in 2003.
"When a prime minister or another government minister comes up with an obvious absurdity that nobody else believes, is it your function to give him an alternative narrative somewhere near the truth?"
Mr Hancock replied: "I don't think it's reasonable or sensible to describe decisions being made by the Prime Minister in a way that correlates them to any decision made by Adolf Hitler."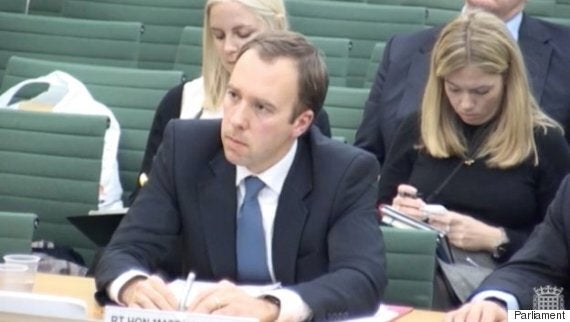 Matthew Hancock Does Not Think You Can Compare David Cameron To Hitler
Mr Flynn followed up by asking if anyone had told the Prime Minister his claim of 70,000 moderate rebels was an "absurdity".
Mr Hancock said he agreed with estimate provided to the prime minister by the intelligence chiefs.
Related