Thousands of copies of Adolf Hitler's Mein Kampf are due to be published next month for the first time in 70 years, dividing opinion amongst Jewish groups.
As the copyright on the work is due to expire, the German dictator's political manifesto will be published for the first time since the end of World War Two.
Up to 4,000 copies of the book, which translated means 'my struggle', are due to be printed by the Institute of Contemporary History (IfZ), in Munich, with about 3,500 annotations contained within its pages.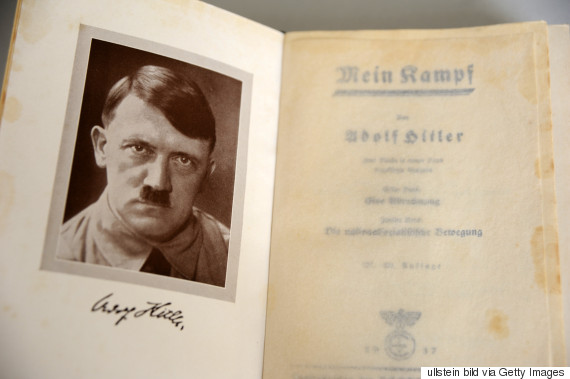 Up to 4,000 copies of Hitler's Mein Kampf is due to be reprinted with annotations
The notes will include comments condemning Hitler's arguments.
IfZ director Andreas Wirsching said that the annotations will help to "shatter the myth" surrounding the book.
Yet the news has been met with mixed emotions by Jewish groups, with some arguing that the the fascist's work should not be reprinted.
"Holocaust survivors are appalled at the insensitivity and crass commercialism that would motivate the publication of Hitler's hate-filled book in the historic cradle of the Nazi terror regime," said Elan Steinberg of the American Gathering of Holocaust Survivors and their Descendants.
Deirdre Berger, an official with the American Jewish Committee, agreed that the book should not be published, saying that no one should "underestimate the potential danger to this day of Hitler's Mein Kampf".
SEE ALSO:
But the head of the Central Council of Jews in Germany, Dieter Graumann, called Bavaria's decision ''responsible'' and a ''good idea''.
''If it is going to be released, then I prefer seeing a competent annotated version from the Bavarian state than profit-seekers trying to make money with Nazis,'' the Sydney Morning Herald reports.
The German state of Bavaria, where the book was first published, holds the copyrights to the manifesto.
The publishing house behind Mein Kampf was liquidated in 1945, so under German copyright law - which lasts for 70 years - the book can be reprinted by anyone from January 1.
Mein Kampf was first printed in 1925 - eight years before Hitler became Chancellor.