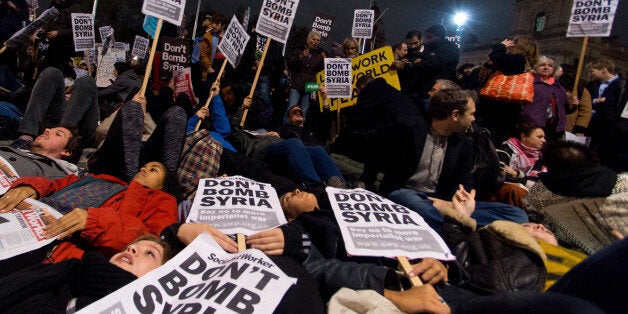 SNP MP Mhairi Black has spoken in solidarity with anti-war protestors outside Parliament, telling them there are politicians that "stand with them".
Speaking to hundreds of people gathered on Parliament Square as MPs prepared to vote on bombing raids to destroy ISIL in Syria, Britain's youngest MP took the Stop the War group's stage to label air raids "illogical and out of touch".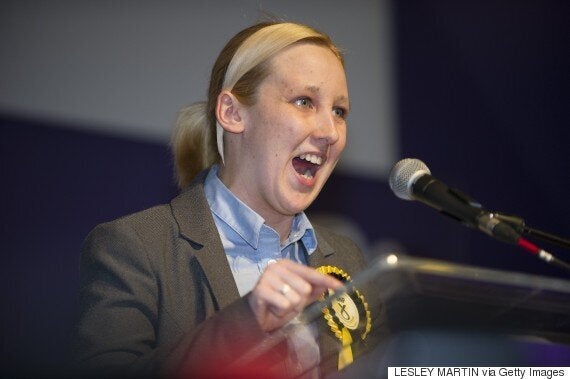 Mhairi Black: "I want you to know that there are people in there that stand with you, agree with you."
Ms Black, 21, said she decided to speak to them after hearing their protests while returning to her office in Westminster. The MP for Paisley and Renfrewshire South said the "case for bombing has not been made".
Prompting the "don't bomb Syria" refrain to die down, she said she wanted to "show you that you have not been ignored, you have not been unnoticed".
"I want to tell you this," she went on. "I do not know for a fact, although I have an idea, as to how the vote will go tonight. I do not know if people's minds have been changed.
"I do not know if people have listened to the debate and have realised the case has not been made.
"But what I do know and what I want you to is that while you are out here braving the cold. Out here, making your voice heard.
"I want you to know that there are people in there that stand with you, agree with you."
All 54 SNP MPs are expected to vote against the proposal.
Her impromptu speech came as speakers including maverick ex-MP George Galloway, trade unions and senior Stop the War figures condemned the Government for contemplating the action.
Stop the War national officer John Rees launched a diatribe against Labour MPs considering voting with David Cameron's plan. Mr Corbyn was a former chairman of Stop the War.
Many Labour MPs have raised concern about Mr Corbyn offering a free vote but making clear his own opposition to bombing. John Woodcock said he would not cow to "threats" from the leadership.
Mr Rees said Labour MPs voting for action were "shameful" and a "disgrace to the labour movement", adding: "Let's consign to the dustbin of history every single one of the traitors that vote for the Tories.
"This farce has got to stop. We started a revolution in this country when 250,000 people demonstrated against austerity, 100,000 marched in favour of refugees when Jeremy Corbyn was elected. We were telling the establishment we were not going to have it anymore."
Popular in the Community