The five things you need to know on Wednesday December 2, 2015…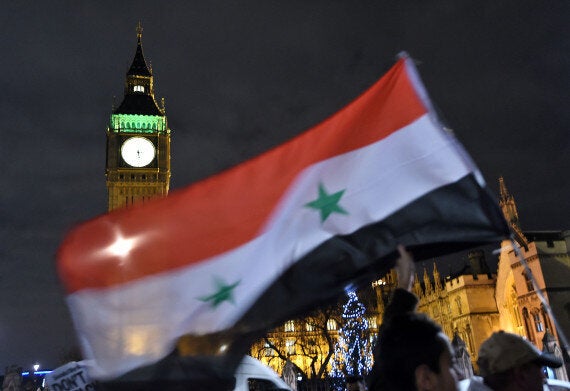 The day of the Syria debate and vote has arrived and we will see whether that hackneyed (and often untrue) phrase 'The Commons at its best' is really merited. As for the numbers, David Cameron looks on course for what he wanted - a 'clear majority'. It could easily top 100, and maybe even 150.
The Lib Dems (after a bold decision by Tim Farron) and DUP give him a 16-strong head start that compensates for the 10 or so Tory rebels (though more Tories may well abstain). But of course it is the number of Labour MPs that many will look for to deliver the clear margin the PM (and the armed forces don't forget) need. Right now, it seems there are 140 Labour are definitely against, a maximum of 70 are in favour (including 15 rock solid pro-bombing), with 30 or so undecideds.
When the PM gets up at 11.30am, he will have to build on the conciliatory tone of last Thursday. Yesterday he was shrewd to focus on each of the 12 points raised by Labour's conference motion. But a lot of the good work has been blown apart by his 1922 Committee line about 'terrorist sympathisers'. Plenty of undecideds are now saying 'that's it'.
Although he has the numbers, Cameron needs to win in the court of public opinion not just a Parliamentary vote (the Times splashes on a poll showing those backing airstrikes has fallen in a week from 59% to 48%).
And to win hearts and minds he will have to show some real candour on the issue of 70,000 'ground troops'. Even last week he stressed the real ground troops would come once Assad was gone, but today if he wants to win waverers he will have to perhaps admit more frankly the limitations of that intelligence.
Louise Haigh got into trouble with her own side for Tweeting a briefing from National Security Adviser Mark Lyall Grant, but she was onto something with that line that the 70k figure included 30k 'radical Islamists open to political activity'. Lt Gen Messenger admitted to MPs 'there's a spectrum of extremism' within the 70k. Michael Fallon added to the Defence Select that on the 'Islamist' description "there's a separate debate as to how you define that". As it happens, Fallon's briefing to Labour MPs was a 'car crash', according to some present, as he couldn't answer basic questions.
The Sun has a blunt splash headline 'War Zone' (no, it's not a nod to this column), with pix of armed cops on our streets wargaming for a terror attack.
The media air war started this morning with Philip Hammond on SkyNews declaring "the moral case is clear... the legal case is clear and is now backed by UN resolution". Hilary Benn on Good Morning Britain repeated his own similar case as to why Labour's conference resolution tests had been met.
We may get some fine speeches today, we may get some duds (and pity the poor MPs who are called after nine hours when everyone else has made the same points). But the fact remains that unlike 2003 and Iraq, a genuine debate has taken place this time about the pros and cons of military action. Despite their differences, Jeremy Corbyn and David Cameron may both want to share credit for that. And for a whole new generation of MPs, today represents a big moment when they have to make up their own minds about the case for war.
David Cameron's line to his Tory MPs at the '22 Committee - '"you don't want to walk through the lobbies with a bunch of terrorist sympathisers" - is the Telegraph splash. But it has fed into his critics' worst fears about his tendency to lapse into arrogant disdain and crassness. Tory sources insists the PM wasn't talking about all those who opposed Syria bombing and was focused specifically on people like John McDonnell and the far left. But the damage has been done. One pro-war Labour figure tells me "It was a classless remark that confirmed to us more than ever just how much we want to kick the Tories out of office".
The difficulty for Jeremy Corbyn is how he stitches his party back together after tonight's vote - assuming he wants to. This morning at 10am, he and Indy journalist Patrick Cockburn (an expert in the region who has written today's splash) will brief Labour MPs on the case against military action.
But Labour MPs who are pro-bombing are complaining about the tasteless tactics used by some leftwing agitators who want them deselected. Diana Johnson posted last night the email many MPs have received warning of deselection. Corbyn himself has infuriated many with his Jeremy Vine show line that there will be 'no hiding place' in a free vote for those 'diehards' who vote for war, with a hint that they will be responsible for civilian deaths. And on Channel 4 News last night he added "any selection, reselection or deselection is at least three years away", not exactly reassuring words.
And although this is a free vote, there are shadow whipping operations on both sides within Labour. Tensions are running high. John Woodcock was so furious at Clive Lewis's line on Monday about 'on their heads be it' that he confronted him in Portcullis House yesterday. Lewis insisted his words were being taken out of context. Woodcock countered he had the transcript. To which Lewis snapped and replied: "you want to start this - so we will finish it, fuck you".
There's a row too over the Foreign Affairs Committee decision to vote last night by 4 to 3 for a motion stating the Government "has not adequately addressed concerns". Crispin Blunt as chairman only has a casting vote in the event of a tie. But Mike Gapes is in hospital (as the trolls seized on yesterday) and Ann Clywd was not present either when John Baron called the vote. Some MPs are extremely unhappy about that indeed, given it could have swung the whole debate.
As for the speeches, watch for Ed Miliband. He may well repeat his own doubts and reflect just how far the centre of gravity of the party has shifted under his leadership on foreign intervention. As Neil Kinnock put it to one of his colleagues after the PLP about Corbyn: "He's right, but for the wrong reasons".
Meanwhile Labour faces another ground war in Oldham West. Jim McMahon claimed his party was winning it with its flood of activists and that UKIP had just one clapped out van. But this vote couldn't be worse timed for Labour in showing the deep divisions under its new leader.
A week on from the Autumn Statement and there's a big bit of buried treasure dug up from the OBR forecasts, though whether you think it's buried bad news or buried good news depends on your viewpoint. A Guardian analysis found that the Treasury is banking on more than 180k extra migrants to the UK every year in order to hit its surplus target.
The left is delighted but the Right ain't so much. And what lit the blue touch paper was a ConHome piece by Theresa May's former spad Nick Timothy in which he declared "The small print of the Autumn Statement, which was published the day before the immigration figures, proves that it is not really the policy of the government as a whole to cut immigration at all". The bigger picture looks like Osborne getting ready to dump May's net migration target should he become leader.
The Mail splashes the story, which came as Osborne also told the Treasury Select of his scepticism about May's plan to impose language controls on overseas students. HMT says better productivity is partly behind marginally better growth. The FT has a Treasury source doing what Treasury sources do: "The fiscal effects of migration, which matter for the surplus target, are particularly unclear and not necessarily material".
BECAUSE YOU'VE READ THIS FAR…
The Mark Clarke affair rumbles on, though after the PM granted his critics most of what they wished (a more independent inquiry, a wider governance review of the party) the follow-ups are getting fewer. Today the Mail puts on its front page an eye-catching photo of a blonde student activist dressed in lingerie, 20-year-old Marina Muttik, who suggests Grant Shapps is being made a scapegoat in the affair. She retweeted a post which said: ''So line is Feldman can't be forced out because he is a "decent" guy. Does that mean they think Shapps was not?'
The Times reports that the PM wrote of the loss of his own son Ivan in a letter of condolence to the father of Elliott Johnson, the young Tory who committed suicide. "I know from my own experience of losing a child what an indescribable shock it is," the PM wrote. But in the letter dated November 12, he also said the Tory party had no control over 'independent' groups like Road Trip.
But the Sun reports that Tory sources recalled Lord Feldman referring to the blue logo-stamped buses, which transported young activists to campaign in key seats in the general election campaign, as "my buses".
Just a few weeks after the Chinese President visited Manchester City's ground for that infamous selfie with Sergio Aguero and the PM, the FT reports on its front page a massive Chinese investment in the club.
Its Abu Dhabi royal family owners have sold a 13% stake worth around £275m to a consortium of Chinese investors. Only Real Madrid have a major presence in China and this puts the Manchester club in the big league over there. Another boost for the Chancellor's Northern Powerhouse, though it will be interesting to see any knock on effects on boosts for other Chinese investment.
If you're reading this on the web, sign-up HERE to get the WaughZone delivered to your inbox.
Got something you want to share? Please send any stories/tips/quotes/pix/plugs/gossip to Paul Waugh (paul.waugh@huffingtonpost.com), Ned Simons (ned.simons@huffingtonpost.com), Graeme Demianyk (graeme.demianyk@huffingtonpost.com) and Owen Bennett (owen.bennett@huffingtonpost.com)
Related