Hilary Benn's speech in Parliament on Wednesday backing airstrikes against Islamic State in Syria has divided opinion over whether his father, Tony Benn, would have been "proud" of him or not.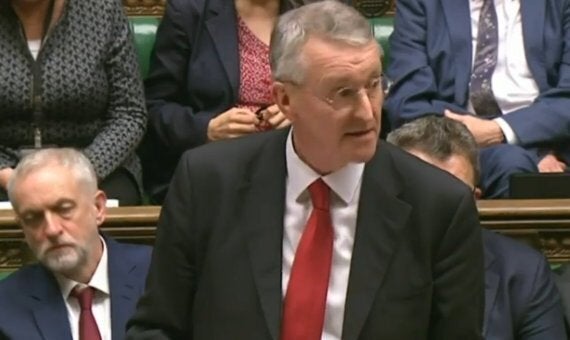 Hilary Benn urged MPs to vote for military action in Syria during the Commons debate on Wednesday
While few can doubt that Benn is a powerful orator - just like his father - many have lambasted him for his stance in the Commons debate, with some going as far as saying his father would be "turning in his grave".
After hearing Benn's speech, many people said that his father would be "ashamed" of his son's stance on war:
Yet others, including Labour MP Jess Phillips, have said that Benn's father would be "proud of him", lambasting the criticism levelled at Benn as "repulsive".
Benn told MPs on Wednesday: "We are here faced by fascists - not just their calculated brutality, but their belief that they are superior to every single one of us in this chamber - they hold us in contempt," Mr Benn said in speech he wrote in the Commons chamber that had most MPs entranced.
"They hold our values in contempt, they hold our belief in tolerance and decency in contempt, they hold our democracy - the means by which we will make our decision tonight - in contempt. But what we know about fascists is that they need to be defeated."
He went on: "My view is that we must now confront this evil. It is now time for us to do our bit in Syria. And that is why I ask my colleagues to vote for this motion tonight."
His words contradicted those of his late father and Socialist stalwart, who told the Commons: "I was in London in the Blitz in 1940.
"Every morning I saw the Docklands burning, 500 people were killed in Westminster by a landmine, it was terrifying.
"Aren't Arabs terrified? Aren't Iraqis terrified? Don't Arab and Iraqi women weep when their children die? Doesn't bombings strengthen their determination?
"What fools we are to live in a generation for which war is a computer game for our children, and just an interesting little Channel 4 news item.
"Every Member of Parliament tonight who votes for the government motion will be consciously and deliberate accepting the responsibility for the deaths of innocent people if the war begins, as I fear it will.
"In my parliamentary experience we were asked to share responsibility for a decision we won't really be taking with consequence for people who have no part to play in the brutality of the regime which we are dealing with."
Related