Hilary Benn's speech in Parliament on Wednesday backing airstrikes against Islamic State in Syria has divided opinion over whether his father, Tony Benn, would have been "proud" of him or not.
The shadow foreign secretary's impassioned speech, in which he made the case for allowing airstrikes in Syria during yesterday's House of Commons debate, received a rapturous applause.
But many were quick to compare Benn's stance on war to that of his late father, who delivered an impassioned attack as an MP on bombing campaigns in Iraq in the 1998.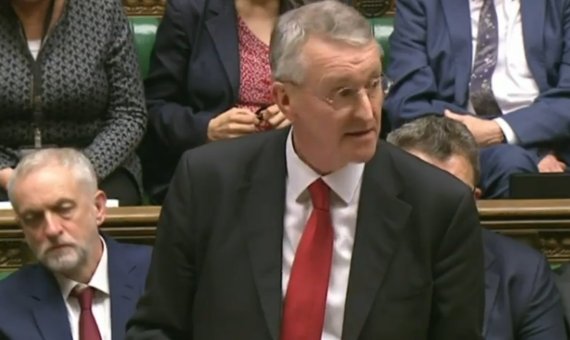 Hilary Benn urged MPs to vote for military action in Syria during the Commons debate on Wednesday
While few can doubt that Benn is a powerful orator - just like his father - many have lambasted him for his stance in the Commons debate, with some going as far as saying his father would be "turning in his grave".
After hearing Benn's speech, many people said that his father would be "ashamed" of his son's stance on war:
109 speakers in debate. 50 not get called. Benn summing up for Labour but voting with Tories. Benn's father must be turning in his grave.

— George Kerevan (@GeorgeKerevan) December 2, 2015
How can @hilarybennmp ignore everything his own father argued against? #NotInMyName

— Chloe Green (@ChloeBytheLock) December 3, 2015
@hilarybennmp Your father would be turning in his grave. Shame on you.

— UKMountainAdventures (@UK_Mountain) December 3, 2015
@hilarybennmp Your Father would feel betrayed by your homicidal trajectory today.Hilary Benn,you ought to be deeply ashamed of yourself.

— Richard Hopkins (@flippineckdude) December 3, 2015
@Telegraph Breaking NEWS: Hilary Benn's father Tony Benn just turned in his grave! and 100K REAL LAB members will leave should he take over!

— Tunde V Hale (@tundiihale) December 3, 2015
#HilaryBenn what would your father think this morning? pic.twitter.com/DgElyDvnte

— Alan Entwistle (@entsal) December 3, 2015
Hilary Benn is clearly a fine orator, and made some excellent points yesterday, but I suspect his father is turning in his grave right now!

— Pete Papa-Oscar (@Peter_Pie_Eater) December 3, 2015
Also, shame on Hilary Benn. His father was a great politician who fought against things such as what went on today. He would be ashamed.

— Bilz. (@BilalAz123) December 3, 2015
Yet others, including Labour MP Jess Phillips, have said that Benn's father would be "proud of him", lambasting the criticism levelled at Benn as "repulsive".
As someone who lost a parent at a young age, anyone invoking Hilary Benns dad to criticize him should be ashamed. He would be proud

— Jess Phillips MP (@jessphillips) December 3, 2015
I voted differently to Hillary Benn. Using his father's death to make a political point - "spinning in his grave" - is repulsive.

— Stewart McDonald MP (@StewartMcDonald) December 3, 2015
Hilary Benn's father would have been proud of him tonight even if they had divergent views. A great great speech .

— frances barber (@francesbarber13) December 2, 2015
Hilary Benn's father wouldn't have agreed with his son's view but he would have been proud of the way he delivered his speech.

-----

— Ron Taylor (@majorsixth) December 2, 2015
Just heard Hilary Benn's speech. Although he'd have disagreed, his late father would've been proud with how he made his case. #SyriaVote

— Alexander Blakey (@ajrblakey) December 2, 2015
Hilary Benn pretty persuasive with his thoughts and would make a fine leader. Father Tony would be proud.

— flwrs &sea creatures (@fandsc) December 3, 2015
Hilary Benn remained principled throughout and articulated his point of view with passion and sincerity. His father would be proud.

— Liam. (@LAprice_) December 3, 2015
Benn told MPs on Wednesday: "We are here faced by fascists - not just their calculated brutality, but their belief that they are superior to every single one of us in this chamber - they hold us in contempt," Mr Benn said in speech he wrote in the Commons chamber that had most MPs entranced.
"They hold our values in contempt, they hold our belief in tolerance and decency in contempt, they hold our democracy - the means by which we will make our decision tonight - in contempt. But what we know about fascists is that they need to be defeated."
He went on: "My view is that we must now confront this evil. It is now time for us to do our bit in Syria. And that is why I ask my colleagues to vote for this motion tonight."
SEE ALSO:
His words contradicted those of his late father and Socialist stalwart, who told the Commons: "I was in London in the Blitz in 1940.
"Every morning I saw the Docklands burning, 500 people were killed in Westminster by a landmine, it was terrifying.
"Aren't Arabs terrified? Aren't Iraqis terrified? Don't Arab and Iraqi women weep when their children die? Doesn't bombings strengthen their determination?
"What fools we are to live in a generation for which war is a computer game for our children, and just an interesting little Channel 4 news item.
"Every Member of Parliament tonight who votes for the government motion will be consciously and deliberate accepting the responsibility for the deaths of innocent people if the war begins, as I fear it will.
"In my parliamentary experience we were asked to share responsibility for a decision we won't really be taking with consequence for people who have no part to play in the brutality of the regime which we are dealing with."