The five things you need to know on Friday December 4, 2015…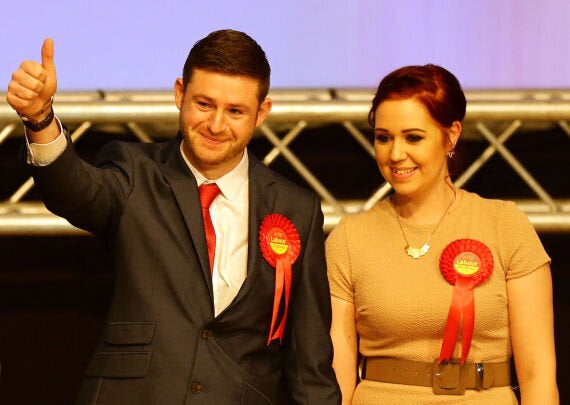 In the early hours, Jim McMahon described his 10,000 majority in the Oldham West by-election as 'quite staggering'. UKIP certainly were staggered, as were a fair few Labour MPs who had worried it was going to be quite tight.
McMahon is a genuine political talent - read my interview with him HERE - and will bring a real zest and locally grounded nous to Parliament. He has pointed up the contrast between the Tories' Northern Powerhouse rhetoric and their lack of votes in seats like this (the party came a poor third).
But George Osborne this morning couldn't resist trying to exploit Labour's divisions, tweeting he'd offered his congratulations in person to Jeremy Corbyn as they got the train to Manchester. A fair few Tories have privately said they wanted Labour to keep this seat in order to keep Corbyn in place.
Still, Corbyn supporters were delighted with the result, declaring it a resounding verdict on his leadership and two fingers to the media. Many critics of the leader in the PLP counter that credit for the win should go to McMahon's deliberate focus on local issues and that it proves that Lancashire Labour voters are steadfastly loyal no matter who the leader is. Pro and anti-Corbyn forces will argue over whether the voters took any notice of Labour splits on Syria.
In a less than veiled reference to the solidly Labour Asian vote in the seat, Nigel Farage said last night he thought the vote was 'bent'. This morning he told Today: "No result has shocked me quite as much as this one". Maybe he's shocked at just how ineffective UKIP's message was in this contest - and maybe questions will now be asked whether it can ever get any more than its one seat in Parliament. But Farage talked of a 15% increase in the postal vote yesterday, of "people turning up at postal stations with bundles of votes", of one ballot box having 99% Labour votes. And here's his real point: "There are big ethnic changes in the way people are voting."
Tom Watson was on the Today prog and said Farage's words sounded like 'sour grapes'. He added: "If it was a referendum on Jeremy Corbyn, he's won" [note the 'if' there]. The Deputy Labour leader attacked 'unattributed' remarks about his leader and insisted his vote for Syria bombing did not mean he was plotting. "I never, ever want to be Labour of the Labour party, never, ever, ever. I'm enjoying my friendship and comradeship with Jeremy, we sometimes disagree with each other…"
But Watson had no time for the hard left. He warned Ken Livingstone against his remarks on deselection. "I'm not entirely certain if his words are unifying the Labour party this week..He's not elected now.. I don't think he runs Jeremy's office." Asked if Ken should remain silent for a bit, Watson replied "I think that would be an impossible dream.. I think he should calm down a bit."
Watson was dismissive about Momentum. "They look like a bit of a rabble to me, they are a bit of an irrelevance to this debate". His real anger was over leftwingers' attacks on MPs. "I've seen those TV images of what went on in Stella Creasy's constituency… if there were Labour party members…they should be removed from the party."
The PM's 70,000 ground troops claim has undeniably been one of his weakest arguments on Syria. It's frankly amazing that the Joint Intelligence Committee could have signed it off given the Defence Secretary and deputy Chief of Defence Staff themselves kinda undermined it earlier this week.
Well, today the Sun and Times both splash on an excellent story, reporting that senior Ministry of Defence figures warned No.10 against including the claim in his first statement to Parliament last week. Not surprisingly the phrase 'dodgy dossier' is in currency, as is Julian Lewis's 'bogus batallions'.
One Whitehall source tells the Sun: "It's got 45 minutes written all over it. Cameron didn't think this through. If he really didn't know about the MoD's worries, he should have asked more questions about it." No.10 insists the PM and Downing St were not made aware of the MoD concerns. But what's most worrying is the JIC overruled the MoD's warning that the 70k figure was 'misleading', based on intelligence reports.
This does indeed have echoes of Iraq. It was the late Dr Brian Jones, of the MoD's Defence Intelligence Staff (DIS, but now known as just Defence Intelligence) who had warned the JIC back in 2002 that key claims about Saddam's WMD were not sufficiently backed up by intelligence.
As it happens, on the issue of his EU renegotiation, several Eurosceps have been calling the PM 'Dodgy Dave' for some time. Quietly yesterday, No10 announced that Cameron had told Angela Merkel that he wasn't going to push for a deal at this month's EU summit. "He noted that he scale of what we are asking for means we will not resolve this in one go and consequently he did not expect to get agreement at the December European Council." So Andrew Lansley's claim of a choreographed row may have to wait.
Justice Secretary Michael Gove's wooing of liberal opinion was consummated yesterday as he axed the criminal courts charge devised by his predecessor Chris Grayling. The flat fee system, which led to some extraordinary cases (eg huge fines for shoplifting things like Cadbury's buttons), was called a 'tax on justice' and roundly opposed by the legal profession and charities.
The Independent deserves real credit for leading the campaign on this, spotting early that this was something Gove could U-turn on. I note that its social affairs correspondent Emily Dugan, who has written extensively on the subject, gets the lead byline on the story today. That's even more impressive given she gave birth only last Friday.
Meanwhile, the paper's new Commons sketch writer Tom Peck suggests the announcement was delayed until after Business Questions to spare Grayling's blushes (and floats the idea that he will soon quit the Cabinet to campaign for Brexit).
BECAUSE YOU'VE READ THIS FAR…
Chris Bryant has challenged new heavyweight boxing champ Tyson Fury to go 'head to head' with him in Parliament. It will be more a verbal than an actual punch-up but the Shadow Commons Leader is furious at the boxer's claim that the legalisation of homosexuality was the work of "the devil", while eliding it with the legalisation of paedophilia.
But Bryant was also furious about the extent of abuse Labour MPs were getting over the Syria vote, with MPs having offices barricaded, their house surrounded, photos of dead babies pushed through their front door and emails of photos of severed heads. He asked for a review of the security of MPs' homes and offices (Neil Coyle got a death threat on Twitter). The Met Police announced that it was assessing the online threats.
Heidi Allen is proving just how she's no pushover - and how that has won her few friends in the tea room. In an interview with Total Politics, the Tory MP who slammed George Osborne over his tax credits plan reveals that fellow Tories drop their head when she walks past.
"People keep saying 'politics is a team game Heidi'… It's all about the team, and again it's the same on the other side, it's all about promoting your team to be in the best light. I get that, and that's absolutely fine, but I just feel that the team can be more powerful if people really, really buy it. So far it hasn't felt like that, I just feel a bit like voting fodder a lot of the time…The stuff that frustrates me here is just the sheep-like head nodding. I know we have got a tight majority, but a lot of people seem... to be obliging without being challenging. I think I'd forgotten how bad I am at following rules."
Most worrying for the whips will be her line that she would feel more comfortable as an independent, rather than a Tory, MP. "When I decided to try to become an MP, you pick a team don't you. If there were I suppose the ideal scenario that you could have a voice and you could make things happen without a team, by being an independent. Probably I've learnt that that would suit me better if I'm honest."
If you're reading this on the web, sign-up HERE to get the WaughZone delivered to your inbox.
Got something you want to share? Please send any stories/tips/quotes/pix/plugs/gossip to Paul Waugh (paul.waugh@huffingtonpost.com), Ned Simons (ned.simons@huffingtonpost.com), Graeme Demianyk (graeme.demianyk@huffingtonpost.com) and Owen Bennett (owen.bennett@huffingtonpost.com)
Popular in the Community