Parts of Northern England are under water after Storm Desmond led to devastating floods on Sunday, with 50 severe warnings still in place, mainly in Cumbria.
Helicopters carried out rescue missions overnight as cars became almost entirely submerged. Military forces have been called in to help evacuate over 1,000 people, including elderly residents, pets and families with babies.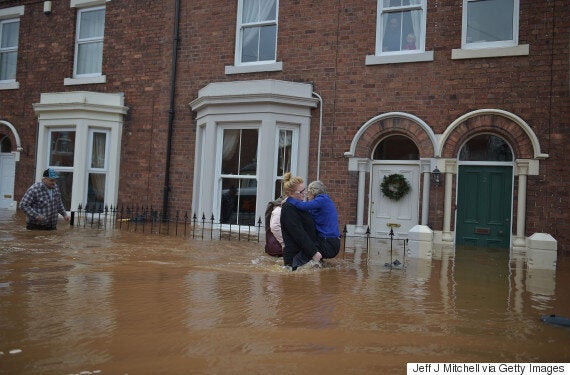 An elderly woman is rescued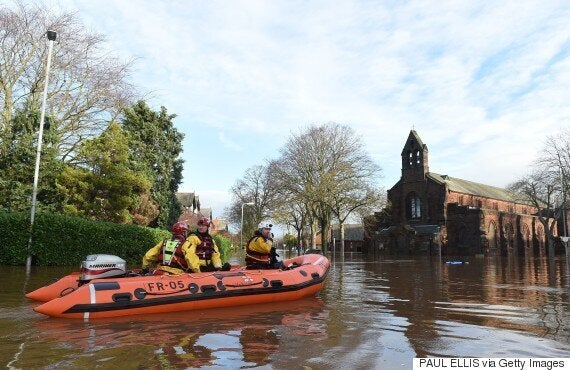 Water begins to submerge a church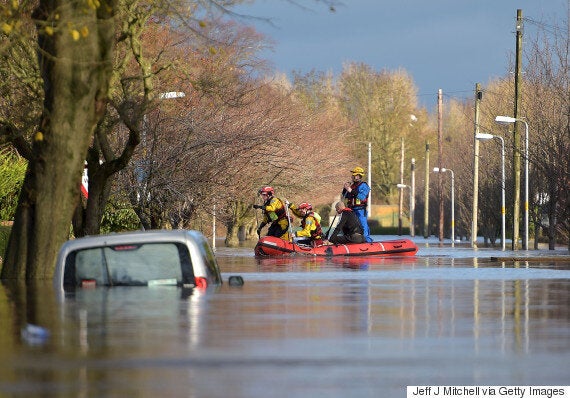 Hundreds of homes have been flooded and over 1,000 people evacuated in Cumbria and the Scottish Borders.
Cumbria declared a major incident, and one picture from Kendal in Cumbria showed residents using canoes to get around the waterlogged streets.
Pictures and videos shared online showed streets filled with water, with one clip from Warwick Road in Carlisle revealing front doors half submerged and water above the window levels of houses.
One resident said Carlisle had become the "lost city of Atlantis emerging from watery depths".
The village of Braithwaite was completely cut off when its main bridge, the Coledale High Bridge, collapsed as the river burst its banks.
One video from Kendal in Cumbria showed a river nearly touching a road bridge:
BBC Radio Cumbria journalist Steven Bell said that there was a "major risk" that two electricity substations could flood in Carlisle, which could cut power to 60,000 homes.
He tweeted at 7:57am that "large part of Carlisle under water now".
The British Red Cross teams set up rest centres in Keswick, Appleby and Kendal, while medical groups issued an urgent call to draft in extra doctors amid fears the storm could cause casualties.
Adrian Holme, from Cumbria Fire and Rescue Service, told the BBC the flood was "unprecedented" and "exceptionally challenging" as more than 100 people were evacuated from Keswick.
He said it was "absolutely devastating", adding: "The flood defences that were built here in 2012 haven't been breached, they have been over-topped. We have had 24 hours of constant rain."
Power supplies were also seriously affected and at least 55,000 homes in Lancaster, Morecambe, Carnforth will continue to face cuts for a number of days after flood defences protecting a major substation were breached overnight.
Electricity North West said another 4,000 properties were without power across Cumbria as flooding continued to cause further faults.
A fire and rescue crew had to save a member of the public who was found clinging to a tree after they tried to reach a horse stranded in a flooded field in Northumberland, while fire services in Lancashire responded to more than 300 calls for help, including road traffic collisions and two fires.
The cross-Tyne Shields ferry Spirit of the Tyne was rescued by Tynemouth RNLI lifeboat volunteers in a dramatic mission on Saturday night after the ferry's engine failed on its final crossing of the night from North to South Shields.
As the lifeboat was being launched the Port of Tyne pilot launch Collingwood managed to evacuate the small number of passengers from the ferry, leaving just the skipper who was desperately trying to get the ferry's engine restarted. No injuries were reported.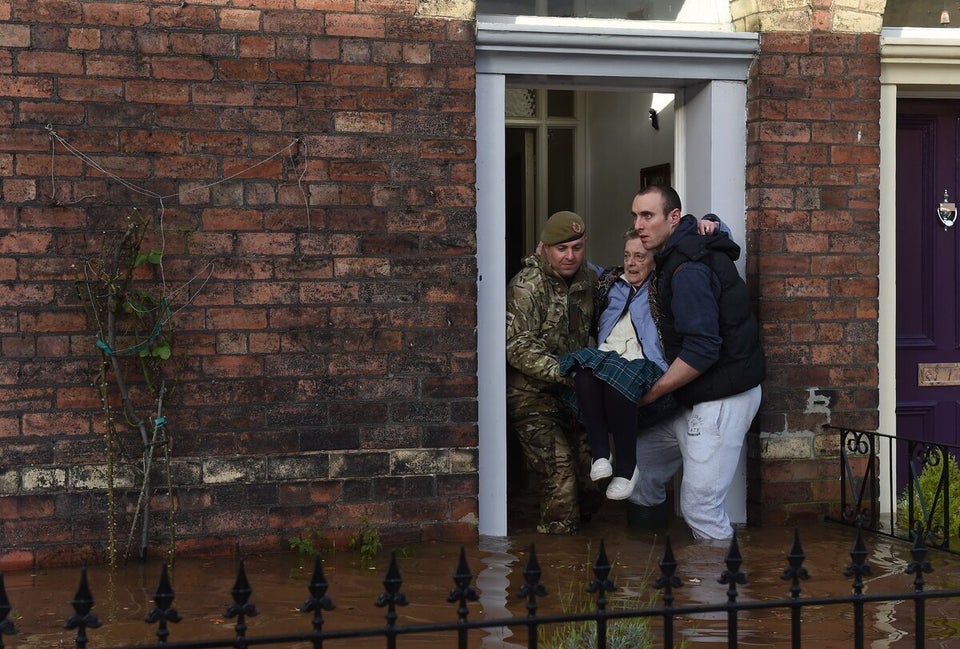 Carlisle floods
Looking ahead, MeteoGroup forecaster Gemma Plumb said weather should dry out later during Sunday - before more rain heads up from the south west on Sunday night.
Environment Secretary Elizabeth Truss said that an emergency Government meeting has been called to organise effective responses for the worst affected.
She said: "We know what a devastating impact flooding has on communities and our thoughts are with those affected this weekend.
"The Environment Agency, local authorities and the emergency services are already working around the clock to protect properties, help those already affected and reduce the risk to others and we are working with them to ensure they have everything they need to respond. I urge people to check the latest flood updates via the EA website and Twitter."