Chris Brunskill via Getty Images
Boxing champion Tyson Fury has stood by his comparison between homosexuality and paedophilia, just two days after the BBC had to defend his bid for Sports Personality of the Year.
Fury, who won the world heavyweight boxing title last weekend, caused controversy in a recent interview when he appeared to liken gay people to paedophiles, and now appears to have done so again.
Referencing the fact that the British pro-paedophile group Paedophile Information Exchange was once affiliated with the National Council for Civil Liberties (now Liberty) which supports gay rights, he tweeted: "Hears (sic) how I can put homosexuality along side Paedophilia? Printed by the BBC in 2014," beside an image of an article on the 1970s campaign group Paedophile Information Exchange.
Hears how I can put homosexuality along side Paedophilia? Printed by the BBC in 2014? pic.twitter.com/8Zc4VWJAg5

— Gypsy King (@Tyson_Fury) December 6, 2015
READ MORE: Thousands sign petition against Tyson Fury's inclusion in BBC Awards
Unsurprisingly, people were quick to respond to the comment, with many advising Fury to stick to boxing.
@Tyson_Fury give it a rest Fury, a minority group in 1975 doesn't speak for the entire gay population then or today. Stick to boxing!

— Wangbar Touchglove (@WTouchglove) December 6, 2015
@Tyson_Fury @scott8458 Tyson read what it says later in the same article. Most gays were appalled. It was a specific conference.

— Stuart Jones (@StudiniJones) December 6, 2015
@Tyson_Fury you're an absolute disgrace to Manchester. To the UK.

— J u i c y JOHN (@Juicy_John) December 6, 2015
@Tyson_Fury you're a great boxer mate but you're so very wrong about this one

— Josh Coplin (@joshcop_) December 6, 2015
@Tyson_Fury I'm proud of my beautiful son having guts to come out at 18, don't make it harder for these kids, he cheered you on to your win

— jayne ross (@jaytarot) December 6, 2015
Does the @BBCSPOTY realise @Tyson_Fury is now using @BBCNews journalism to legitimate his hate speech? @bbctrust must act to stop this now.

— Alan Tinning (@AlanTinning) December 6, 2015
@Tyson_Fury I respect your right to free speech and I loved your win last week but your comments are inflammatory and doing your pr no good.

— ahappyman (@nealhastings) December 6, 2015
@Jon_Primett @Tyson_Fury this is hate speech, he's not entitled to that

— Adam Higgins (@adamhiggins91) December 6, 2015
@Tyson_Fury @dano1883 It's as if you've been punched on the head thousands of times by really massive blokes.

— Diamond Lights (@DiamondLights61) December 6, 2015
The BBC article titled "How did the pro-paedophile group PIE exist openly for 10 years?" explored the rise to mainstream politics of a group dedicated to lobbying for "children's sexuality" - to give children the right to make decisions around sex for themselves.
The article references the attempts by PIE members to go mainstream via the gay rights movement by tabling motions at conferences.
On Friday, the BBC defended its decision to shortlist Fury for its prestigious sporting accolade.
A BBC spokesperson said the move was "not an endorsement of an individual's personal beliefs".
They continued: "The Sports Personality shortlist is compiled by a panel of industry experts and is based on an individual's sporting achievement."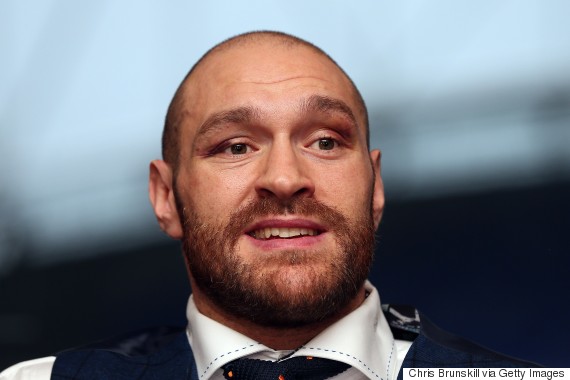 Tyson Fury beat Wladimir Klitschko to become world heavyweight champion
Last month, Fury told The Mail on Sunday "There are only three things that need to be accomplished before the devil comes home.
"One of them is homosexuality being legal in countries, one of them is abortion and the other is paedophilia. Who would have thought in the 50s and 60s that those first two would be legalised?"
He continued: "When I say paedophiles could be made legal, it sounds crazy. But if I had said to you about the first two being made legal in the 50s, I would have been looked upon as a crazy man."