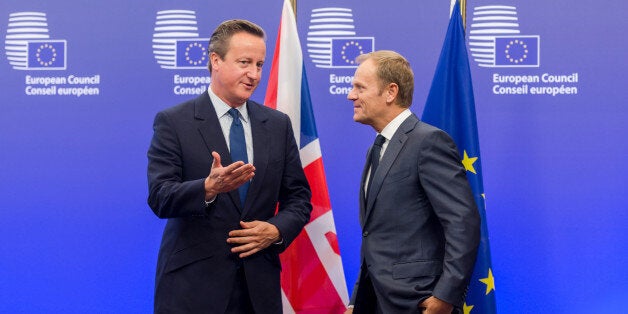 David Cameron has been warned there is "substantial" opposition among European leaders to his demand that EU immigrants be banned from claiming in-work benefits until they have lived in Britain for four years.
The rule change forms a central pillar of the prime minister's EU membership renegotiation strategy ahead of the in/out referendum.
However in a letter sent to European leaders today, Donald Tusk, the president of the European Council, said there was "presently no consensus" among EU members state.
Tusk said the idea of allowing the UK to discriminate against non-UK citizens when it came to benefit payments was the "most delicate" of all Cameron's demands.
"While we see good prospects for agreeing on ways to fight abuses and possibly on some reforms related to the export of child benefits, there is presently no consensus on the request that people coming to Britain from the EU must live there and contribute for four years before they qualify for in-work benefits or social housing." he said.
"This is certainly an issue where we need to hear more from the British prime minister and an open debate among ourselves before proceeding further."
He added that while there had been "good progress" overall, EU leaders would have to "overcome the substantial political differences that we still have on the issue of social benefits and free movement".
Tusk also warned that uncertainty about whether Britain would remain a member of the EU was having a "destabilizing" effect on the union. "That is why we must find a way to answer the British concerns as quickly as possible," he said.
"Clearly this is a significant and far-reaching agenda. Consultations have shown that the issues raised by the British prime minister are difficult. At the same time there is a strong will on the part of all sides to find solutions that respond to the British request while benefiting the European Union as a whole," he said.
In times when geopolitics is back in Europe, we need to be united and strong. This is in our common interest and in the interest of each and every EU Member State. The UK has played a constructive and important role in the development of the European Union and I am sure that it will continue to do so in the future."
Ukip leader Nigel Farage said the letter showed Cameron's renegotiation was a "con job".
However Will Straw, the executive director of the Britain Stronger in Europe 'In' campaign said the letter showed progress was being made.
Popular in the Community