Details around the highly-anticipated 'Star Wars: The Force Awakens' have been kept quite purposefully thin on the ground.
But one thing is now known: possibly the franchise's most annoying character will not be making an appearance.
READ MORE:
Jar Jar Binks, the annoying amphibian from 1999's 'The Phantom Menace' won't appear in 'The Force Awakens' when it is released next week.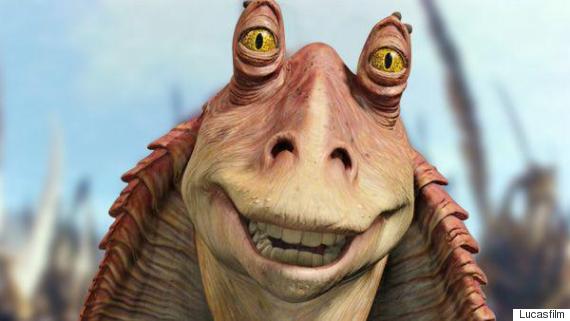 Many fans have rejoiced at the news
Producer Kathleen Kennedy used a news conference organised to let the world know what *isn't* in the upcoming film to make the announcement.
"Jar Jar is definitely not in the movie," she said to applause and cheers, Reuters reported.
And 'Star Wars' fans couldn't be more pleased.
CONFIRMED: Jar Jar Binks WILL NOT be in STAR WARS EP VII. I think we all can agree this is a good thing. #StarWars pic.twitter.com/en8JhP66H2

— MundaneMatt (@mundanematt) December 7, 2015
I forgot how much I HATE jar jar binks

— anakin (@phileeepey) December 7, 2015
Rewatching The Phantom Menace and I have come to the realization that Jar Jar Binks is the most unnecessary character in a film ever.

— Wade (@HipSquare2000) December 7, 2015
This Jar Jar Binks guy is such a total piece of cinematic garbage. What an idiot!

— Jesse LeBourdais (@JesseLeBourdais) December 7, 2015
How wude!
Yet other people are almost entirely convinced Binks is the Sith Lord.
READ MORE: 10 Times Jar Jar Binks Opened His Mouth And Ruined 'Star Wars: Episode I'
LIKE US ON FACEBOOK | FOLLOW US ON TWITTER