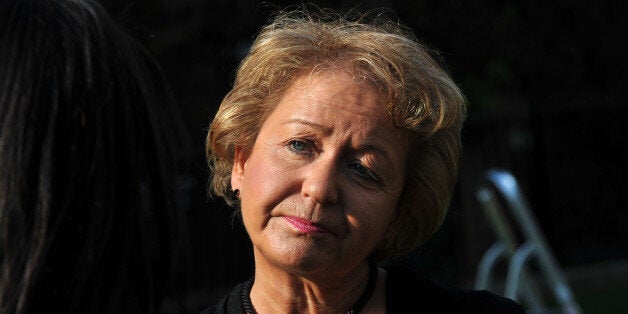 Labour MPs have given their strong backing to Shadow Chief Whip Rosie Winterton following speculation that she could be axed in a 'revenge reshuffle' by Jeremy Corbyn.
At its weekly meeting, the Parliamentary Labour Party loudly applauded Ms Winterton as she declared that 'there should be no political consequences' for any MP in the wake of the highly-divisive Commons vote on Syria last week.
Jeremy Corbyn -- who has faced stormy PLPs in recent weeks - was not present at the meeting, as he was still in Paris for a trade union meeting on the climate change summit.
However, the strong show of support for the Shadow Chief whip was interpreted by as a warning to the leadership not to move her from her post.
Ms Winterton was among those Shadow Cabinet ministers who featured in weekend reports claiming Mr Corbyn was planning a reshuffle to oust his critics and those who failed to follow his lead in voting against bombing.
Shadow Defence Secretary Maria Eagle, plus deputy chief whip Alan Campbell and junior whip Conor McGinn were also named as being possibly for the sack in a New Year change-around.
But as Ms Winterton delivered her usual whips' report in the Commons meeting of the PLP on Monday night, she was given the backing of colleagues.
Gavin Shuker MP, who voted against the bombing, said it should have been whipped but as it wasn't he wondered if the 'free vote' had been genuinely a free vote.
Those present told HuffPost UK that Mr Shuker said that there should be 'no political punishments' for those who had voted differently from the party leadership on the issue.
And he also raised the way three different newspapers - the Sunday Telegraph, Observer and Sunday Times - had reported on Sunday claims of a 'revenge reshuffle' being floated by Mr Corbyn's allies.
Labour deputy leader Tom Watson joked that three newspapers could all be wrong at the same time, but Ms Winterton told Mr Shuker and the wider meeting: "I can be clear that it was a free vote and that there should be no political consequences".
Allies said that Ms Winterton abstained on the Syria vote, not because she wasn't supportive of the leadership but because that's the usual practice of a Chief Whip or Shadow Chief Whip on a free vote or vote on a matter of conscience.
Asked after the meeting if the issue of the reshuffle was raised, a spokesman for the Labour leader said it wasn't, but Mr Shuker later confirmed that he had raised the subject. While some present claimed that Mr Shuker explicitly referred to a 'reshuffle', others felt he had effectively referred to the threatened sackings without being explicit.
The leader's office, as with the Government, refuse to comment on reshuffle speculation.
Asked if Ms Winterton had been given a rousing reception, the Labour spokesman said: ""There were lots of rousing receptions. It was a very positive meeting".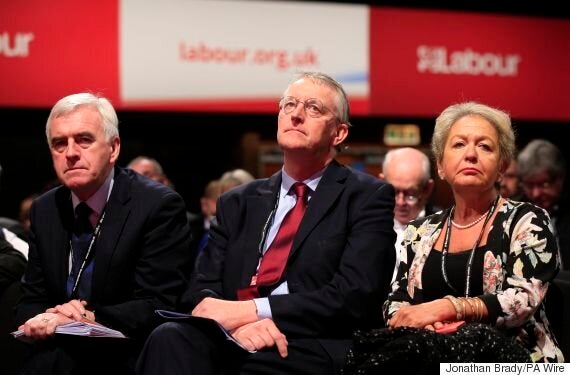 Shadow Chief Whip Rosie Winterton, at Labour's conference, with John McDonnell and Hilary Benn
The meeting lacked the heated clashes of recent weeks, as it heard from Labour EU 'In' campaign chief Alan Johnson that he'd 'bet' that the Government held its referendum in June or July 2016.
Labour backbench veteran Stephen Pound claimed afterwards that it was "sweetness and light!" "The spirit of Christmas is to be found everywhere," he said.
The meeting began with a loud cheer for newly elected Oldham West and Royton MP Jim McMahon.
It was claimed today that Mr Corbyn's reshuffle would be a 'sexist purge' if it mean the axeing of Ms Eagle and her sister Angela, the Shadow Business Secretary, as well as Ms Winterton.
"They are bullying women, the way they are behaving is appalling. They are a macho bunch and it feels fundamentally sexist," one source told the Daily Telegraph.
The Labour leader's team felt he was significantly strengthened by the Oldham West by-election result, as well as the majority support among MPs and the Shadow Cabinet for his stance opposing airstrikes in Syria.
Some of Mr Corbyn's allies want him to build on his support among the wider party membership – where he was elected by 60% of members in September – by getting more left-wing Shadow Cabinet ministers in place and by removing Mr Benn from his Shadow Foreign Secretary post.
However, some of his supporters believe that acting too soon would risk triggering a mass walkout of his frontbench and prefer to wait until after the May local and London elections.
If Sadiq Khan wins in London, and Labour holds onto or makes gains in the local elections, even if it loses ground in Scotland, Corbyn allies will claim he's continuing to make progress with the voters.
Ms Winterton is one of several Shadow Cabinet ministers who swiftly decided after Mr Corbyn's election to agree to remain in post.
Yet there is speculation among some at Westminster that she could be replaced by Corbyn ally Jon Trickett.
MPs did not raise at the PLP the issue of Mr Corbyn's decision to attend the Stop the War Christmas fundraiser this Friday.