Roger Stone was speaking to Kay Burley on Sky News on Tuesday following Trump's controversial comments yesterday that the US should close its borders to all Muslims.
The political consultant supports Trump's plan, telling Burley: "We have in the wake of the San Bernardino killings and horrific murders in Paris, we have a cataclysmic situation.
"Drastic times call for drastic measures. I think this is such a time."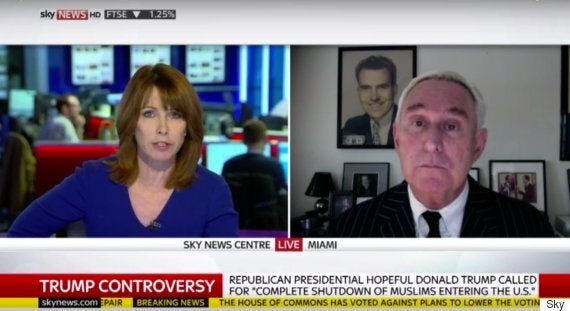 Roger Stone talking to Kay Burley on Sky News on Tuesday
After Burley pointed out that "not all Muslims are bad guys", Stone retorted: "Right now we are clearly not equipped to tell one from the other."
Burley then went for the slam dunk: "So for example, our political editor, his name is Faisal Islam, he is a Muslim. Would you allow him in to cover the presidential election campaign or not?"
Stone answered: "The fact that he is duly employed by a reputable news organisation would tend to indicate to me that he is a perfectly safe and civilised individual."
Handling the matter with predictable good grace, humour and professionalism, Islam later thanked Burley for negotiating his admittance to the US under a future president Trump.
Appearing on the segment a short while after Stone, Islam chose not to dwell on the former political advisor's "civilised" comment, yet the made the point everyone was thinking: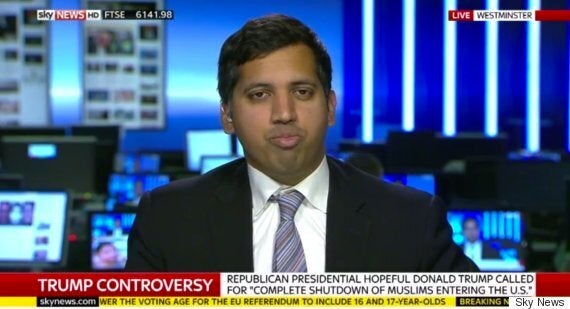 Faisal Islam, Sky News' political editor is 'civilised' enough to enter the US
"It [Trump's policy] obviously shows that it is not a very well thought through, practical policy and it was sort of designed to get him ahead in the polls... he hasn't actually thought it through, obviously."
Stone's comments about there being a "civilised" threshold was mocked by many online:
Stone, 63, left the Trump campaign in August after a very public row, with a spokesperson for the billionaire businessman telling CNN: "Roger wanted to use the campaign for his own personal publicity... and Mr Trump wants to keep the focus of the campaign on how to Make America Great Again."
Popular in the Community