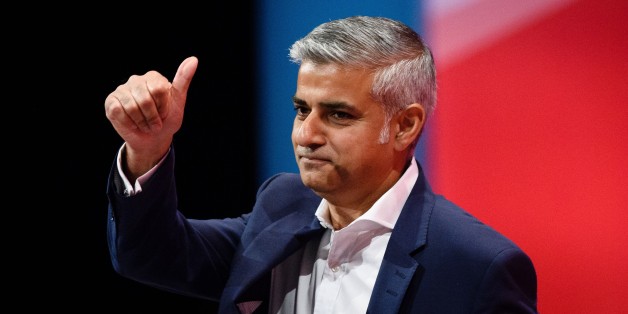 LEON NEAL via Getty Images
Officials from Conservative Central Headquarters have been mocked for publishing a bizarre new attack on the Labour mayoral candidate Sadiq Khan over the Tooting MP's record on chicken shops.
The Conservatives released a leaflet criticising Khan's record in London, latching on to comments he made earlier this year that the city had "too many" fast-food joints.
The literature hit out at Khan for making the remarks despite having opened a "Chicken Shop" in his local area back in 2013.
Published on Tuesday morning, the advert was billed as an issue that "really matters" by the Tooting Tories - a Conservative campaign group based in Khan's constituency.
This is the https://t.co/nWOzHmdA6A ad that really matters – if only we'd been asked! pic.twitter.com/kZdCzYcBmt

— Tooting Tories (@TootingTories) December 8, 2015
But the leaflet failed to win many voters over, instead sparking mocking comments from social media.
I can't believe Sadiq Khan would run on such an anti-fried chicken shop platform. He can wave my vote goodbye https://t.co/LOsSPc8c1R

— Syed (@SyedImam_) December 8, 2015
Hilarious @CCHQPress sponsored website. 'Sadiq Khan hates chicken shops'. Bet Zac has never even been in one. https://t.co/r9AkPoads9

— Huw Jordan (@huwjordan) December 8, 2015
@TootingTories @GuidoFawkes is this really the best you can do?!! "I don't like that Sadiq, he said he liked chicken now he doesn't" Haha.

— Allan Grant (@allan85) December 8, 2015
Wait what? Is anyone not voting for Sadiq because he liked fried chicken now he doesn't? https://t.co/YEjhU5YxAy

— Jack E P Worrall (@WorrallJack) December 8, 2015
@TootingTories @GuidoFawkes Do chicken shops deliver now even if Sadiq doesn't??

— David Yems (@DJYems) December 8, 2015
The 'Chicken Shop' Sadiq opened sells 'free range chicken from the spit'. Eton boy Zac can't tell the difference... pic.twitter.com/AalDZMX12T

— Susan (@marthasydenham) December 8, 2015
CCHQ did not confirm to The Huffington Post UK whether the literature released by a local Conservative Association had been signed off by Zac Goldsmith or the Central Office.
Khan and his Conservative-counterpart in the race to become London Mayor are due to face each other at the ballot box in May 2016.
It is not known what stance millionaire Goldsmith has on chicken shops in London, or whether he too thinks there are too many in town centres.
READ MORE: