The Republican presidential candidate incurred the wrath of the hacktivists after he proposed that Muslims be banned from America.
The group launched their #OpTrump campaign last night after they claimed to have "nearly" brought down the Trump website, www.trumptowerny.com, for a brief period of time.
The site appears to be operating as normal today. However, Anonymous claim to have used a technique known as "denial-of-service" that crashes sites by overloading it with traffic.
Twitter responded with full support of the fledgling campaign:
It is unclear how much influence the hackers will have on Trump or his attitude to Muslims as he still shows no remorse over his outrageous proposal.
So far, Anonymous claim their anti-ISIS campaign has made a dent in the militants' online presence, with thousands of social media accounts being disabled.
In a video message posted after last month's Paris massacre, they stated:
"Anonymous from all over the world will hunt you down. You should know that we will find you and we will not let you go. We will launch the biggest operation ever against you."
ISIS later responded by issuing five points of guidance to their members on how to avoid being hacked.
In a message sent through Telegram, a free encrypted messenger app, ISIS called Anonymous "idiots" and wrote in broken English "what they gonna hack all what they can do is hacking Alansar twitter accounts, emails etc..."
A screenshot of the message, which was released on the app's Khilafah News' channel, shows ISIS making light of the hackers but still listing five different ways to avoid getting hacked, including the use of direct messages on Twitter.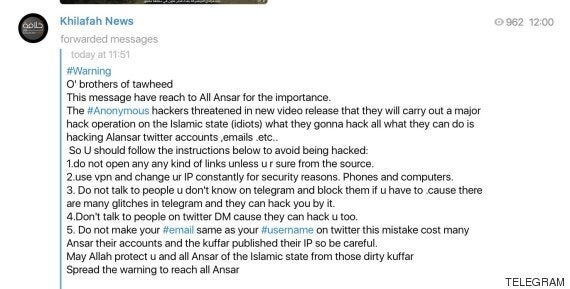 Nick Kaderbhai, a research fellow at the institute told the Huffington Post UK that the message was "released on the 'Khilafah News' channel on Telegram.
"Anyone can subscribe to it (technically) however the more IS channels you subscribe to the more open you are to investigation."